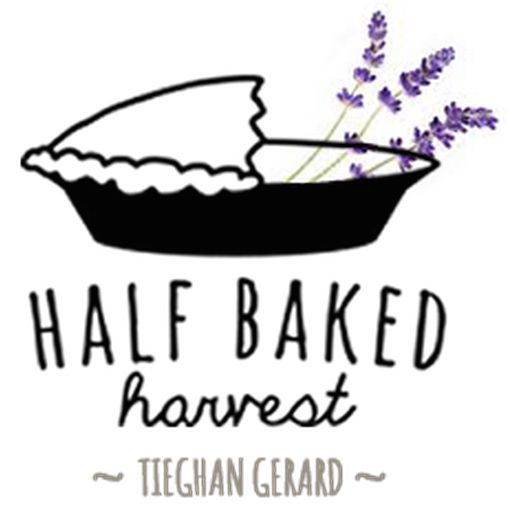 halfbakedharvest.com
This holiday season we've partnered with some of our favorite bloggers who will be showing you new and inspirational ways to bring the holidays home.
Hosting a New Year's celebration? We have the perfect treat to pair with your champagne. We've partnered with Tieghan Gerard, founder of Half Baked Harvest, to create a chocolate truffle champagne cake recipe that will give your guests a truly decadent and sweet start to a new year.
Hi guys and happy almost New Year!! I still cannot believe that 2015 is coming to an end. I honestly only just got used to writing 2015…and now I have to get used to 2016! Ahh! The craziness of life. I wish it would just slow down a little and take a chill pill, you know?
I'm hoping that some of the craziness has slowed down a bit for most of you, and that you are able to find some time to relax. My family is all here, the snow is falling and I could not think of a better way to ring in the New Year!
Okay, well that obviously includes ringing in the New Year with this cake. I mean, what better way to toast the New Year than with a champagne cake…and a chocolate one too!? In my opinion, any true celebration needs a little chocolate.
When I think of New Year's Eve, I always think of champagne and fireworks. Growing up my family always spent New Year's at our cabin in Western New York State. It was a big group: my family of eight at the time, my cousins and a mix of friends that changed every year. We would head up to the cabin the day after Christmas and spend the week playing in the snow and eating tons of food.
New Year's Eve was always laid back, but no matter what we always had a Mexican feast for dinner followed by chocolate desserts galore. The kids would snowboard and sled on the litup hill behind the cabin, while the adults watched the show from inside. Come midnight (or before), there were always a few fireworks. It was perfect. Since moving to Colorado, our traditions have changed a bit, BUT we still do a Mexican feast…and of course, chocolate in one form or another.
There really is no other way. This year, I am kicking things up a notch and making this boozy Chocolate Truffle Champagne Cake.
The chocolate cake is baked with a little champagne, which actually makes for an incredibly light and moist cake. The filling is basically one giant chocolate truffle and the frosting is a sweet champagne buttercream spiked with a little vanilla and salt. This cake plus some pretty glasses of bubbly champagne… Happy New Year!!
Sparkling Chocolate Truffle Champagne Cake Recipe
Prep Time: 1 hour
Cook Time: 30 minutes
Total Time: 1 hour 30 minutes + 2 hours for chilling
Makes: One (3-Layer) Cake
Chocolate Champagne Cake Ingredients
2 1/4 cup all-purpose flour
2 1/4 cups granulated sugar
1 1/2 cups unsweetened cocoa powder
2 1/4 teaspoons baking soda
2 1/4 teaspoons baking powder
1 1/2 teaspoons salt
3 eggs, at room temperature
1 ½ cups buttermilk
3/4 cup canola oil
1 1/2 tablespoons vanilla extract
½ cup Champagne or other sparkling wine
½ cup hot water
Chocolate Truffle Ingredients
1 (14 ounce) can sweetened condensed milk
2 ounces semisweet chocolate
2 tablespoons unsweetened cocoa powder
¼ teaspoon salt
3 tablespoons unsalted butter
1 tablespoon vanilla extract
12 ounces melted semi-sweet or milk chocolate
Chocolate Truffle Filling Ingredients
½ cup hot water
2 ¼ cups heavy cream, divided
14 ounces bittersweet chocolate, chopped
Champagne Buttercream Ingredients
3 sticks (1 ½ cups) unsalted butter, softened
3 ¼ cups powdered sugar
4 tablespoons Champagne
1 teaspoon vanilla extract
Pinch of salt
Directions for Chocolate Truffles
In a small saucepan, combine the sweetened condensed milk, semi-sweet chocolate, cocoa powder and salt. Place the pan over medium high heat and bring to a gentle boil, stirring constantly with a wooden spoon. Reduce heat to medium-low and cook 10 to 15 minutes, stirring constantly, until mixture is thick and shiny and starts to pull away from bottom and side of saucepan. The mixture is going to get thick. Remove from the heat and stir in the butter and vanilla until melted and smooth. Pour mixture into glass bowl, cover and place in the fridge for at least 1 1/2 hours or overnight.
Rub some softened butter over hands and scoop out rounded teaspoons of the chocolate mixture, roll into 1 to 1 1/2 inch balls. Place half of the balls on one parchment lined baking sheet and the other half on another parchment lined baking sheet. Place one sheet in the fridge and one sheet in the freezer. Leave the one sheet of truffles in the fridge until ready to assemble the cake. Freeze the other sheet for 30 minutes and then once frozen, dip each truffle in melted chocolate and place back on the baking sheet lined with parchment paper until dry and firm. Store in tightly covered container in the refrigerator for up to 1 week.
Directions for the Cake 
Preheat the oven to 350 degrees F. Grease three 8 inch (or 9 inch) round cake pans. Line with parchment paper, then butter or spray with cooking spray.
In a medium size bowl combine the flour, sugar, unsweetened cocoa powder, baking soda, baking powder and salt. Set aside.
In the bowl of a stand mixer (or use a hand held mixer) beat together the eggs, buttermilk, canola oil and vanilla until smooth. Slowly add the dry ingredients to the wet ingredients with the mixer on low until there are no longer any clumps of flour. Add the champagne and hot water, mix until combined. Batter should be pourable, but not super thin.
Pour the batter among the 3 cake pans and bake 20 to 25 minutes, until the tops are just set and no longer wiggly in the center. Remove and let cool five minutes, then run a knife around the edges of the pan. Grab 3 large flat plates, line them with wax or parchment paper and invert the cakes onto the paper-lined plates. Cover and let the cakes cool completely before frosting.
Directions for the Truffle Filling
Bring 1 cup of the cream to a simmer in a medium saucepot set over medium heat. Next, put the chocolate in a heatproof bowl. Add the hot cream and let stand until the chocolate softens, about 3 minutes. Stir until smooth. Let cool slightly, about 15 minutes. The chocolate should still be pourable.
Meanwhile, whip the remaining 1 1/4 cups cream in the bowl of a stand mixer fitted with the whisk attachment on high until soft peaks begin to form. Stir the whipped cream over the cooled chocolate mixture until combined and smooth. Be very careful not over mix, or the filling will get lumpy.
To assemble the cake, place 1 layer, flat side up, on a plate or cake stand. With a knife or offset spatula, spread the cake with the truffle filling. Remove the reserved truffles from the fridge and place half of them on top of the filling. Place the second layer on top of the truffles, gently pushing down on the cake to adhere. Spread the remaining truffle filling evenly on the top and then add the remaining truffles. Add the third layer of cake and press gently to adhere.
In a bowl of a stand mixer, beat together the butter and powdered sugar until creamy and fluffy. Add the salt, champagne and vanilla, beat until smooth.
Frost the tops and sides of the cake with frosting. Sprinkle the cake with sanding sugar if desired. Decorate with the reserved chocolate covered truffles (the ones that went in the freezer and were put into a container for later). Store the cake in the fridge or a cooler location until ready to serve.
Want another cake to bake? Check out this Chocolate Filled Gingerbread Cake with Cream Cheese Frosting, also by Half Baked Harvest.