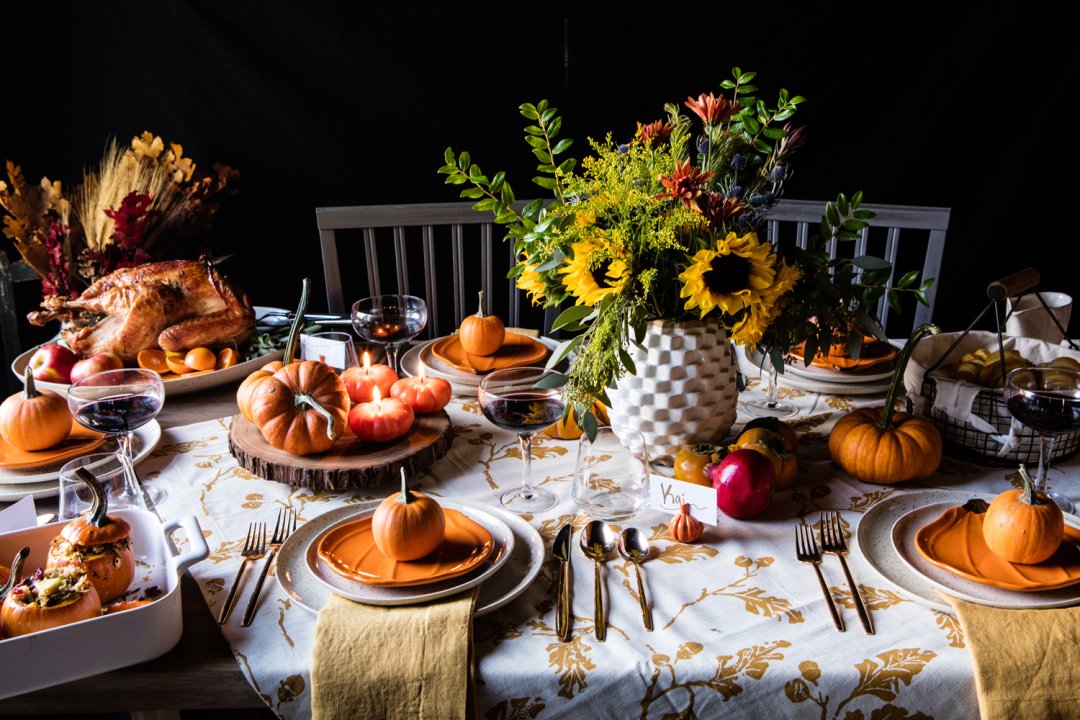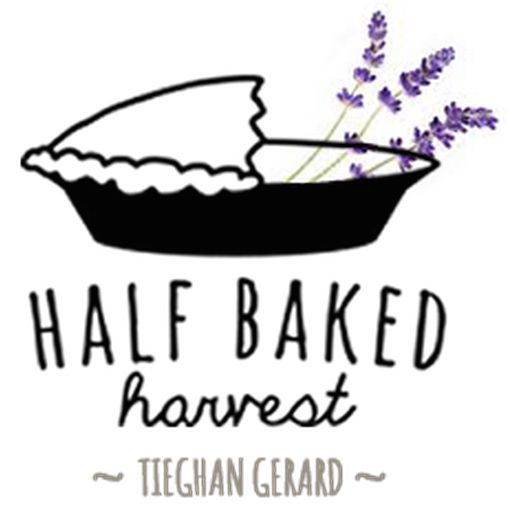 halfbakedharvest.com
Bring everyone to the Thanksgiving table this year with these delicious recipes and decor inspired by fall's favorite food. We've partnered with Tieghan Gerard of Half Baked Harvest to create this Thanksgiving Day feast.
Thanksgiving has to be one of the best days of the year. What's not to love about a day full of family and friends together with crazy amounts of delicious food? For me, it's the perfect type of day.
Today I want to share how to make Thanksgiving dinner even better by taking away some of the stress and adding in a little more fun! I know that while Thanksgiving is an awesome reason to get together, it can also be a lot of work for whoever is hosting. My family always does a big Thanksgiving, I am one of seven kids and typically my cousins join in too, so it's a pretty good-sized group. Over the years, I've learned a thing or two about how to keep things somewhat together, and how to please just about everyone at the table. SO, let's break this dinner down piece by piece.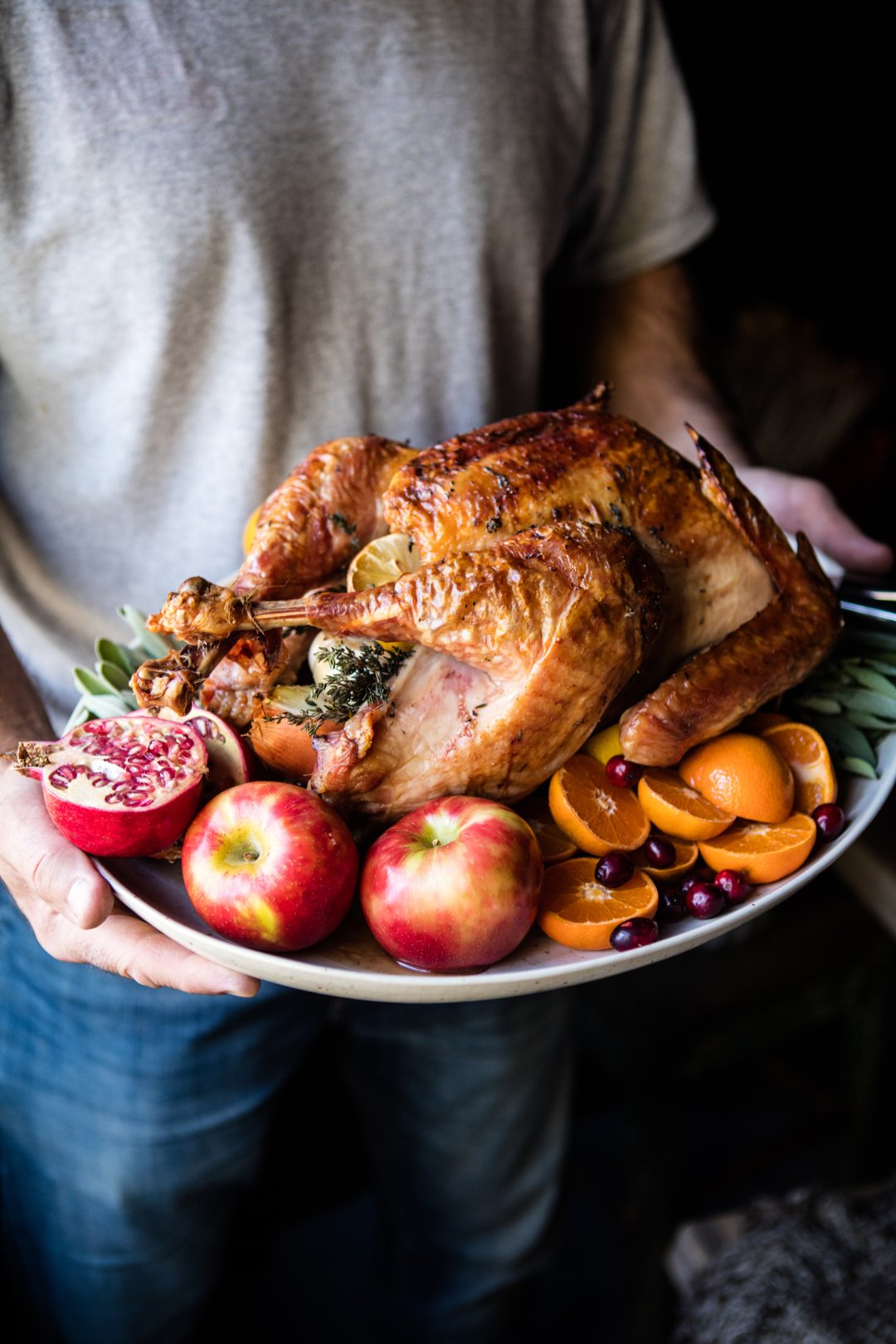 Step One: Planning The Menu
Planning out your Thanksgiving is a must. It will keep the craziness to a minimum. I always start with my menu. For the most part, I like to keep things pretty traditional, but every year I like to choose two or three new dishes to keep the dinner fun and exciting.
Tip: if you're trying out a new recipe, make sure you test it out at least once before turkey day. Trust me, you do not want any pie disasters on Thanksgiving…been there, done that.
I've found it helpful to write out an oven schedule. This will help you keep track of what needs to be cooking and when. Also, don't forget about the crockpot, it can be a valuable heat source when in need of cooking space.
Tip: When planning your menu, be sure to think about how much oven space you have and if the dish can be prepared in advance. I like to choose sides that can be prepped ahead of time and then just baked right before serving.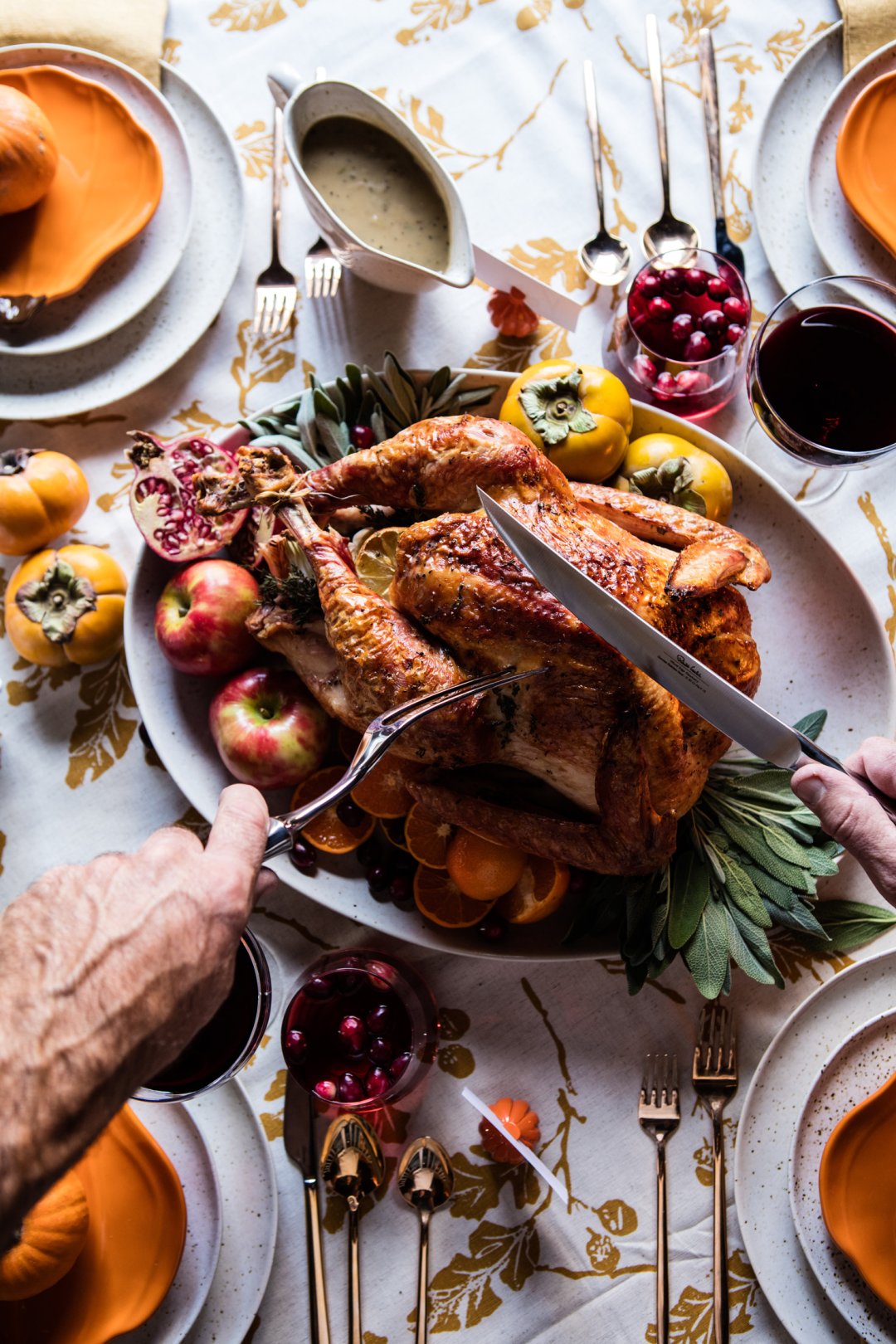 Today I am sharing my recipes for the perfect turkey, easy wild rice stuffed mini pumpkins (so cute!) and my favorite cranberry bourbon smash. This turkey recipe is my go-to every year and I never stray from it, because well, it's perfect! My secret is to use cheesecloth soaked in butter to keep the turkey moist and the skin perfectly golden, but never burnt. It's simple, classic and always delicious. I pair my turkey with a savory bourbon sage gravy, it is SO good. The bourbon adds the perfect little kick and pairs really nicely with the sage and other flavors of the turkey.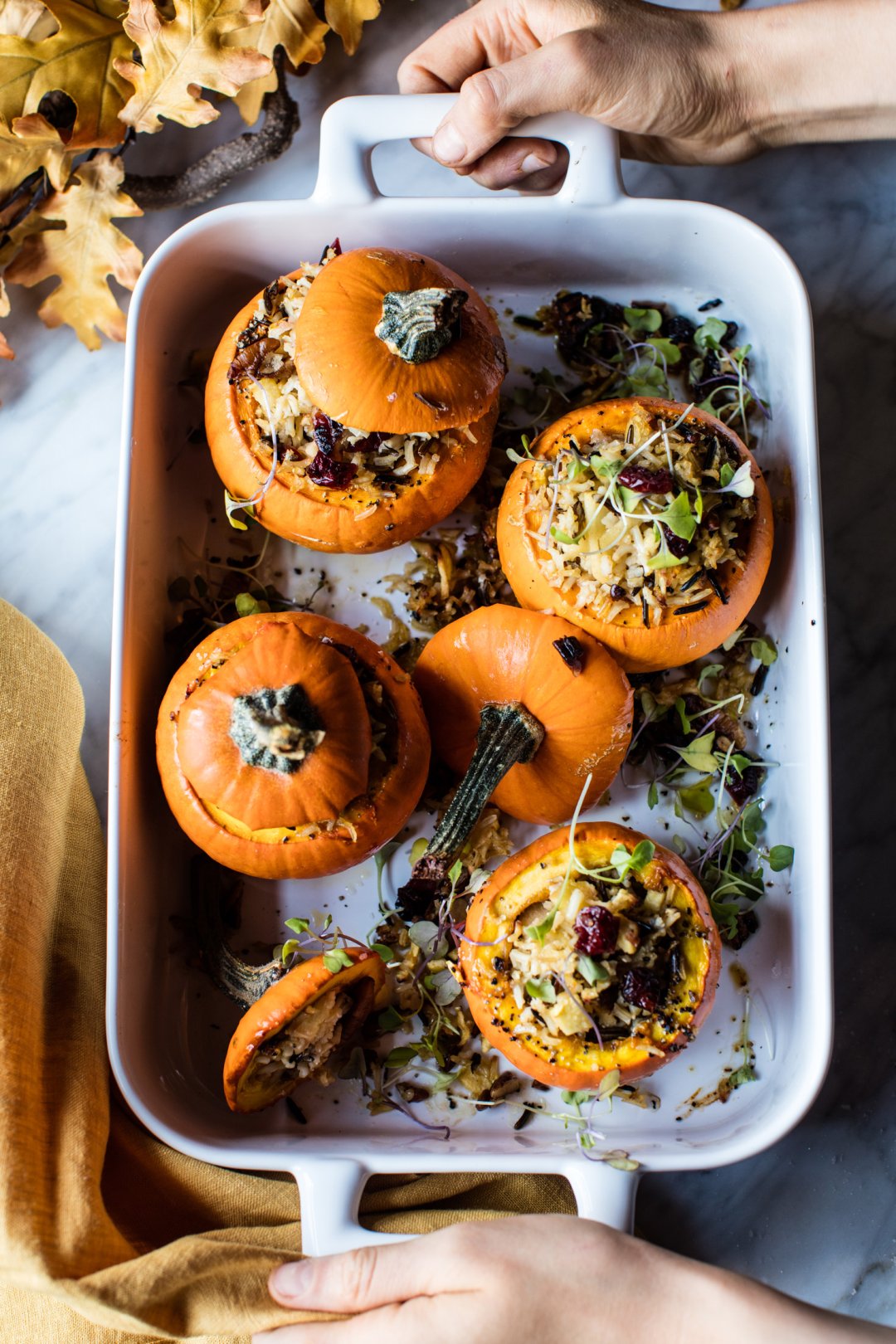 Another menu staple is wild rice stuffed mini pumpkins. These are just so cute that I have to make them every year. My family loves them and they're especially great because they can be made in advance!
Tip: Make any dishes that can be made ahead of time a day or two before Thanksgiving and keep them in the fridge. Trust me, this will save you so much time…and stress!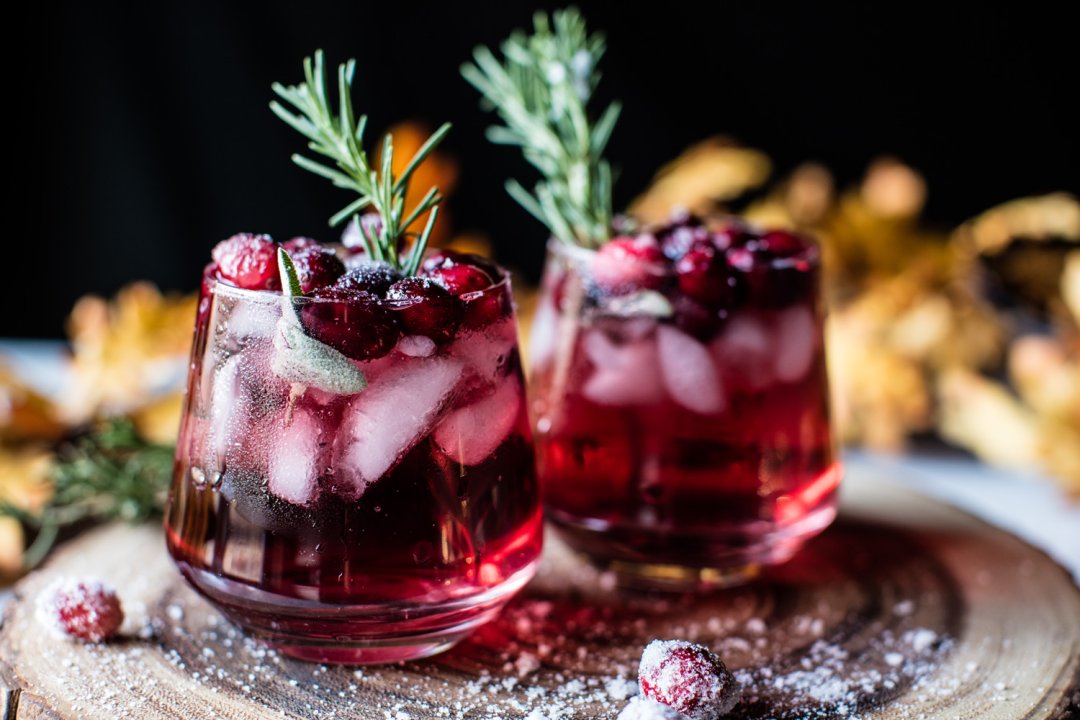 My cocktail of choice this year is this cranberry bourbon smash with sugared cranberries…um yes please! There's really nothing not to love about this drink. It tastes like fall, and well, there's bourbon…again, yes please!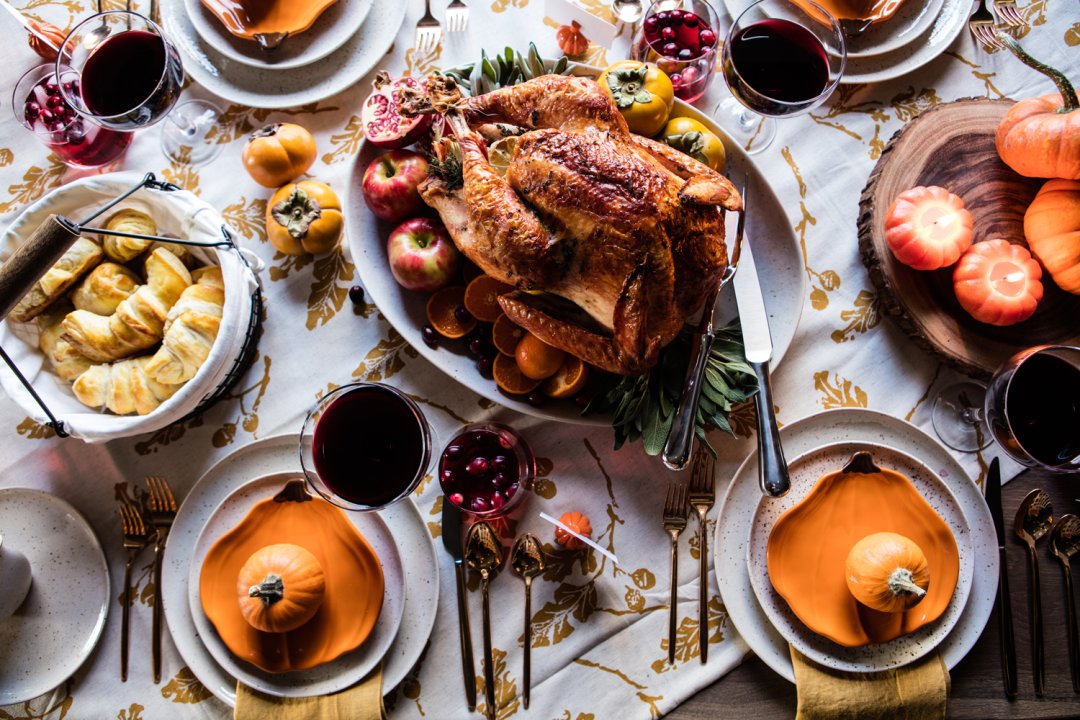 Step Two: The Table
Once I have my menu set, it's time to think about the table. Since I'm only cooking for my family, I like to keep my table more on the casual side, but still stylish. I like to serve the turkey, gravy and rolls family style, and if I have room on the table, I'll also add another side, but the rest of the dishes go on a separate buffet style table so that everyone actually has room to eat! I mean, it's turkey day, people want some space to really eat, you know?
Tip: to many this tip may be obvious, but setting your table the night before is an easy way to free up time on the big day and will save you from frantically running around trying to set the table before dinner.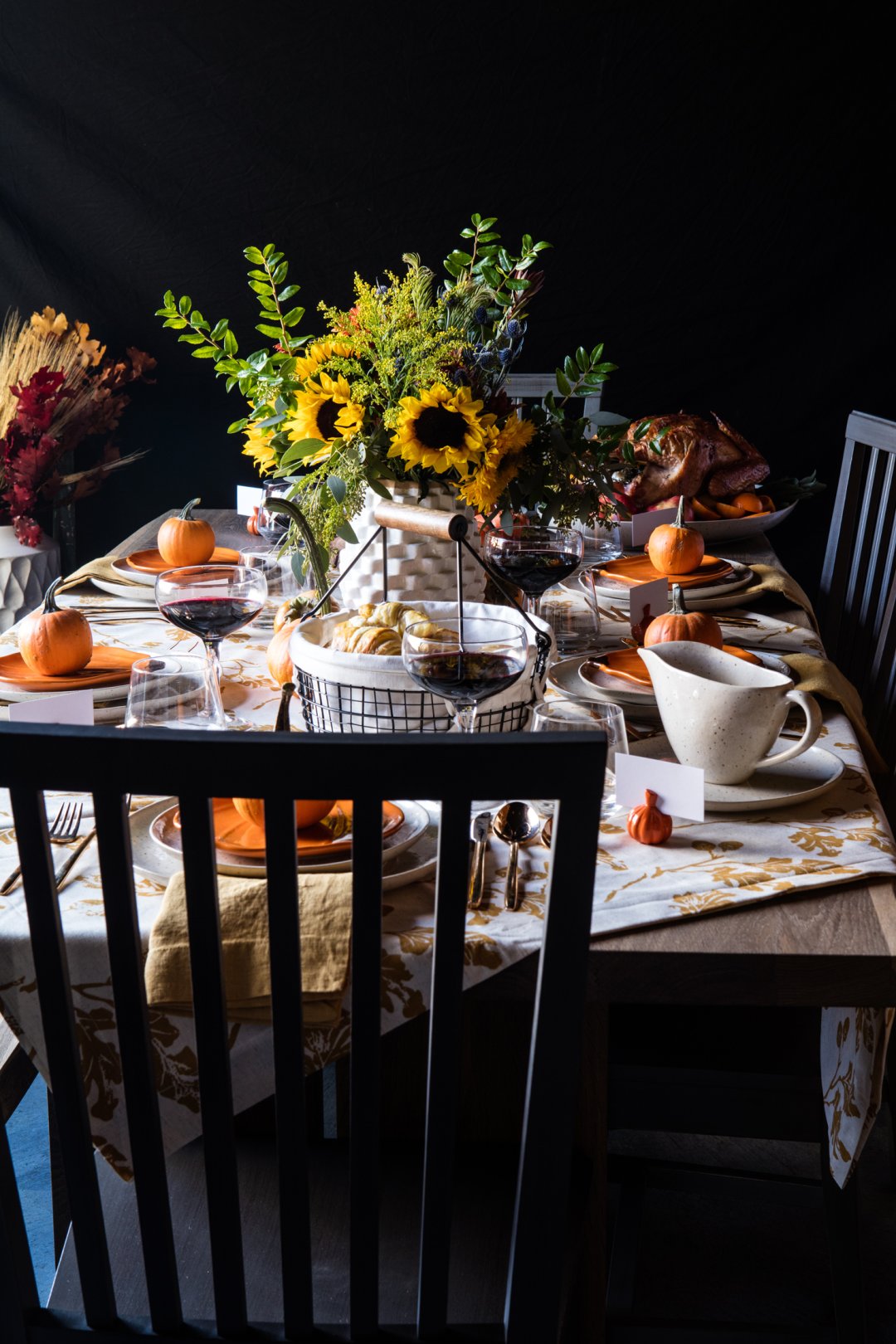 Since I have such a large family, Crate and Barrel's Dakota 99" Dining Table is the perfect piece to seat us all! It's not only large, but also comfortable and gorgeous!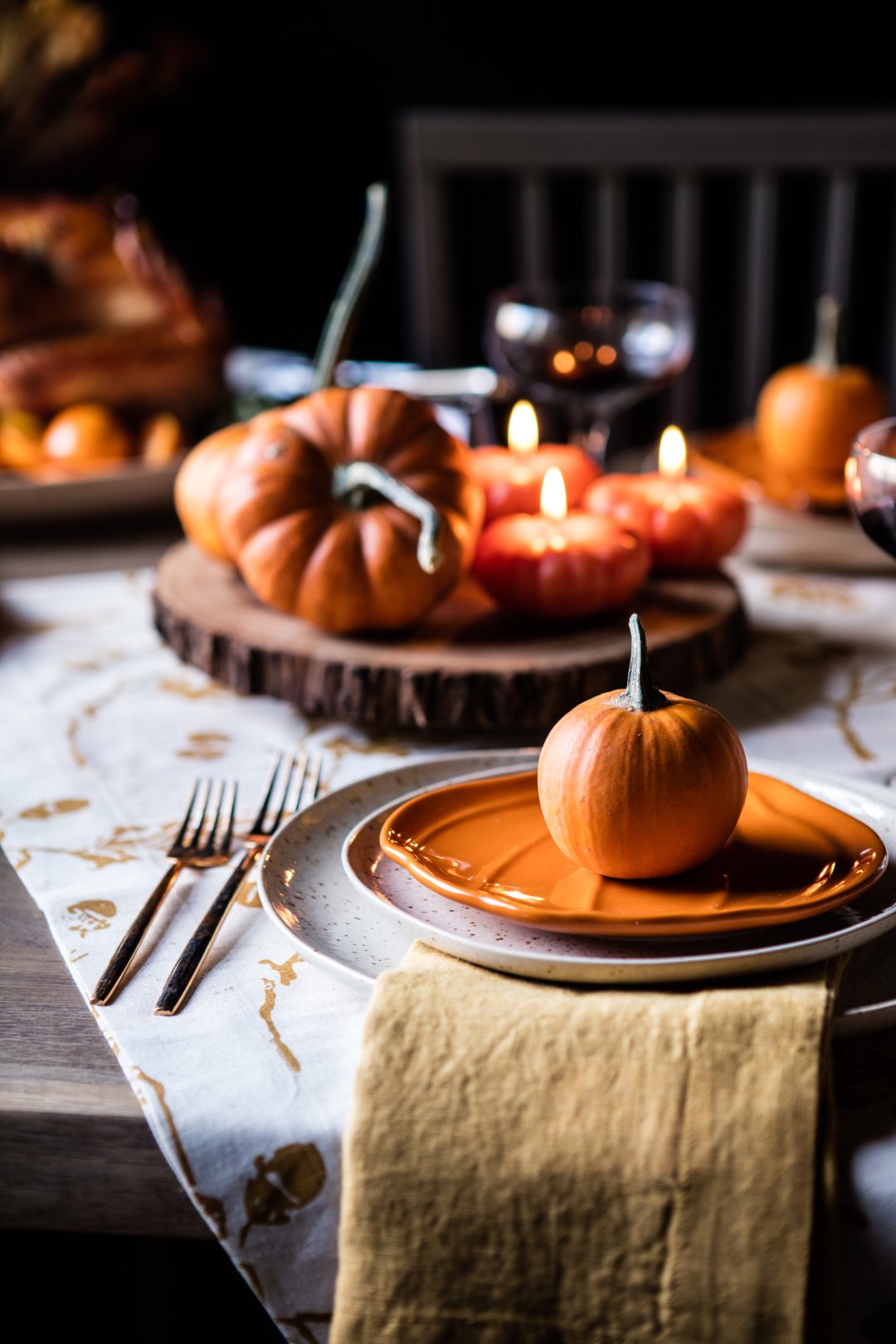 As for my dishes…no small plates allowed here! And yes, you need a plate for both your salad and your rolls. You can't have those foods taking up valuable space on your main plate. Remember it is Thanksgiving! I love using the Wilder Dinner Plate Collection. The large dinner plates, and simple handmade appearance, create a warm and earthy tablescape. And the neutral colors enable me to add a pop of fun, like theses bright pumpkin plates!
Tip: when styling your dinner table think about using mostly natural colors and adding little pops of color throughout. For my table, I added pops of orange.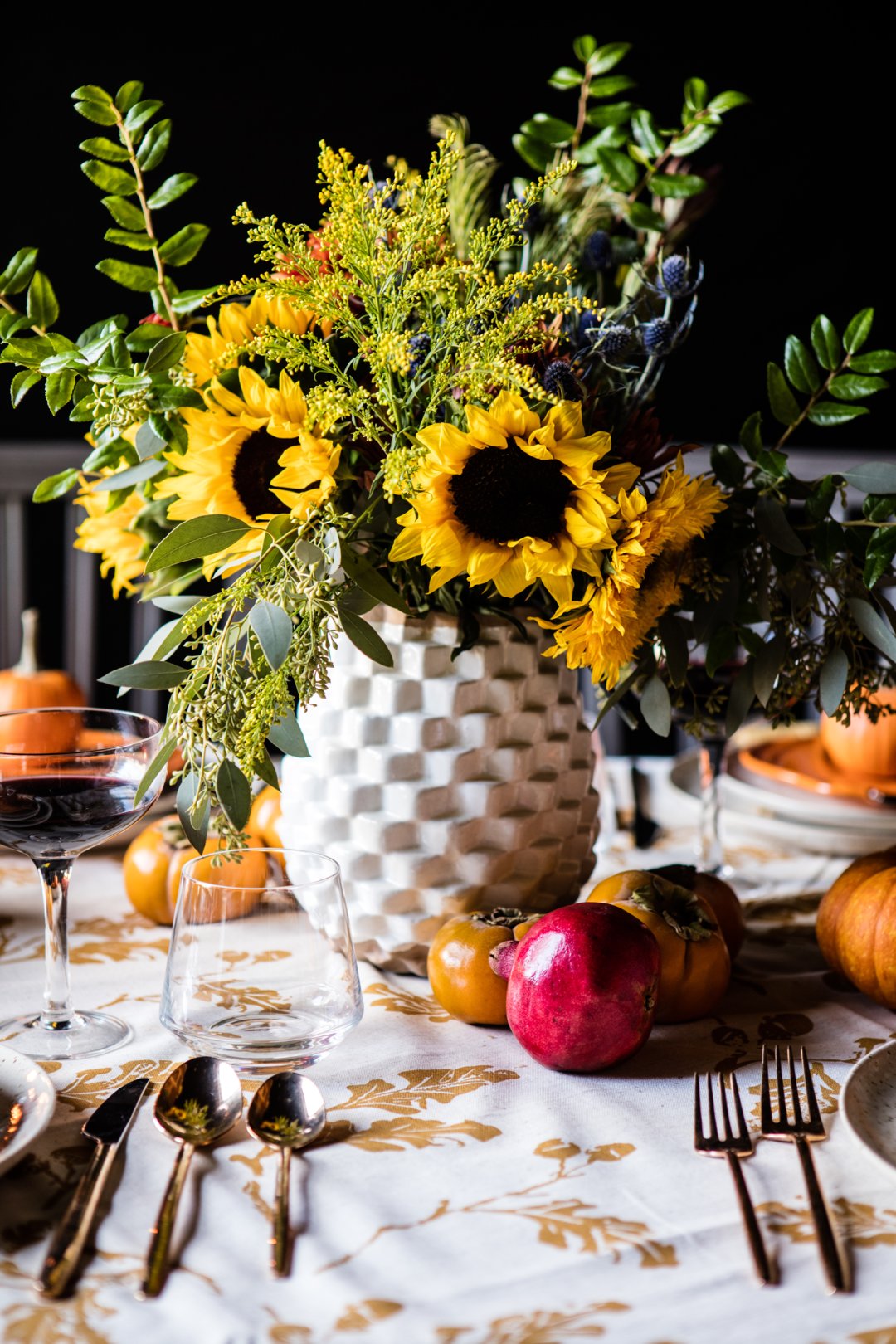 I always start my table out with a bouquet of flowers and then when dinner is ready, replace the flowers with the turkey and allow the food to be the gorgeous centerpiece.
Tip: You can also replace flowers with autumn fruits and vegetables, such as mini pumpkins, pomegranates and persimmons.
Step Three: Put it all Together
Make your list, do the grocery shopping, make your pies, prepare any dishes that can be made in advance, set the table, get your turkey baster and get cooking!
Then, get your family to the dinner table, eat…and enjoy!
Perfect Roasted Turkey
Prep Time: 1 hour
Cook Time: 2 hours 45 minutes (I used a 14-16 pound bird)
Total Time: 3 hours 45 minutes
Serves: 6-8 (depending on the size of your bird)
1 (14-16) pound turkey, giblets + neck removed, rinsed + patted dry
2 sticks (1 cup or 16 tablespoons) unsalted butter, softened
2 tablespoons fresh thyme, plus more for stuffing the bird
3 tablespoons fresh parsley
zest of 1 lemon
3 teaspoons salt
1 1/2 teaspoons pepper
1 large piece of double lined cheesecloth
2 lemons, halved
1 garlic head, tips sliced off
1 onion, halved
4 cups low sodium chicken or turkey broth
Bourbon Gravy
4 tablespoons butter
6 tablespoons flour
drippings from the turkey
2-3 cups chicken or turkey broth, as needed
1 tablespoon fresh sage
3 tablespoons bourbon
salt + pepper, to taste
Remove the turkey from the fridge one hour before roasting. Remove the giblets + neck, and rinse the bird off. Pat dry and allow to come to room temperature.
To make the compound butter, finely chop the thyme + parsley and add to a bowl with the butter. Add the lemon zest, salt and pepper, mix well to combine, making sure the butter is smooth and the herbs are evenly mixed throughout.
Preheat the oven to 450 degrees F. Position a rack in the lower third of the oven.
Place the turkey in a large roasting pan.
Season the cavity of the turkey with salt and pepper and fill the cavity with the, lemons, garlic and onion. Gently lift the skin of the turkey by using your fingers and going in between the skin and body of the bird. Rub half of the compound butter under the skin of the bird, spreading some of the butter on top of the skin as well. Take the remaining butter and melt it over the low heat on the stove or in the microwave. Dampen your cheesecloth with warm water and squeeze dry. Submerge the cheesecloth into the melted butter, making sure all of the cheese cloth has soaked up the butter. Lay the cheesecloth over the bird, covering most of the bird. Drizzle any remaining butter over the turkey.
Pour about 4 cups of chicken broth into the bottom of the roasting plan. Place the roasting pan in the oven and roast for 45 minutes at 450 degrees F. After 45 minutes reduce the oven temperature to 350 degrees F. and continue cooking for another 2 hours (until the turkey registers 160 F. on a meat thermometer), adding 1-2 cups of broth half way through roasting. I like to baste the turkey with the drippings 2-3 times throughout cooking, and when doing so, I also rotate the roasting pan.
Remove the turkey from the oven and remove the cheesecloth, transfer the turkey to a baking sheet, tent loosely with foil and let rest 20 to 30 minutes before slicing.
To make the gravy, strain the liquid from the roasting pan, skimming off most of the fat. I like to pour the broth into a 4 cup measuring cup and then place in the freezer for 10 minutes. This helps the fat rise to the top of the surface. Once you have skimmed the fat, add enough broth to equal about 4 to 5 cups total of drippings/broth.
Place the roasting pan over two burners and add a splash of chicken broth (about 1/2 cup) to deglaze the pan. You want to scrape up all those brown bits on the bottom of the pan. Once the pan is thoroughly deglazed, add the butter and once melted, add the flour whisking to combine. Cook stirring constantly, until the mixture is golden, around 5 minutes.
Increase heat to medium high and slowly add reserved broth, stirring constantly, until the mixture is smooth. Stir in the sage and bourbon and cook, continuing to stir, until the gravy has thickened to your desired thickness, around 8 to 10 minutes.
Season to taste with salt and pepper. Serve warm with the turkey.
Cranberry, Apple and Pecan Wild Rice Stuffed Mini Pumpkins
Prep Time: 15 minutes
Cook Time: 1 hour
Total Time: 1 hour 15 minutes
Serves: 6-8
Instructions
1 1/4 cups uncooked wild rice
2 1/2 cups low-sodium chicken broth
6-8 mini pumpkins
2 tablespoons olive oil
2 small Honeycrisp apples, chopped
2 tablespoons fresh thyme, chopped
1 cup raw pecans, chopped
1 cup dried cranberries
salt + pepper, to taste
1/3 cup grated Parmesan cheese
In a large sauce pot, bring the chicken broth to a boil, add the wild rice. Cover and cook over low heat for 35-45 minutes or until the broth is gone and the rice is fluffy.
Preheat the oven to 400 degrees F.
Slice the tops of your mini pumpkins and scoop out the seeds (reserve the seeds for roasting and then use to top the dish if desired). Place the pumpkins on a baking sheet and rub each with a little olive oil, salt + pepper. Roast for 15 to 20 minutes or until the pumpkins are just tender.
Meanwhile, heat a large skillet over medium heat and add a drizzle of olive oil. Add the apples, thyme and pecans and cook 5 minutes. Remove from the heat and add the wild rice (there should be around 3 cups of wild rice). Stir in the cranberries and parmesan cheese.
Arrange the pumpkins in a large baking dish and stuff each pumpkin with the wild rice mixture.
Place in the oven and bake for 10 to 20 minutes or until the pumpkins are soft and the wild rice has heated through.
Cranberry Smash
Serves: 1
Drink
1/3 cup fresh cranberries
7 mint leaves
juice from half a lime
1-2 tablespoons maple or honey (if not garnishing with the sugared cranberries)
2 ounces bourbon (more or less to taste)
ginger beer, for topping
rosemary, for garnish
Sugared Cranberries
2 cups sugar, divided
2 cups fresh cranberries
Sugared Cranberries
Bring 1/2 cup water and 1/2 cup sugar to a boil until the sugar is dissolved, about 3 to 5 minutes. Remove from the heat and let cool slightly. Stir in the cranberries and let the cranberries sit in the sugar water for 1 to 2 hours or overnight.
Strain the cranberries thoroughly, then add them to a parchment lined cookie sheet with sides. Add the remaining 1 1/2 cups sugar and gently toss until all the cranberries are coated in sugar. Allow the cranberries to dry, in a single layer for at least one hour.
Drink
In a cocktail shaker or glass jar, add the fresh cranberries, mint, lime juice and maple or honey (if using). Using a muddler, muddle all of the ingredients together, squishing everything to release the juices (squish hard). Add the bourbon.
Add ice to your glass and pour the drink over the ice. Top the glass with a little more ice and then pour the ginger beer over, gently stirring to combine. Garnish with 4 to 5 sugared cranberries (if using) and fresh rosemary. DRINK!
Entertaining all day? Check out these appetizer ideas to keep guests content.