Bathroom Essentials Buying Guide
We spend a lot of time in our bathrooms, but we don't always remember that the space can be beautiful as well as useful. At Crate and Barrel, we've refined our collection bathroom essentials such as quality towels, shower curtains, bath rugs and accessories in a bathroom buying guide to help you create a functional bathroom that's just as stylish as the rest of your home.
The Spa Bath
Bath Towels
We have an exclusive collection of soft, absorbent 100% cotton towels, tightly woven in durable double-ply yarn with terry loops customized in size, length and diameter. A complete set of bath towels per person (and don't forget guests) should include two each: bath sheets or bath towels, hand towels and washcloths, all with a luxurious touch. Choose from a variety of weights, including Egyptian and Turkish varieties. Not sure which towels to select? Check out our quick tutorial to help you determine the best towels for your needs.
Gram Weight
Grams per square meter is a fabric standard of measurement for weight and quality, ranging from 300 grams up. We loom our bath towels to luxurious weights, striking the perfect balance of thick, fluffy and absorbent yet light enough to be quick-drying.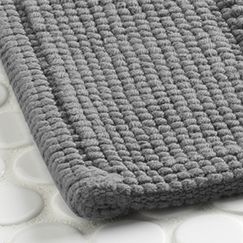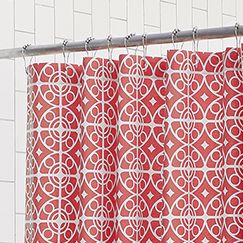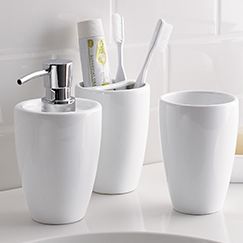 Bath Rugs
Step out onto plush 100% cotton bath rugs in a range of sizes, styles and colors. For a true spa-like feel, look for wooden mats that bring a natural material into your space.
Shower Curtains
Whether you choose a shower curtain designed to coordinate with our bath linen collections or a versatile neutral, take time to notice the details that create a more luxurious finish. The high-quality fabrics we choose drape beautifully with the fullness of window curtains. Reinforced buttonholes handle the stress of everyday tugging and pulling.
Bath Accessories
Complete the master bath, guest bath and powder room with contemporary amenities designed to complement our textile collections. Accessories we consider must-haves include soap dishes, bottle pumps, tissue holders, trays and waste cans. Create additional storage with totes, baskets and shelving towers to organize and contain your smaller bathroom necessities. Not sure where to start? We've collected our top bathroom storage ideas to get you started.