Entertaining
How to Host an Outdoor Party
Whether you've been hibernating inside for months or are lucky enough to live in a climate where you enjoy a patio all year long, there's no host more welcoming than the great outdoors. Our collection of outdoor party ideas will help you plan a get together—al fresco.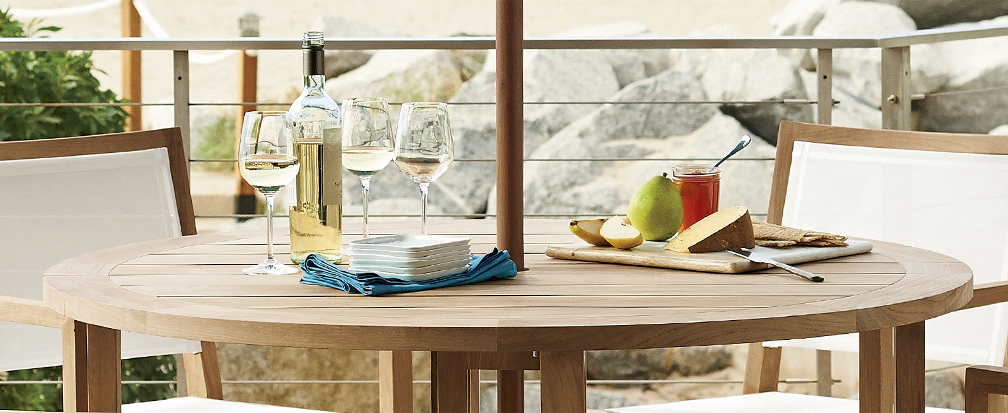 Decide on a Theme
Begin brainstorming themes for your gathering by generating summer party ideas that can be completely realized in an outdoor space. Host a backyard BBQ. Invite friends for an outdoor movie night. Make it a champagne and s'mores soiree. Because the entire event can take place outside, you can focus your hosting attention in one place, but remember to prepare indoor spaces for guests to take a break from the elements. Decorate entryways, bathrooms and kitchens with decor that complements the theme of your party.
Prepare enough seating
Your outdoor party space should have enough seating for all of your guests, but that doesn't have to mean a sit-down dinner. Consider mixing your regular patio furniture with outdoor poufs and stools. For a picnic vibe, lay thick blankets in the grass and pepper them with oversize floor pillows. Be sure to sweep both the deck or porch and stairs before your party. We've found at a casual outdoor party guests are comfortable turning almost anything into a seat—and that includes your staircase. Fill oversized tents or a large teepee with blankets and pillows to create a chic camping party. Add flameless candles to lanterns and hurricane candle holders to provide soft, atmospheric lighting.
Decorate the party space
The beauty of an outdoor party is that nature serves as your centerpiece. The lush greens and vibrant blooms mean you need minimal decorations to really enliven the space. Careful placement of flowers on side tables and the buffet table will often do the trick. Once the sun sets, set the mood with candlelit lanterns and lights strung across trees or the patio. To keep mosquitos at bay, look for citronella-scented candles or tiki torches. If your yard has mature trees, you can wrap their trunks with mini lights to create an enchanted forest setting.
Plan your menu: consider a buffet
Most outdoor gatherings lend themselves to family-style buffets where guests mingle and eat at the same time. Therefore turn your outdoor dining table into a buffet. Stack the dinnerware at either end of the buffet, giving guests easy access to plates and setting up a more casual approach to dining. Minimize the buffet clutter by corralling flatware and napkins in a caddie. Be sure to have enough plates, napkins, and flatware on hand so that you don't find yourself inside at the kitchen sink during the party. Choose recipes that will weather the outdoors—no mayonnaise-based salads—and serve the dishes from large platters and bowls. Consider adding dishes for guests with special dietary limitations, such as gluten-free or vegetarian options. Finally, place a few trays outside, so that when you do have to bus used plates or swap out dishes on the buffet, you'll have to make fewer trips inside.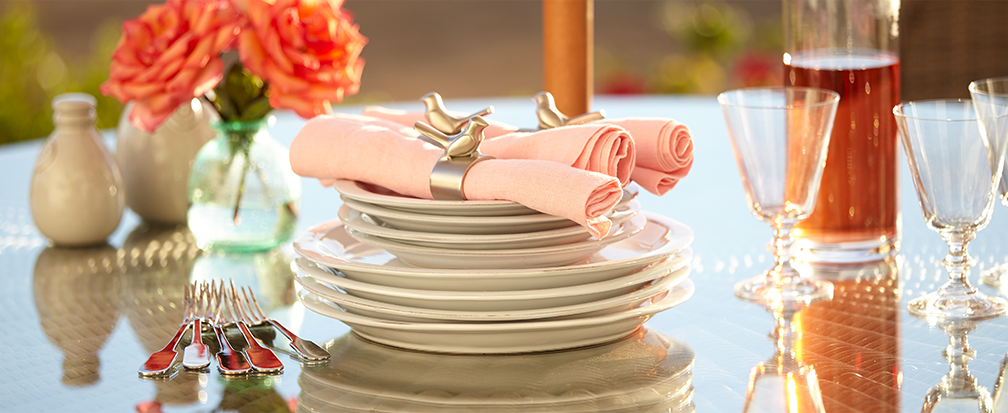 Set up a drink station
As friends mingle, offer a few different drink options around your patio and yard. Get creative with your bar set-ups. Use a potting work bench as wine bar, turn an unused dining bench into a drink station with acrylic drink dispensers of water, flavored vodkas, or lemonade, and stock a few beverage tubs with beer options. Instead of glass drinkware, we recommend using acrylic glasses or paper cups for beverages, in case of tumbles and spills. Offer plenty of ice water flavored with fruit or herbs to help your guests stay hydrated throughout the party.
Plan for a no-bake dessert
A summer night begs for an easy, oven-free treat. However, serving ice cream or frozen desserts can prove to be a difficult proposition when it's warm outside. One outdoor party idea that beats the heat is to pass individual servings of pre-scooped ice cream or ice cream sandwiches on a tray. That way each of your guests can enjoy their dessert before it melts. And you can end the evening with a thoughtful cool finale. For an extra special treat, consider scheduling a visit from a local food truck that serves cupcakes, ice cream or snow cones.
Pick music that fits the party theme
Pick music that fits the mood of your party, or curate a playlist that transitions from energetic and lively to calm and serene as the night progresses. Set up fun yard games, including horseshoes, bocce, a bean bag toss or croquet. For a vintage-inspired throwback, have a hula hoop or limbo contest. For evening parties, create a glow-in-the-dark ring toss game using glow necklaces and bracelets. To make your own outdoor photo booth, hang a large cardboard frame from a tree and provide summer-themed props, such as beach balls, brightly-colored sunglasses and umbrellas.
How to you celebrate summer? Share your ideas for an outdoor party with us by using the hashtag #CrateStyle.
View More Entertaining Ideas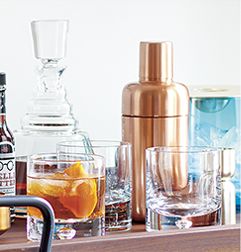 How to Stock a
Home Bar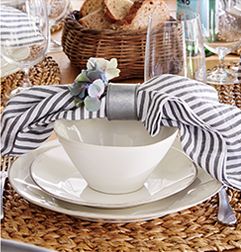 Table Decorating
Ideas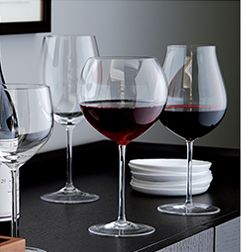 How to Host a Wine
Tasting Party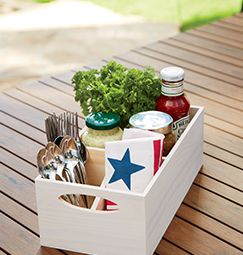 Labor Day
Party Ideas
Back to Top