Annapolis Mall
2270 Annapolis Mall Rd
Annapolis, MD 21401
(410) 224-2048
Hours
Mon - Fri:

10 am - 9 pm

Saturday:

10 am - 9 pm

Sunday:

11 am - 6 pm
Annapolis Mall, MD
Store Events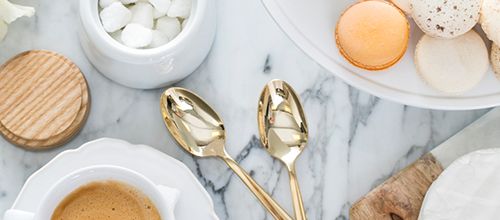 Private Registry Events
If you're about to be married, we're throwing a party in your honor. Bring your fiancé or your friends. For two full hours, our entire store is yours. Enjoy great food, drinks, music, and our experts' advice on registering.
Store Details
From the latest cookware and appliances to the newest trends in home decor and furniture, you'll find it all at Crate and Barrel in Annapolis, MD. Need a great gift or some new furniture or housewares for your home? Drop by Crate and Barrel Annapolis Malland browse all the great things we have in store this season. Getting married? Our wedding registry experts will help you create the perfect list.
Store Pickup
No shipping. No waiting. Buy online and pick up at a Crate and Barrel store near you. Most items are available for pickup the same day. Learn more
Design Services
Whether you are embarking on a complete room makeover or are looking to make a quick seasonal update to your space, our Design Experts are ready to offer design advice and utilize tools to bring your vision to life. From choosing the right color sofa to designing a full floor plan, Crate and Barrel Design Experts offer design services in-store or at home to help you select the perfect layout, frame or fabric for your style and space. Schedule an appointment
About Crate and Barrel Annapolis Mall
Elevate your Annapolis or East Shore home with furniture, home decor and kitchen accessories from Crate and Barrel Annapolis Mall. Visit us at the Annapolis Mall for expert customer service to choose products for your home as well as gifts for others. The associates at Crate and Barrel are constantly striving to create amazing experiences for their customers. Using tablet technology, they provide quick and efficient service for customers looking for their favorite items like the Durham furniture collection in-store or online. Choose one of three entrances to access Crate and Barrel: two outdoor entrances and one inside the mall on level one. Once inside, head to the first floor to find housewares including cookware, kitchen accessories and serveware. Furniture is located on the second level, which can be accessed via the elevator, escalator or in-store stairs.
Pick-up for large furniture orders can be found at the Customer Pickup Door near the 691 cross dock. Small Store Pick-Up and hold items can be retrieved by talking to an associate in-store. There are two 15-minute parking spots located outside the second floor entrance that customers picking up items can use.
If you're shopping for a wedding gift or housewarming present, the associates at our Annapolis Mall location are ready to offer advice on the best gifts for any budget. Make sure to mention if your items are a present at checkout to receive free gift wrapping in our signature boxes.
Engaged couples love wedding registry events at our Annapolis location to prepare for their special day in style. With local vendors providing complimentary food and drinks, as well as live music, we make registering an experience to remember. Couples can receive expert guidance from our experienced staff on necessities to include in their registry. To find out about upcoming store events at the Annapolis Mall location, check the Stores Event section above, find in-store signage, or ask an associate for details.
Location & Parking
Located less than an hour from both Baltimore and Washington DC, Crate and Barrel Annapolis Mall is conveniently located in Annapolis, Maryland. The Westfield Annapolis Mall is right off of Highway 50, which links the Eastern Shore to Annapolis and Washington DC. Our associates love serving customers who are furnishing coastal homes along the Eastern Shore. Close proximity to the Naval Academy means associates are also familiar with the unique needs of military homes. Make sure to ask our associates about a military discount.
The Annapolis Crate and Barrel offers easy access to a wide selection of shopping and restaurants in the area as well as other entertainment. The location boasts an easy drive to historic downtown Annapolis, the Naval Academy, the State House, and annual boat shows.
Crate and Barrel guests will find free parking in surface lots near the store. There is also a parking deck with an entrance to the second floor of the store. In addition to parking, the store is accessible by Annapolis Transit. The bus drops off in the parking lot near JCPenney.
Interior Design Annapolis:
At our Annapolis Mall location, guests have access to a selection of interior design services to help them choose the perfect furniture and style for their east coast home.
Design Studio: Design Experts can create an inspirational mood board, design a room layout or provide an in-home consultation to help you bring your vision to life.
Custom Rugs: Let our trained associates help customize a rug to fit your space perfectly. Choose from a variety of materials, shapes, dimensions and colors to fit your needs.
Custom Upholstery: Design chairs, sofas and headboards that reflect your personal style by picking out custom frames, fabrics and leg finishes.