Paola Velez's Dulce de Leche Honey Cake
Pastry Chef Paola Velez of @smallorchids shares her bold and tropical Dulce de Leche Honey Cake recipe. Whip it up for the person you love (even if that's yourself) or pull a family member or roomie in the kitchen to create this masterpiece together. Paola went for a rectangular shape using her bench scraper but wants you to have fun with it—think circles, hearts, or even the initials of your sweetie or BFF.
"This recipe takes graham cracker-like layers of cookie crust and adds layers of decadent and rich dulce de leche whipped frosting, ribbons of golden honey, and fresh pops of bright tropical passionfruit and dragon fruit topping." -Paola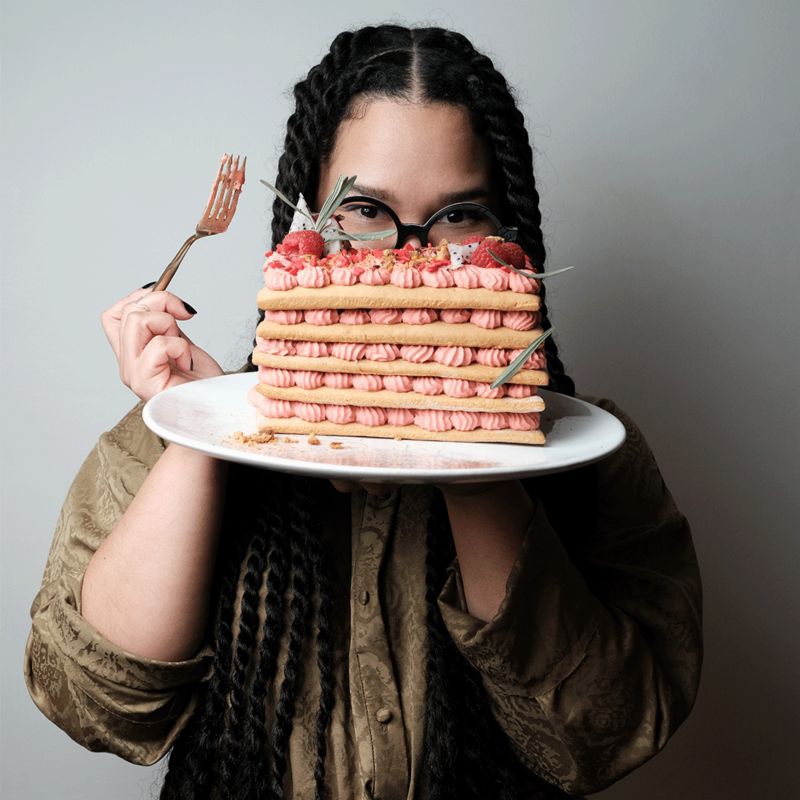 Dulce de Leche Honey Cake Recipe
Ingredients
Dough Ingredients:
12 tablespoons butter, melted
1 cup granulated sugar
1 cup dulce de leche
4 tablespoons honey
6 large eggs
6 cups all-purpose flour
1 tablespoon baking soda
½ teaspoon salt
Frosting Ingredients:
8 ounces cream cheese, softened
8 tablespoons butter, softened
10 ounces dulce de leche
3–4 drops pink food color
1 pint heavy whipping cream
Honey, for drizzling
Fresh fruit, edible flowers and sprinkles for decorating (optional)
Directions
Using a stand mixer with a paddle attachment, mix the butter, granulated sugar, dulce de leche and honey at medium speed until incorporated. Scrape down the bowl, then mix on high speed for 3–4 minutes.
Add eggs one at a time, mixing completely between additions, and scraping down the bowl as needed. Add flour, salt and baking soda and mix on low speed until just incorporated, with no visible flour in the bowl. Your dough will be sticky.
Preheat your oven to 350°F as you roll out your dough.
On a flat, well-floured surface, use your rolling pin to roll out your dough to ⅛" thick. For this recipe, I cut rectangular shapes with my bench scraper—but have fun with it! (Think circles, hearts, squares, etc. This dough is very forgiving.)
Place your rolled cookie dough on a parchment-lined sheet tray and bake for 8–9 minutes. Do not overbake! Once baked, remove from the oven and let it cool completely before removing from the tray.

Frosting Instructions:

In your stand mixer with a whisk attachment, cream your cream cheese for 8 minutes, scraping the bowl every 2 minutes. Once no visible cream cheese chunks are left, on low speed, slowly incorporate your softened butter until smooth. Scrape down your bowl and add your dulce de leche, mixing for 2 minutes.
Add your food color at this stage, adding more drops for bold, vibrant color (the final product will be lighter once the cream is added—keep this in mind). On low speed, stream in your cream and whisk on low until your cream is fully incorporated. Mix your frosting on medium-low speed until soft peaks form—do not overmix. If your mixture is too soft to pipe, place it in the fridge for 10–15 minutes.
To assemble the cake, first fill your piping bag with frosting. Pro tip: Add a dab of frosting in the center of the serving platter or cake stand before adding the first layer of cookie crust to prevent it from sliding. Then, using the piping bag, add small dots of frosting until the first cookie layer is completely covered. Then drizzle in a bit of honey, and repeat with the rest of the cake layers and frosting. I find that 4–5 layers gives you enough height for the "wow" factor and still remains manageable to cut and enjoy.
Then, decorate the top layer of frosting with your favorite fresh fruit (I used dragonfruit, passionfruit and raspberries), edible flowers or sprinkles. Enjoy!