Prices and availability are subject to change from the time and date that you print this page.
4/18/2014 11:11:50 PM. For Customer Service, please call 800.967.6696
Quick and easy blending, prep, whipping and chopping at your fingertips. Stylish brushed?stainless hand blender with a?powerful 200-watt motor has push-button control for continuous?or pulse action integrated into the comfort-grip handle. Process foods in the accompanying bowl or right in your pot or mixing bowl for minimal cleanup. Measuring beaker with 16-ounce capacity expand your?range. Whisk and chopper attachments and plastic mixing/measuring?beaker complete the package.

Cuisinart® and other Wedding Registry offers


Cuisinart® 2-Speed Smart Stick® Hand Blender
is rated out of
5
by
16
.
Rated

5

out of

5
by
No_more_tears
from
A workhorse in my kitchen!
I can't begin to tell you how much I love this set of kitchen tools, I use it multiple times a week. The immersion blender is fantastic for purees/soups, I've also used it to give some froth to my coffee drinks. The whisk is great for meringues, or for making whipped cream, our favorite is a super easy chocolate mousse which we can have in minutes thanks to this tool (heavy cream, cocoa and sugar to taste, then whip it good!).Finally, the chopper, my trusty sidekick! Thanks to this chopper there are no more tears in my kitchen, those onions don't scare me anymore, and besides saving me tears it saves me time: I can chop an onion in seconds... SECONDS!! Additionally, I also use the chopper for spicy peppers, it achieves a fine and even consistency.I have been the proud owner of this gadget for over 5 years, it is still going strong, but if it ever gives out I will not hesitate to purchase another one.
Date published: 2014-03-02
Rated

3

out of

5
by
momn8or
from
Worked for a while
When I first got this blender,  I loved it.But within a year,  the plastic food processor bottom cracked. A d after five years,  the motor is shot. I didn't use it that often so losing the engine is just not justified. So, while it worked,  it was nice. But now I'm out shopping for a second one and it won't be this one. 
Date published: 2014-03-30
Rated

1

out of

5
by
unsatisfiedinboston
from
not reliable
It worked for about 6 months of very light use, then became very unreliable. The whisk attachment is worthless since it stops as soon as you encounter any resistance (just grazing the bottom of the bowl is enough to stop it in its tracks). Would not recommend.
Date published: 2014-03-02
Rated

5

out of

5
by
arbed6
from
I don't use often but would be lost without it
I don't really use it daily but when I need it I am so glad I bought it.
Date published: 2014-03-02
Rated

5

out of

5
by
jane35
from
Very convenient for soups!
This blender was given to me years ago as a gift by my mom, otherwise I never would have thought I needed it. I've found that it's something I can't live without. So convenient for soups - just stick it in the pot and blend. No transferring in batches to your blender - safer and easy cleanup! My fiance and I also use it for our daily morning protein shakes. If I had one con, it's that you can't fit the blender into a pint glass, but that's a very small con - we just blend our shakes in the cup provided and drink straight out of that. I recently registered for another one since ours is getting old, and I see no reason to step up to the All Clad (read: expensive) version; this one gets it done for a fraction of the price.
Date published: 2014-03-28
Rated

5

out of

5
by from
A must if you make soups
Blends soups/dips amazingly!!  I use this kitchen tool way more than I thought I would!
Date published: 2014-03-02
Rated

5

out of

5
by
thenicolaus
from
How did we ever live without this?
This three-in-one tool helps to make so many different types of food! Just pulse the food processor a few times to chop an onion super fast, and no tears! Also great for chopping herbs, peppers, and probably much more. We use the immersion blender now and then for soups. So convenient to puree the soup without having to pour into a blender or food processor. (Just don't lift above the top of the mixture, or you will have a mess.) We have used the whisk attachment for avocado chocolate pudding, and it worked well.
Date published: 2014-03-06
Rated

4

out of

5
by
Help
from
Help!
This is my second mini-blender and I love it.  But this is new to me and I can't figure out how to get the top off of the bowl.  Since I threw out the box can anyone help me?
Date published: 2014-03-21
Rated

5

out of

5
by
jennaudrey
from
A must-have tool in the kitchen
We received this as a wedding gift in 2011, and it has been a staple in our kitchen ever since. It's what I whip out when I want to make a quick whipped cream, when I want to make a silky smooth sauce or soup, or when I want to finely mince garlic or hot peppers. I love it so much, it's my go-to gift for housewarmings and weddings.
Date published: 2014-04-08
Rated

4

out of

5
by
CookSimple
from
Cooking repertoire instantly expanded
I used to toss lots of food and now I am able to combine leftover ingredients into new combinations, i.e. cubed winter squash to make a delicious ginger squash and carrot soup. And I can cook, blend and serve from one pot! Product is easy to use and to store in a small city kitchen. It's terrific.
Date published: 2014-04-08
Rated

3

out of

5
by
caitlin5724
from
Average hand blender
I bought this and used it a few times for smoothies, it did not crush large pieces of ice as does a normal blender. I also thought the cup that comes with it was very small. I would recommend getting a blender with a better motor. Next time I will probably purchase a different one.
Date published: 2014-03-27
Rated

5

out of

5
by
Kailiee
from
Very good product
Best price I found - even when comparing to department stores - and it is so handy - I just love it!! I use it for alot of different things! I would be lost without this in my kitchen!!!
Date published: 2014-03-27
Rated

5

out of

5
by
ValSJ
from
seams like it has great features
I bought one at Christmas time for my daughter and she liked it so I have bought another one for a bridal gift.
Date published: 2014-04-08
Rated

5

out of

5
by
CamN
from
Choirs of Angels
I'm pretty sure this product sang when I opened the box... I love it - it's powerful, and the chopper saved so much time, it was amazing. I used the chopper to reduce onions and peppers to a paste (which it did beautifully and quickly), and converted back to the immersion blender to mix the paste into a sauce. I haven't used the whip yet, but it also looks like it will come in handy. Great product, durable, high-quality construction, high-power motor, and excellent versatility. I'm sure I will use it frequently!
Date published: 2014-03-02
Rated

4

out of

5
by
CharleKC
from
Quality Product
I bought this at Christmas on sale. I am quite pleased to see what a sturdy hand blender this is. This is a great product for the money. Runs smoothly. Does a great job of blending and chopping.
Date published: 2014-03-02
Related Products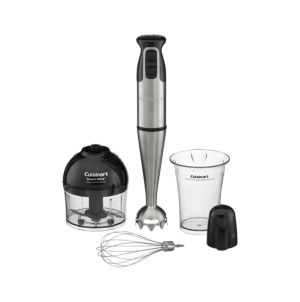 Quick and easy blending, prep, whipping and chopping at your fingertips. Stylish...