Prices and availability are subject to change from the time and date that you print this page.
9/16/2014 2:29:08 AM. For Customer Service, please call 800.967.6696
More Delta Dining Furniture
Delta 30 Aluminum Bar Stool
is rated out of
5
by
80
.
Rated

5

out of

5
by
Amyyyy
from
Stools
Counter Ht stools perfect fit and quality. Purchased cushions to keep seat warm!  Love them both. 
Date published: 2013-11-07
Rated

5

out of

5
by
NYC CRATER
from
Perfect
I was looking for this because the original which inspired it is way beyond my means. I've seen a few that came close but the C&B chair fits the bill.Great to look at, super comfortable (even without a cushion) and light as a feather not to mention super sturdy.I couldn't wait to get rid of my other chairs fast enough.
Date published: 2013-07-26
Rated

5

out of

5
by
RC4711
from
Excellent
I love the modern clean style of this barstool. It is "lite" yet sturdy, easy to maintain and works perfecly with the decor of my little place. BTW the delivery guys were on time and professionals.
Date published: 2013-06-24
Rated

4

out of

5
by
T360
from
Comfortable and durable
I bought the barstools to go with the Belmont Work table to use in my kitchen and love the set. The only downside is that I wish there were other cushion options as the black fabric has a bit of a shine to it and doesn't look as high quality as the stools. I'll eventually recover them. Overall, they are comfortable and stay in place.
Date published: 2013-06-18
Rated

4

out of

5
by
Iowa Lady
from
Buy them! Perfect kitchen accent color for the bar stools. Love the yellow!
Date published: 2013-05-07
Rated

5

out of

5
by
10slover
from
Great Bar Stools
These bar stools are light weight, but very sturdy. They look great with the stainless steel appliances in our kitchen. We purchased the black cushions to go with them, and they are very comfortable. They were shipped quickly and delivered right to our door. We will definitely purchase items from Crate & Barrel again. Very pleased.
Date published: 2013-05-03
Rated

5

out of

5
by
midlandmom
from
buy these
We bought the Delta side chairs and totally agree with the good reviews on this site. We love how lightweight they are, they look great, and are as comfortable (even without cushions) as people have said.
Date published: 2013-04-30
Rated

5

out of

5
by
Snookie Blu
from
I love these chairs!
I bought these chairs to go with an Amish made pine trestle table. The table is of heirloom quality, so instead of getting a more modern table, I paired it with these for an updated look. It's gorgeous! I was hesitant about ordering chairs online without sitting in them first, but they're so comfortable. I also bought the Delta chair cushions, but even without padding, they're the most comfortable dining chairs I've ever had. I love the way they look. They're also smaller than most chairs, so they save on space. My other chairs were heavy and big, but these are so lightweight and easy to move. They shipped fast and arrived nicely wrapped. I'll be buying a couple more soon. I couldn't be happier.
Date published: 2013-04-16
Rated

5

out of

5
by
Snookie Blu
from
Great chair cushions!
I bought these to go on the Delta side chairs that I purchased....they are awesome. My only complaint is that there was a strong smell to the fabric/cushion, and I'm very sensitive to smells. I threw the cushions in the washing machine and ran them through 3-4 cycles, the first couple with detergent. Afterward, I put them on the deck in the sun to dry. Then I removed the black covers, washed them again, ironed them, and put them on the chairs. They are still in perfect shape and very comfortable. They are the perfect size for the chairs, and the velcro attaches them securely. Very happy with my purchase. The chairs are comfortable even without the cushions, but they just add a nice touch and make them more comfortable.
Date published: 2013-04-15
Rated

4

out of

5
by
ioniagal
from
Perfect!
These stools were just what I've been looking for! I love how light weight they are, makes cleaning easy.
Date published: 2013-04-09
Rated

5

out of

5
by
Lafayette Ann
from
Stylish and comfortable
These shorter stools are very light, stylish and comfortable. They are the height to select for counter height applications. As another reviewer noted, they may seem a little bit short - but unless you are seating a very small child - it shouldn't be a problem. They are the standard height for stools to be used in counter-height applications. I have the black cushions for them and they are now warm as well as comfortable. They really look great with my stainless steel appliances. Love these!
Date published: 2013-04-05
Rated

3

out of

5
by
The Rennovator
from
Recommended with Reservation
The stool is nice looking and easy to move around my large kitchen. However, the shorter version is recommended for counter height and I found it to be too short.
Date published: 2013-03-05
Rated

4

out of

5
by
Goleta Dan
from
Bar stools
These delta bar height stools are similar in style to much more expensive options sold elsewhere. Build quality was good however one out of the five we purchased had to be exchanged because some of the welds were really uneven. Very comfortable but please note some things to keep in mind: the aluminum is cold if you don't have the seat cushions, if you drag them rather than lifting them they are loud, and due to their height and style the rare legs sweep out pretty far and guests who aren't used to them sticking out seem to kick them frequently. I cut about 3" off the feet due to our unusual counter height and it helped reduce the kicking issues. Overall the stools are great but we would have appreciated the above information to help with our selection.
Date published: 2013-03-04
Rated

4

out of

5
by
LCLovesDesign
from
Sleek and super light
I ordered these for the new business center for my client and they look great. I bought the matching side chairs for the office and they were the perfect size for their small office. The chairs were on back order originally, but customer service was so nice they found me 6 of them in Ohio and everything got to me in time.
Date published: 2013-03-04
Rated

4

out of

5
by
Jonnos mom
from
great purchase
I love these stools. We bought three of them. They are comfortable and have a sleek, modern look that fits with our family room and kitchen counter, which we use as a bar. I highly recommend them. They are so light!!
Date published: 2013-03-04
Rated

3

out of

5
by
kktr2
from
LOOKS fabulous-issues with aluminum
I reviewed every single aluminum industrial style modern bar stool. There is every price range and none seemed to indicate great quality. I ended up buying these ones because I thought if I ran into issues, at least it would be from a reputable store that would hopefully back their products. I've had them for several months...no issues there. The weird issue is the feel of them. My daughter said it's like touching a chalkboard and she won't sit on them. I had custom cushions made because they are FREEZING cold all the time. The other issue I'm disappointed with is we have a large island and I ordered the 24" counter height stools. For some reason, even with a 2" cushion, they feel slightly low. The look GREAT! But sitting on them...not so much. We have another year or so at this house and my husband said, "let's leave those when we move..."
Date published: 2013-02-26
Rated

5

out of

5
by
jjessup
from
Perfect
LIght weight but still sturdy. The yellow cushions are great!
Date published: 2013-02-22
Rated

5

out of

5
by
Adriftx9
from
Light and Comfy!
Purchase was quick and easy. I use them at my kitchen table, they are comfortable and easy to move around which has become important as I get older!They look very attractive even though mixed with more traditional furniture and antiques.
Date published: 2013-02-01
Rated

5

out of

5
by
grandma7
from
They make it easy
I'm a grandma and have limited computer skills. Crate and Barrel made the order of chairs easy. I ordered the chairs for my daughter's Christmas present. The chairs came on time and look great.
Date published: 2012-12-15
Rated

3

out of

5
by
Ruthie Ann
from
Not really yellow cushions
The bar stool is very cold when it is cold out. I decided to buy these cushions. Unfortunately there are not a lot of color choices. I chose Yellow and it is more a gold than a bright yellow I was expecting. The cushions seem fine and fit well so the only thing I do not like is the color. I was trying to buy something in Grey that would be similar to the bar stool color but had no luck so this was better than nothing.
Date published: 2012-11-09
Rated

5

out of

5
by
Sara in Trophy Club TX
from
Great bar chairs
Im using these chairs outside and they look beautiful!! Well made and sturdy. May but 2 more.
Date published: 2012-09-14
Rated

4

out of

5
by
GSOFamily
from
Great Barstool
Bought these for our new kitchen and love them. Lightweight and simple. They add a nice touch to our bar!
Date published: 2012-09-10
Rated

5

out of

5
by
AJ Sweet
from
Beautiful, sleek, stylish
These are great bar stools that complement a variety of decorating styles. I am very happy with my purchase and plan to use these for many years to come.
Date published: 2012-09-08
Rated

5

out of

5
by
Tom D
from
Bar Stools
We wanted to update the look at our kitchen counter and these stools were perfect.
Date published: 2012-09-08
Rated

5

out of

5
by
rosearbor
from
Great product
These barstools are wonderful. They have great style and are very comfortable. The best thing is that they are so lightweight you can move or carry them easily. It's a great extra chair for kids or grand kids because it sits higher than a regular chair. Love everything about it.
Date published: 2012-09-01
Rated

5

out of

5
by
END EARLY
from
LOVE THESE!
I LOVE THESE! I ALREADY OWNED THE CHAIRS THAT ARE USED IN MY KITCHEN, AND HAVE BEEN SO IMPRESSED, THAT I PURCHASED THE COUNTER STOOLS. THEY ARE A GREAT LOOK, HAVE CLEAN LINES, ARE LIGHTWEIGHT, STURDY, COMFORTABLE AND INDESTRUCTABLE. MY HOME IS STYLISH & MODERN, BUT ALSO FUNCTIONAL, AND THESE STOOLS FIT EVERY ASPECT!
Date published: 2012-09-01
Rated

5

out of

5
by
Rilely
from
Amazing Design, Light Weight, Beautiful.
I'm very happy about the purchase of these barstools. They are sleek, well designed, and very light weight. My friends and family that have seen them always comment at how wonderfully they are designed and the overall quality of the bar stool. I would absolutely recommend these to anyone looking for a very sleek looking barstool! A great buy.
Date published: 2012-07-29
Rated

5

out of

5
by
Marcaponi
from
Awesome Find
I was looking for a kitchen bar stool in stainless, that was light and easy to keep clean (with two granchildren).These are awesome. Love them and look forward to using them for years to come. They match my stainless appliances beautifully. They are light enough for my 4 year old to pick up.Highly recommend them...
Date published: 2012-07-17
Rated

5

out of

5
by
boldpamela
from
REALLY love these cushions!
This was my second order for more of these cushions - they are wonderful! The fit is perfect for aluminum chairs, which tend to be cold in the seat (and ON the seat). They are so comfy, the foam pops right back up after getting off the stool or chair. I'm considering a third order for some of my other chairs. I love the happy yellow color - it would not have been my first choice, but what a pleasant surprise to find that it blends into most color schemes!
Date published: 2012-06-06
Rated

3

out of

5
by
MSteacher
from
Good for us-But a few things you should know...
I was nervous when the chairs arrived (we bought 2 of the 30" and they came separately) in boxes that had literially been ripped open down the middle, but they were packaged so well inside there was not a scratch of damage! I was very surprised how light the chairs are. If feel like we have to be careful when getting up in them, that they don't slide across the tile floor or tip over. The chairs are sturdy and haven't ever fallen over (with someone in our out of them) it's just a nervous feeling I have.The brushed metal does scratch and show marks easily, but I kind of like the "un perfected" look anyway, so it doesn't bother me.A review I had read before I bought the stools discussed how well the brushed metal matched the stainless steel appliances, but it's actually way brighter/lighter than most stainless steel. They look good together for sure, but they are NOT the exact look or anything.My husband was surprised at a few defects in one chair (especially for it's price) and we will be exchanging it. Other than that, we are very happy with them!
Date published: 2012-05-15
Related Products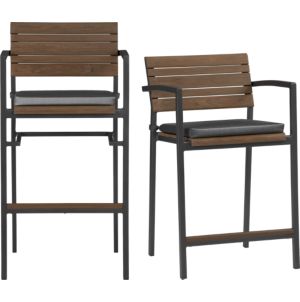 Weather resistant polyresin translates the beautiful grain and warm tones of natural...
Sleek Italian design cradles comfort in beautiful curves and fashion forward grey....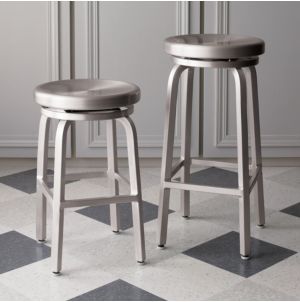 Take them for a spin. Contemporary brushed aluminum stools offer the classic...