Prices and availability are subject to change from the time and date that you print this page.
12/18/2014 10:22:21 AM. For Customer Service, please call 800.967.6696
Crate and Barrel Exclusive
Pickup
Northbrook Court Outside the Mall: Not available
Change store
For the perfect pour, store and preserve two varietals at once with this state-of-the-art wine keeper-dispenser. Two 50-degree pre-set chilling chambers can be customized separately to your preferred temperature between 7 to 68 degrees Fahrenheit. Each is outfitted with an aerator to advance the "breathing" process and open up the full bouquet of wines quickly, while simultaneously vacuum-pressurizing contents to delay oxidation (5–7 days for white wine, 7–10 days for red wine). Twenty permanent settings are code by wine type, or you can choose your own. When switched on, the system begins cooling/preservation mode, and automatically stops if no bottle is in place. Designed for use with traditional glass wine bottles with cork tops.


Krups ® Wine Dispenser
is rated out of
5
by
15
.
Rated

4

out of

5
by
Miclos
from
Great to have while entertaining guests
I just used this for a wine party and it worked out great. I purchased 2 of them so that I could offer more wine variety available at one time for my guests. I like that you can choose the wine type and it will adjust to the appropriate temp. for that wine. It is nice not to have to a messy ice bucket for white wine. The light displays the bottle label in a nice glow.
Date published: 2014-10-20
Rated

1

out of

5
by
Trixie
from
Krups wine dispenser
So unhappy with this product.Purchased it as a gift. Leaks, makes a lot of noise. :(
Date published: 2014-09-23
Rated

4

out of

5
by
Braindog
from
Beautiful, functional; but with shortcomings
This wine dispenser keeps two bottles of wine chilled and ready to serve with the touch of a button. Beautiful in design, it can readily take its place amongst any decor. Easy to use, but beware; a touch finicky. Right off the bat Krupps says that screw top and plastic bottles are a no-go. Short bottles may also prove challenging. Seems the folks at Krupps could've headed this one off with a variable platform, but its something that can be addressed with a quick fix in your kitchen. Hopefully not a major deal beaker in this otherwise gorgeous unit.
Date published: 2014-07-30
Rated

3

out of

5
by
Emily
from
When it works, we love it.
We purchased this item about 6 months ago. We have used it frequently and enjoyed the temperature and aeration features. Our guests loved using it as well. It is a bit messy if you do not hold your wine glass under the spout for the recommended 5 seconds after the pour. About 4 months into using it, it just stopped working. We called Krups customer support, and after some trouble-shooting, they had us send it to them for servicing. At this time, we also requested a twist top wine bottle adapter--which they send promptly, free of charge. After about a month, we recieved a new unit from Krups. When we unboxed it, we noticed that the side of the unit bowed out--just the plastic casing; an aesthic issue. My husband, the engineer, decided he didn't want to deal with sending it back again, so he was able to fix this himself. Our unit is up and running again - it has been a fairly significant hassle, but we are going to give it one more try. If you do purchase this unit, I would highly recommend reading and following the directions precisely.
Date published: 2014-06-09
Rated

4

out of

5
by
dpena
from
Great product
I have it for 6 months and works well. A bottle will last around 5 days. It does not work with screw cups, but you change the one to another bottle and problem resolved. You need to be careful because the dispensers drip, so you need to clean them after pouring,
Date published: 2014-05-28
Rated

5

out of

5
by
Jess46
from
Perfect temperature wine
I have had this product for a week now and I am very happy with it. It does a great job aerating, and it consistently serves wine at its perfect temperature. It was a little difficult to set up at first, but once I figured out how to get the adapter into my wine bottles, it worked like a charm. I have a lot of Australian style-twist top bottles, which require a special adapter to work with the machine. I called Krups customer service, and they sent me 2 adapters at no charge. Great customer service!
Date published: 2014-04-15
Rated

5

out of

5
by
tatatony2000
from
Great Anniversary Gift!
I bought this for my wife as an anniversary gift and we haven't stopped using it. Easy to use and clean. We called customer service about screw top bottles and they send out a set of 2 screw top bottle adaptors. Customer service was very helpful. Can't say enough about this product, only 1 word OUTSTANDING!
Date published: 2014-04-14
Rated

5

out of

5
by
lriek
from
Greatest gift ever!
This is an awesome product that we have enjoyed since Christmas! You can enjoy a bottle of wine over a period of days and it tastes as good as it was when it was first opened. We find we aren't throwing out wine that goes bad anymore. The machine was easy to set up and easy to exchange bottles. We love it!
Date published: 2014-03-25
Rated

4

out of

5
by
Pinkie1221
from
Keeps wine fresh!
I ordered this 3 months ago and I love it. The fact that I can open a bottle of nice wine and it stays fresh for up to 2 weeks makes this a great buy. The only complaint I have is that the spout leaks.
Date published: 2014-03-25
Rated

2

out of

5
by
Westie123
from
big and nosy
It works well at keeping open bottles drinkable longer but it is very nosy (constantly runs a fan and nosy dispenser) and is large in size; probably would not fit on most counter tops. I thought at first it was broken because of the constant fan but the user manual says to expect this. Funny they do not mention this in the sales blurb.
Date published: 2014-01-10
Rated

2

out of

5
by
Perpendicular
from
A nice try, but wouldn't buy it again
A nice try, but wouldn't buy it again at this price - it isn't worth half this. My experience. The unit appears decent, but plastic-y and seems to leak. When you pour out of one side, the second will spit out wine when you finish, like the pressurization isn't independent. As another stated, it doesn't fit about 1/4 of the bottles which isn't good for a wine lover that likes to try new things.
Date published: 2014-01-09
Rated

1

out of

5
by
John3609
from
A Very Poor Design
A great looking product loaded with promise.  Regretfully it failed to deliver.  It seems that this device has a fatal flaw for common use.  The bottle attachment interface is limited to the bottles it will accommodate and hold securely.  At home I tried to connect a bottle of Chianti and there was simply no way to connect.  I put very heavy pressure on the plastic corking/flow control unit.  No luck.  I called Krups customer service and they assured me if I got it in the bottle once it would become easier.  I put as much pressure as I could exert and still no luck.  I then went back to Crate and Barrel to try their floor model.  It worked beautifully on the display chardonnay bottle, but no way on my bottle.  The clerk then found a cabernet sauvignon bottle.  No way, no how could we get it in that bottle.  The ONLY way I could use this machine on certain size bottles would be to transfer the contents to a compliant sized bottle.  No thanks.  I will be returning the dispenser.  Really a shame as it is such an attractive machine.  A challenge to Krups.....for version 2.0 please check that you have an interface that accommodates predominant bottle types.  That would not be so difficult as the tolerance difference would be as little as 1/16 inch.  
Date published: 2014-01-04
Rated

4

out of

5
by
LauLee
from
Quiet machine, does the job .... looks good
We bought the machine for our daughter as a Christmas gift. So far, so good. It was very easy to set up, it keeps each wine at the right temperature, and pouring a glass is very easy. I had worried that the machine would be noisy (it's not, it's pretty quiet) or take up too much counter space. It is big but we were able to move some things around and make room for it. Basically, you need to decide which is more important to you - taking up space in your fridge with wine bottles or space on your counter for the machine. 
Date published: 2014-01-04
Rated

5

out of

5
by
LaraC
from
Great for entertaining!
The unit is well built and has various options: two compartments are available so two different types of wine can be used. The wine dispenser chills the wine to the right temperature with its pre-set or manual controls and aerates the wine prior to pouring in glass. Guests were amazed on how easy it was to pour their own wine – it felt almost like having your own soda-dispensing machine at home but for wine always dispensed at the right temperature. One of our favorite features is the preserve function, which keeps the wine as fresh as when we first open the bottle. A great buy for wine lovers.
Date published: 2013-12-07
Related Products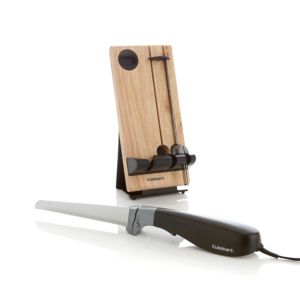 This one touch, pressure activated electric knife with a powerful motor carves...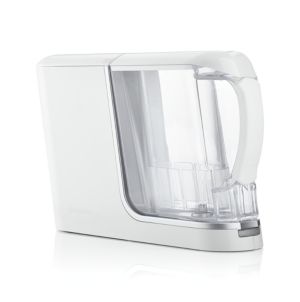 A revolution in delicious, clean drinking water, the Aquasana countertop system is...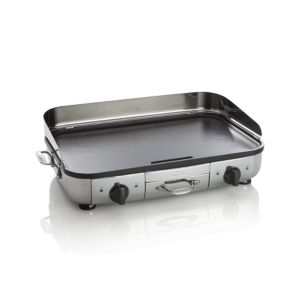 Cook or warm two foods at two independent temperatures simultaneously with this...