Prices and availability are subject to change from the time and date that you print this page.
10/1/2014 6:01:51 PM. For Customer Service, please call 800.967.6696
Crate and Barrel Exclusive
Meet with a Furniture Design Expert at your local store
The boutique allure of this high-style desk lends one-of-a-kind character to home or office. At once rustic and contemporary, each piece blends a reclaimed wood façade with clean black walnut frame and top, strikingly accented with chunky iron pulls on the four self-closing drawers. Surprise elements like the asymmetrical drawer configuration and open back display shelf lend even more attitude. Heavy-duty steel legs in an "M" configuration are given a black industrial finish.


Hendrix Desk
is rated out of
5
by
44
.
Rated

5

out of

5
by
david on skyline
from
Stylish and adaptable
Due to its mixing of rough and smooth, wood and metal, this desk makes a statement without clashing in any environment. Our house is a mixture of rustic cabin and mid-century modern and the desk could fit in any room.I added LED strip lighting to the front shelf (a wonderful feature) as well as underneath to create a "lit-from-below" effect.I only have a few minor quibbles: 1) The middle drawer sits pretty low, so not every chair will fit comfortably under the desk. 2) The finish scratches very easily—desk pad highly recommended. 3) Expect some minor imperfections in the smooth wood.I have considered drilling a couple of holes to better manage cables and reduce clutter, but I am hesitant to violate the integrity of the piece.
Date published: 2013-06-05
Rated

5

out of

5
by
Essi679
from
My Dream Desk
As soon as I saw this desk in person, I could not stop thinking of it. I was completely obsessed, but was very nervous of the price tag. Not other desk in other furniture stores can compare to how striking this looks. We waited for a store 15% off sale and finally purchased this piece. I'm beyond joyous that we own it! It's a gorgeous, unique piece and well worth the splurge.
Date published: 2013-05-22
Rated

5

out of

5
by
JustinandMary
from
Excellent build quality
I was hesitant to purchase this desk based on the price, but we couldn't find anything similar and as well built, so we decided to go for it. I'm happy we did. The build quality of this desk is top-notch. It's solid (and very heavy), has soft close drawers and looks amazing. Noone has walked into our office without commenting on how much they love it.I expect that we'll have this for many, many years.
Date published: 2013-03-13
Rated

5

out of

5
by
JSchill
from
An Amazing Desk
What can I say?...best desk I've ever owned. I actually feel smarter just sitting at it. Adequate work space area, smooth finish, drawers that glide shut. I've had the desk 2 months and the wood still has a brand-new smell to it
Date published: 2013-03-04
Rated

5

out of

5
by
lizrn
from
Good desk
I love this desk. It's beautiful and has plenty of storage areas and space to work. Having said that, the table edges where the person would sit can be a little rough. The arms of my shirts and sweaters have snagged on small imperfections in the wood even though you can tell that the wood was sanded. I would still recommend this desk despite this and the higher price.
Date published: 2013-02-13
Rated

5

out of

5
by
katie47
from
This desk makes you look smart
We bought this desk for the den in our new house. Since downsizing, we needed a roomy desk to replace our office. It is solid and blends with our eclectic style. The wood is luscious. The drawers close softly with a gentle push. The shelf in front is an added storage bonus for us. The best feature for us is facing into the room while sitting at the desk.
Date published: 2012-09-09
Rated

5

out of

5
by
Sayjota
from
Beautiful Wood. Modern Look
This desk is a beautiful blend of a classic look with modern design. It is a great center piece for my office that is easy to fill out the rest of the room. There is ample space in the drawers for files and other storage items.
Date published: 2012-09-08
Rated

5

out of

5
by
junie moon
from
Furniture Yes! Service YESYESYES
The desk is a beauty. Heavy because the wood is real. They don't make them like this anymore. It can be placed in many different ways. Against a wall, or freestanding and the bookcase will show. You just need two people to move it around. It's really really nice. And can be the center of the room. Any room. Wow.
Date published: 2012-09-06
Rated

5

out of

5
by
natlee
from
Beautiful Desk!
My husband and I absolutely love the Hendrix desk. We needed something that would fit into a smaller office space with the ability to store items and this is it. We have had it for a month and a half and have no complaints. We love the smooth top and textured reclaimed wood drawers! Love the soft close feature too! We expect to have this desk for many years to come. Thank you Crate & Barrel!
Date published: 2012-09-02
Rated

5

out of

5
by
CAgirlPAC
from
LOVE
This desk arrived today and is much more beautiful than in the picture. I ordered it online and did not even see it before I got it. Find a cool interesting chair and you are good to go! The desk is gorgeous! So happy I bought it! Crate and Barrel customer service is the best!
Date published: 2012-08-30
Rated

5

out of

5
by
Mongoose121
from
Worth The Wait
This desk was worth the 2 yr wait - when I got a call from the manager that a floor sample had just become available, it took my all of 0.02 seconds to pull the trigger and make the easy 'go' decision.This desk, as acknowledged by previous reviews, is stunning. It's got character, stability and immediately adds impact to a room. It's functional without being too sterile - something that's incredibly hard to accomplish.I envision this desk to be a staple in my home for a very long time. If you're like me and a little stopped for funds these days, hold out for an annual sale and.or floor sample - you (and your checking account) will be glad you did!
Date published: 2012-06-29
Rated

3

out of

5
by from
Beautiful design, scratches easily
I loved the unusual wood type and the front facing bookshelf, which fits perfectly in my living room where the desk faces the room. Unfortunately, the drawers are far from easy to open and close, and as others mentioned - this scratches easily. Just moving a regular book across it scratches it.
Date published: 2012-05-07
Rated

3

out of

5
by
bogeysmom
from
Looks great, but...
I love the looks of the Hendrix desk but am a bit disappointed with the results. The middle drawer doesn't close as it should and when a replacement was sent it was in worse condition than the original desk, so I held onto the original. That is minor. The biggest offense is the odor. Don't know for sure what the desk was treated with but the fumes are certainly toxic. And, one more drawback. The desktop scratches very easily.
Date published: 2012-05-05
Rated

5

out of

5
by
mrtoe
from
Great home office desk
After landing a remote work position, I was in need of a new home office desk with lots of space. I visited my local C&B store to do some in person inspection of the desk. I was very taken with the Hendrix. I have other pieces in my home collection made from walnut and the Hendrix fit beautifully with my decor. I have nothing bad to say about the desk after a little more than a month of use. The surface space is plenty big enough for my home iMac and my work laptop. The drawers are easy open and soft close and offer plenty of space for my needs. The shelf built into the back has been quite useful for storage as I have my desk against a wall. I recommend this beautiful desk and would gladly purchase again.
Date published: 2012-05-03
Rated

5

out of

5
by
dbkc
from
Love it!
I bought the Hendrix Desk last December for my office at home and I just love it all the way !The only downside, there is no hole to pass the cables from my desktop computer to the electrical outlet.
Date published: 2012-04-24
Rated

5

out of

5
by
desenger
from
Love my desk!!
I picked this desk because it was not your typical office furniture. I LOVE it!!! I also bought the chest that goes with it and its stunning in my cozy office. From the sales girl to the delivery...perfect!
Date published: 2012-04-24
Rated

5

out of

5
by
writeandpaint
from
outstanding
incredible quality and great looking. Sturdy too.Extremely professional delivery with promised advanced notice and came when they said it would.Crate and Barrel outdid themselves from start to finish.
Date published: 2012-04-03
Rated

5

out of

5
by
Hingham Dude
from
perfect mix of old and new
This is a great desk. Wood on drawers is really unique, "rustic" looking and contrasts beautifully with the sleek design and black, M-shaped legs. I live in an antique house, and the desk doesn't look out of place in our family room. Good thing we used delivery service because this is HEAVY!!
Date published: 2012-03-10
Rated

5

out of

5
by
Danelle
from
Danelle
This desk is interesting in itself, and because of its eclectic design it also fits in with a variety of styles. The reclaimed-wood drawer fronts shown in the picture make it look more rough-hewn than it is. The desk top is smooth, just the right luster, with lovely wood color and grain. The drawer hardware (black) is high quality and blends with the legs. We're delighted with our choice of this original piece!
Date published: 2012-03-07
Rated

5

out of

5
by
MelnMike
from
Stunning yet fun
This piece is one of my favorites from C&B. I was looking for a desk that was unique but functional and the Hendrix fits the criteria. It is a heavy, quality made piece that will last for many years.It is a bit on the pricey side but you really do get what you pay for. Everyone that has seen the desk falls in love with it. I have my desk on my loft and it can be seen from the 1st floor so I have used the shelf space for both decoration and some books. The desk is wide enough that you can have someone on each side (ie: sitting across from a client) without feeling too close or too far away while reviewing documents or working on a project. There is also ample room for a laptop and documents next to one another with plenty of space to spare....but it is not a huge desk either. It is classy but unassuming; stunning yet not stuffy; functional but not boring. I simply love it! Thank you C&B for another great piece!!!
Date published: 2011-12-16
Rated

4

out of

5
by
EKYINSF
from
Simply stunning!
Fabulous desk that always gets compliments. It's very wide so the drawers have a good depth meaning that I could fit several items of stationery, folders, paperwork etc. The salvage wood is unique and this is a real standout piece in my living room!
Date published: 2011-08-27
Rated

5

out of

5
by
RunnerGirlNYC
from
Funky & Stylish Desk
We just moved into an awesome pre-war apartment that we are decorating in a classic but edgy style....we were looking for a desk that could fit in to the decor and landed on this one.Most other desks at Crate and their competitors were too bland and/or lacked storage, but we fell in love with this one. I didn't even know it had storage on the back until after we bought it (we have the desk against a wall now though, so we hide "junk" back there).I agree with another reviewer that I wish the center drawer had a drop-down for a keyboard. I also wish that there was one more bank of drawers because I have to store the rest of my paperwork elsewhere. The desk is very deep (width wise), so at least you can fit a lot on the surface if you need to.Finally, one feature I really like is the self-closing drawers, something you find on expensive kitchen cabinet drawers.The drawer fronts are very unique and no two desks are alike - I really like how funky the desk is and I'm sure we will get a lot of compliments on it.
Date published: 2011-08-23
Rated

5

out of

5
by
tamlynn624
from
Beautiful piece
The picture of this desk online does not do it justice. It is gorgeous in person! We picked a beige cloth dining chair to go with it to cozy the room up a little. The desk has a rustic look; very sharp! and although we cannot utilize the front storage area; I found it to be a very nice detail if you are able to expose it.
Date published: 2011-08-17
Rated

4

out of

5
by
FriendlyDecorator
from
Beautiful, Huge Desk
This desk is beautiful and well-crafted. The drawers do not hold that much, but there is extra storage in the front compartment, which I like. The desk is very large, and I wish I would have paid more attention to the measurements before purchasing it.
Date published: 2011-08-16
Rated

3

out of

5
by
DG Shopper
from
Nice Desk but...
Love the look of the desk but wish it had a pull-down tray for a keyboard instead of a drawer. Desk also scratches incredibly easy, which was surprising for the type of wood it's listed as. Display shelf in front of desk though is great. We use it as a reception desk in our office.
Date published: 2011-07-13
Rated

5

out of

5
by
GlobalWonk
from
AWESOME!
I was searching for the perfect desk for my home study. My wife and I strolled through the Michigan Avenue Crate&Barrel and fell in love with this beauty at first site!The black walnut is gorgeous! The sheer beauty of the natural wood is striking. The black iron legs and drawer pulls add an industrial feel.The reclaimed wood drawer faces are what seal the deal on this baby. How cool are they? I sit here and ponder what they have witnessed over the years... Were they the walls of a barn on the Illinois prairie exposed to a century worth of the elements? Were they the floor boards of a wartime factory in Chicago cranking out material for the boys Over There? The possibilities.The coup de foudre is the open back display shelf. We will spend countless hours joyfully seeking out the perfect items worthy of such display.Thank you Crate&Barrel for connecting me with the soul of my new study.
Date published: 2011-04-16
Rated

3

out of

5
by
kachita
from
Very Elegant but ...
I purchased this desk less than a month ago and I must say that I wouldn't trade it for any other desk in the store. I find it very practical and simply elegant. The only challenge I have to face on daily basis is that the rough edges on the top of the drawers catch a piece of my clothing since I work with a mouse a lot and move my arm back an forth on the edge of the desk. They should be smoothed out somehow.
Date published: 2011-02-14
Rated

5

out of

5
by
mbaysan
from
Great Desk
I am using this desk in my home office. It has lots of desk space and the drawers take a lot of office supplies. The fact that the drawer on the right can fit manila folders is great. I would recommend this to anyone who is looking for a great home office desk with a character.
Date published: 2011-01-02
Rated

5

out of

5
by
Friday
from
Just amazing
The moment it arrived, I fell in love all over again. The actual colors are so much nicer and richer then in the photo. It also doesn't look as big in picture, but this is a big and heavy desk (good thing). The only possible negative I cold find is that it is a bit high, or higher then regular office desks. This is definitely worth the money.
Date published: 2010-09-22
Related Products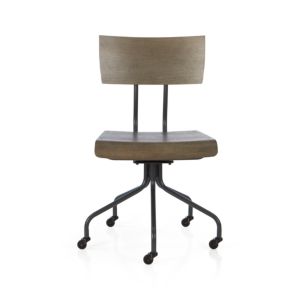 Subtle bentwood curves and a linear, industrial metal frame makes a study...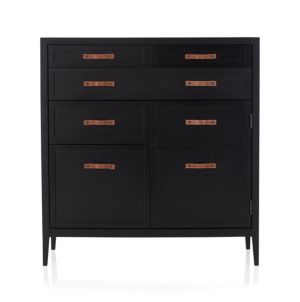 Chest like design has a lot in store, revealing all kinds of...