Prices and availability are subject to change from the time and date that you print this page.
4/16/2014 1:14:59 PM. For Customer Service, please call 800.967.6696
Spin Barstools
Spin Barstools
is rated out of
5
by
95
.
Rated

5

out of

5
by
Chrissy P
from
LOVE these stools!
I was looking for bar stools to use with the overhang of my center island in my kitchen. I wanted something to coordinate with my decor, sturdy enough to stand up to regular use, and easy to keep clean. These stools are all of that and more! While the stools are "retro" because they spin like the stools found at old-time lunch counters, they are contemporary because the brushed aluminum material compliments my stainless steel appliances without being too "matchy." Just wipe down as needed and they're ready to go again. One word of warning: NO ONE can resist a quick spin on these stools, so get ready to see smiles from young and old alike.
Date published: 2014-02-17
Rated

5

out of

5
by
robertb
from
Nice Stools
We just bought these for a kitchen remodel, and they're about perfect.  They're the right height for a cabinet countertop.  We like that they weigh very little so we can move them around and they don't scrape the floor easily - in fact, they have little plastic caps on the legs to prevent scraping.  Simple design is classic.
Date published: 2014-03-09
Rated

5

out of

5
by
mod mom
from
Love these stools!!
I couldn't find these in the store, so I bought them online. I was nervouse purchasing them "site unseen". But I couldn't be happier. I have 3 kids, oldest is 4, so I wanted something durable but didn't want to sacrifice style. These fit the bill, beautifully! The swivel mechanism is only initiated when you sit on these stools. My kids don't weigh enough to swivel - which I'm thankful for. I didn't want something that would turn into a toy or be dangerous for them. But the swivel is nice and smooth for adults who sit on these. The finish is aluminum, which is lighter in shade than stainless steel - so be aware that it won't exactly match your stainless steel accessories or fixtures. None-the-less, they go perfectly in my room, which has stainless steel and chrome accessories/fixtures.
Date published: 2014-04-07
Rated

5

out of

5
by
ShezDC
from
Stylin' Stools
I'm a new homeowner of a condo with an open kitchen with an island. I needed stools that were modern, comfy and most importantly affordable. These so far are working really well. I liked the price, love that they swivel and was really happy not to have to put them together! I bought these in the store, but used C&B's delivery service since I don't have a car. Delivery was top notch and very fast.
Date published: 2013-08-07
Rated

2

out of

5
by
kitchenlady
from
Looks good...doesn't last
We bought 3 of these barstools end of 2007. We had to replace 2 of them a few months later b/c the ball-bearings in the seat fell out. Crate & Barrel was great with the return and we got 2 more. However, 3 years later, all 3 are falling apart! We use them every day at our counter but we don't let anyone spin on them b/c we thought it would help them "last longer". Boy, were we wrong! A piece on one actually broke in half and was hanging out from under the seat! The ball-bearings somehow come loose and just "float around" in the seat so it's really noisy and creaky to sit on them. They sound like they're going to fall apart any second! Screws have actually fallen on the floor while we're sitting on them! These stools look great in our kitchen and are very hip so we're bummed they're falling apart. So now we're on a search for new ones. Crate & Barrel have been awesome though! Love their stuff and great Customer Service! I'm surprised these stools haven't lasted longer.
Date published: 2014-02-16
Rated

5

out of

5
by
kaimama
from
Love the spin stools
We got two counter-height 24" stools for our breakfast nook, and they're close to perfect. They are modern but go with the transitional look of our updated kitchen. They don't scratch our wood floors, and I love the spinning function. The seats are cold in the winter, but they warm up. They are low profile and slide right under the counter when you don't want them taking up space. My only note is that one of them squeaks when my husband sits on it. Not a dealbreaker, you just notice it.
Date published: 2013-09-16
Rated

5

out of

5
by
Toni S
from
Just the right addition
Purchased the Big Sur table and have oak and stainless steel in my kitchen. These were perfect - not too bulky or overwhelming, matched my stainless steel appliances and go very well with the new table. They are also more attractive in my kitchen than I anticipated. Easy to use and very light!Highly recommended.
Date published: 2013-08-02
Rated

4

out of

5
by
CrysLaFo
from
Pretty much how I expected...
These counter stools arrived today and I was pleased with the packaging and the appearance. They are wider in the seat than I thought they would be. You can see where the pieces are welded to one another, but I was somewhat expecting that considering the price. I know these are aluminum but I was hoping to match them to stainless steel appliances in my kitchen; They are not an exact match but still looks fine. I am happy with them. I cannot comment on strength or quality of the product since I just received them today and have not used them. They most likely will not get heavy use in my house anyways.
Date published: 2011-07-20
Rated

3

out of

5
by
StyleIcon
from
Good barstool for the price
The barstool is of good quality for the price, it's very light. It's too shinny though and aluminum seems kinda cheap material. I bought 4 to go with the the Belmont White Work Table with Stainless Steel Top. They fit tight under the table, butting heads sometimes when you pull them out. I didn't like how shinny they looked and I will try the Turner Gunmetal barstool instead as the finish is more muted, 2 inches in diameter smaller and seemed more substantial when I saw them in the store. But for the price, you can't go wrong with these aluminum stools.ThanksShirley
Date published: 2013-06-18
Rated

5

out of

5
by
northoc
from
What A Gem!
I'm disabled and need a stool in the kitchen to use while I am working. What a treat to finally buy one that arrives PUT TOGETHER!!! The others I have used fell apart after a time (loose screws, broken parts, etc.) This stool is very sturdy and is the best I have ever purchased. I love it.
Date published: 2014-01-11
Rated

5

out of

5
by
Modern Indy
from
Great stools
I ordered 2 of these stools for use at our computer desk which is really an old breakfast bar that we repurposed for the computer. And they are perfect! They have a clean and modern look and seem to be well made. I had them shipped to the store and picked them up a few days later with no worries at all. The ship to store is a nice option and saves on shipping fees, which I am all about :).
Date published: 2013-08-01
Rated

4

out of

5
by
JERRY62
from
Very Nice Stool!
We got the 28" stool for use at a kitchen counter. It works well and is the right height. It was shipped in very good packing material. It goes very well with the stainless steel in the kitchen. The finish of stool is very good but could be slightly better. We like that the base is not real wide so it fits well under counter ledge and when being used, it does not take alot of floor space.
Date published: 2013-12-29
Rated

5

out of

5
by
northoc
from
Exactly What I Needed!
I have mobility problems and need a stool in the kitchen. I have been through at least five other types before finding this one. It is the best I have ever had. Lightweight yet sturdy and even better - it arrived already assembled! One minor drawback was that the metal seat was slippery to sit on. A piece of rubber shelf liner cut to fit solved that problem.
Date published: 2014-02-06
Rated

5

out of

5
by
ptamom
from
perfect find!
We were looking for 2 bar stools to go with our new kitchen. The appliances are all stainless steel, and we wanted something that would go with the cabinetry. Finding these 2 stools was perfect! They are a great height, and our kids love eating breakfast at the island. They are comfortable and look great in the kitchen! I would highly recommend them!
Date published: 2013-08-18
Rated

5

out of

5
by
High Expectations
from
Cool Stool
I needed 6 stools for the island in our new kitchen. Everything is high end Miele, Wolf and SubZero. I went to fine furniture store to look at stools in the $1200-1500 range. In the end the $99 24" spin barstools from C&B were more comfortable and versatile then the very expensive ones.These stools are light, comfortable, easy to store under a counter top and they swivel. They look great in a kitchen with stainless steel appliances. The swivel feature makes it easy to sit under the counter top without having to slide the stool out. The legs are fitted with pads to resist marring wood floors. These stools are an incredible value.The only problem I have had is that one was delivered with a dented leg. I discovered this long after the delivery truck left. It is a minor issue but check yours while the delivery people are still there.
Date published: 2012-03-05
Related Products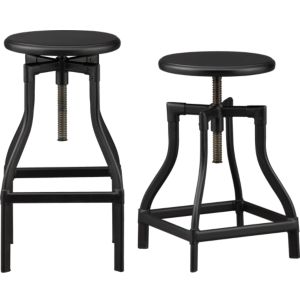 Industrial chic seating with a vintage architectural look in two sizes twists...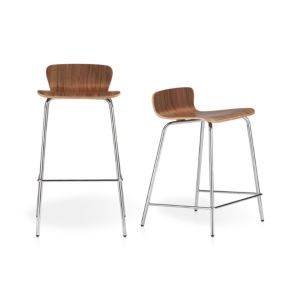 Classic bentwood barstools to mix and match at a value. Retro modern...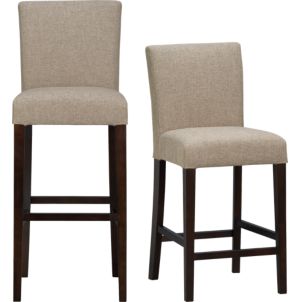 The style is classic Parsons. The colors are both fashion forward and...