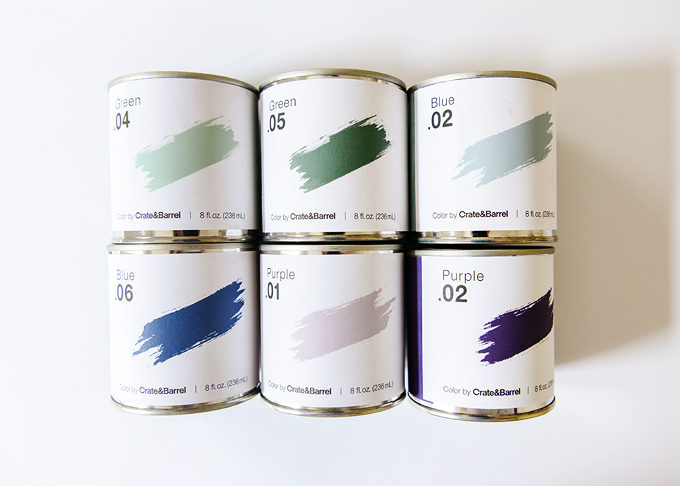 Choosing a new paint color for any room in your home can prove to be a daunting task, but put in the prep work before had and you're sure to have a color you can live with and enjoy. We've partnered with Kim and Scott Vargo, founders of Yellow Brick Home, to share the tips they've learned from years of DIY.
The power of paint is one of the greatest in any DIY-ers tool arsenal. In an afternoon, dated rooms can look fresh and furniture is new again – all with the help of a splash of color (or lack thereof!). When we found out that Crate and Barrel would be introducing a paint line, we imagined that the palette would be classic and beautiful, and I'm happy to say, they did not disappoint!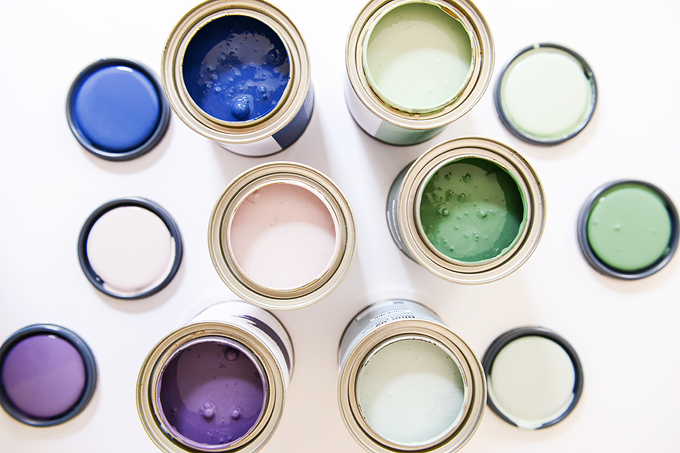 We had a specific project in mind to give their no VOC, low odor paint a test run. Years ago, we painted the inside of our entryway coat closet a very vibrant green; we wanted it to be a happy surprise whenever we swung open that door. This is a fun idea in theory, but the problem? The chosen green was over-the-top, causing the need for sunglasses with the flip of that closet light switch. Scott and I agreed that we needed to change it up – eventually – and when we saw the colors available from Crate and Barrel, we said, let's do it!
We've learned the error of our ways, and since the Great Paint Debacle of yore, we've stuck to a new method of ensuring we're choosing the right color the first time around: sample boards! We chose a handful of color contenders for our closet, varying from light to dark, purple to green. After picking up sample pots from our local Crate and Barrel store, I brushed each of the colors onto a small piece of foam board and held them up to the navy door of our coat closet. From left to right: Purple 02, Green 05, Blue 06, Green 04, Blue 02 and Purple 01.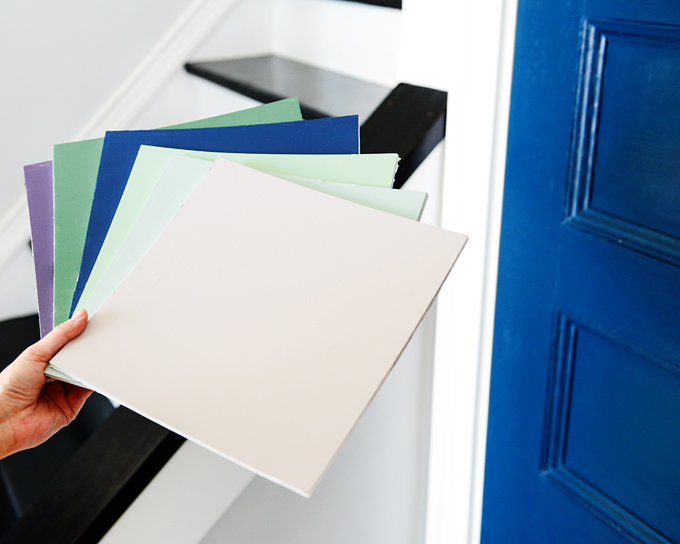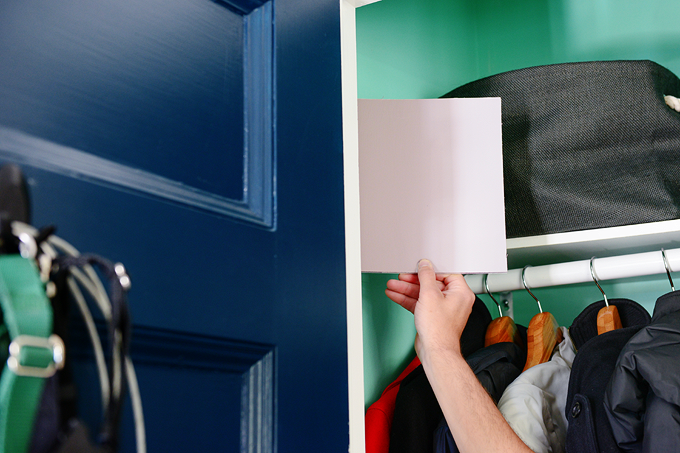 In the end, we chose Purple 01, a super soft lavender with enough gray in it to keep it from feeling too 'little girl's room' and more sophisticated. The longest part of any painting project is the prep work, but with the right tools, we're able to execute the job quickly and efficiently!
Here are our go-to tools:
Drop cloth
Roller tray and liner
Paint roller with 3/8" nap (for smooth drywall)
2" short handled angled brush
Roller extension (optional)
Painter's tape (optional)
Step ladder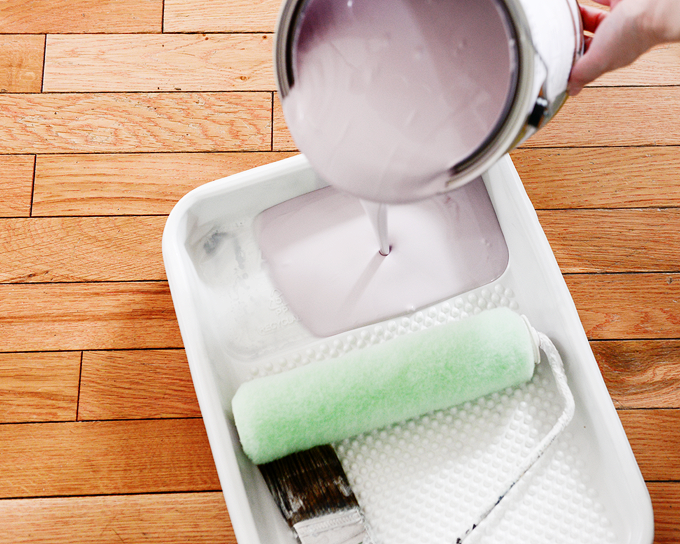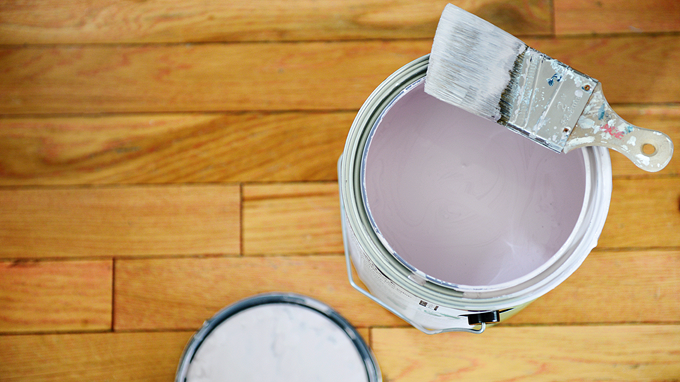 We emptied the closet, laid down the drop cloth (which is nothing fancier than an old blanket!), and I got to work. After countless painting projects in my lifetime, I'm able to skip the painter's tape, and with a steady hand, I use a good quality 2" angled brush to cut in along the baseboards and ceiling, as well as all the inside corners where a roller can't reach. For those with less-than-steady hands, painter's tape to mask off trim will be your best friend!
Next, I painted the walls with a saturated roller. The paint itself was thick and dreamy, and I finished the job in two even coats. Sometimes, using a roller extension is helpful to reach higher along the walls, and I find that it gives you greater leverage, too. This is personal preference, as a step ladder will also do the trick!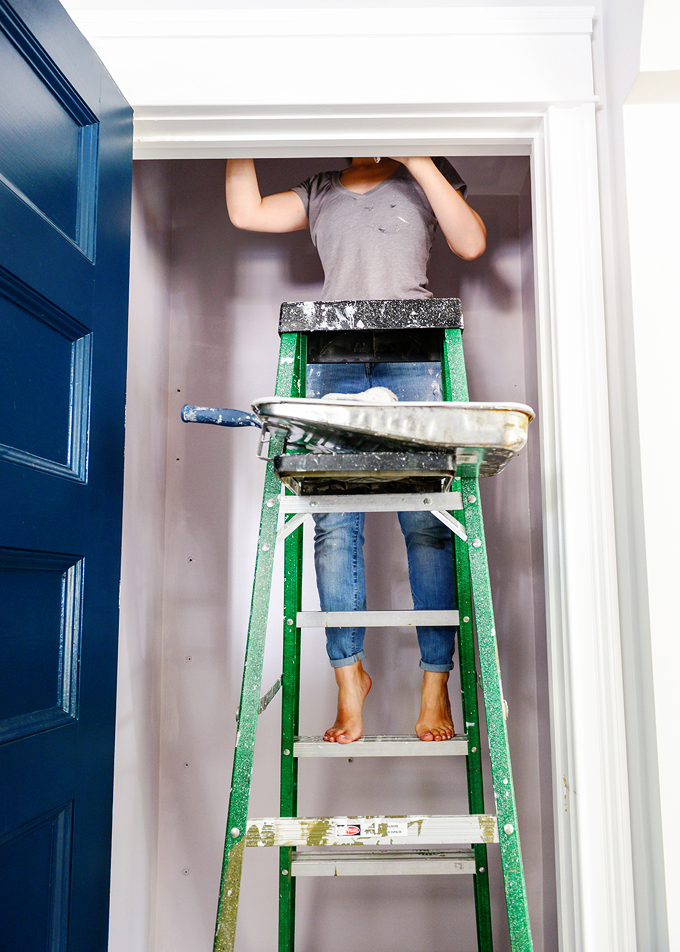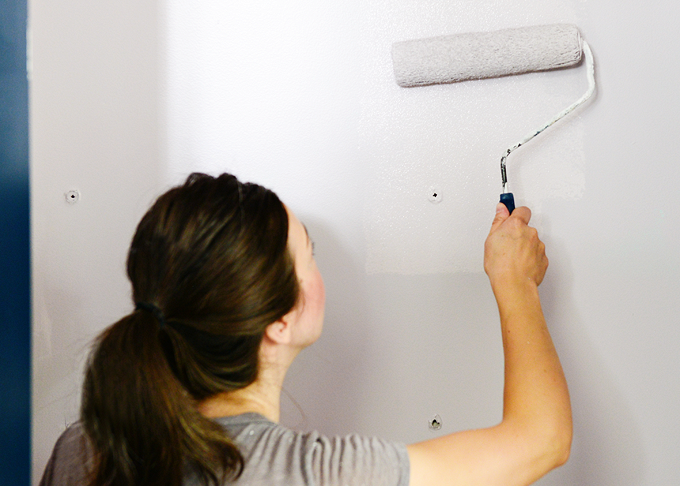 Once the paint had dried, I added this copper hook to the inside of the door for our dogs' leashes and this black one to hang my rotating purse-of-the-moment and umbrella. Scott will be thrilled that I'll no longer be hanging my bag on the doorknob!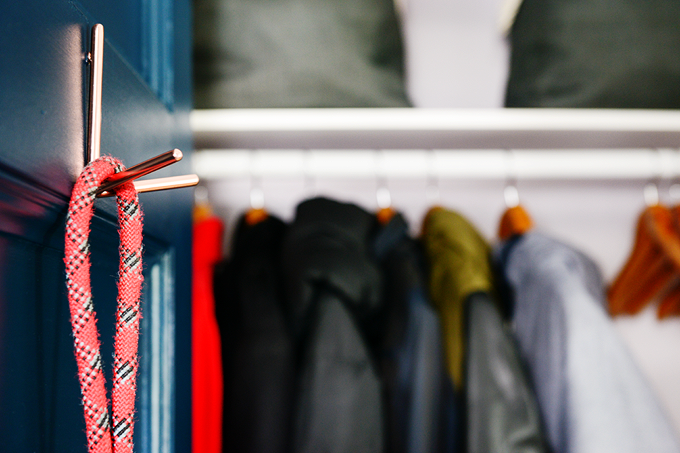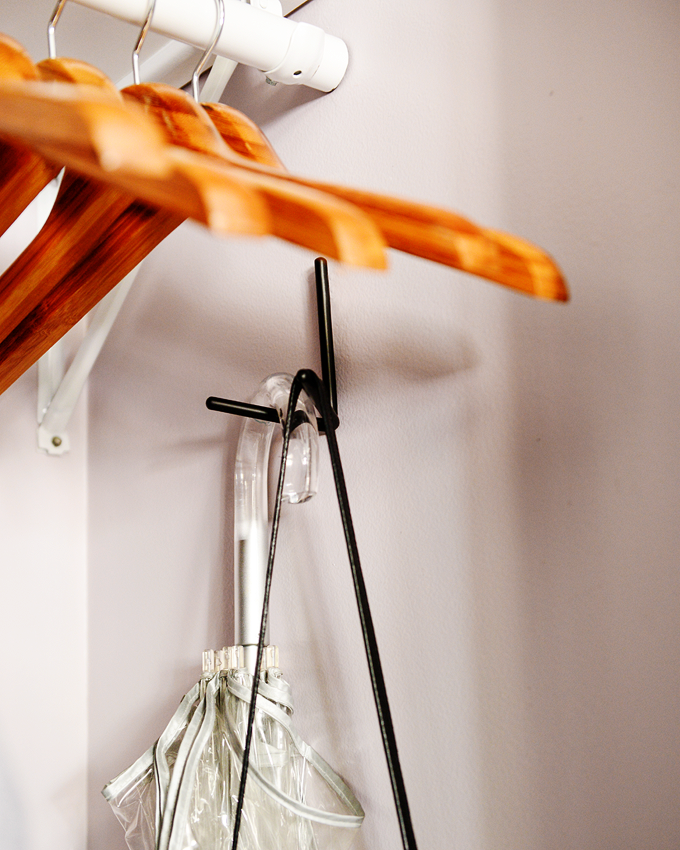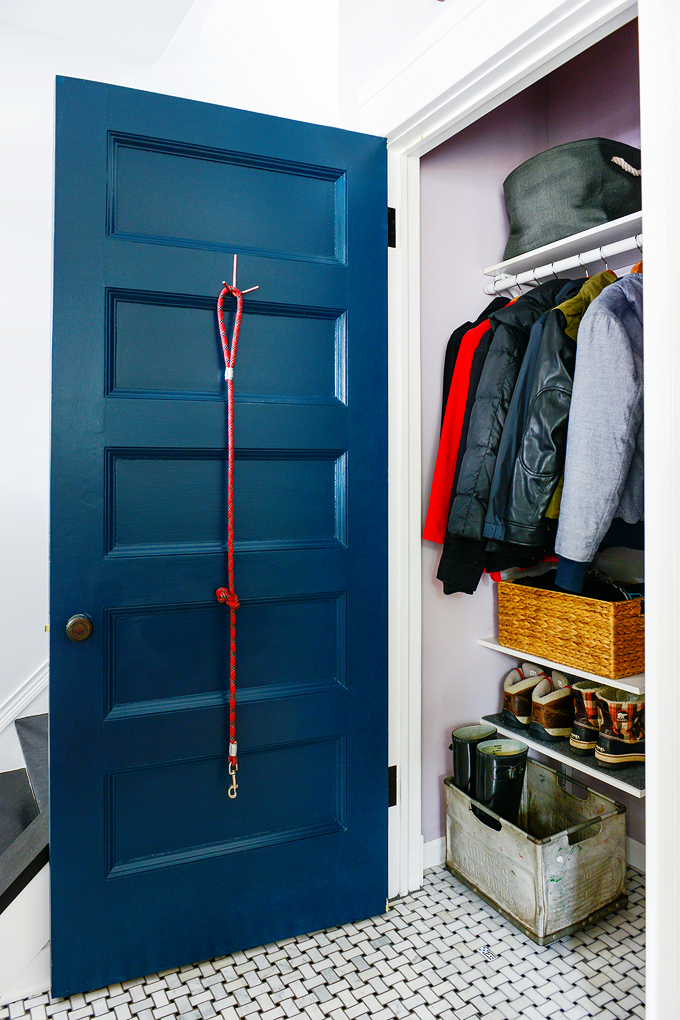 The end results were better than we could have hoped for. Purple 01 is soft and pretty, but it doesn't feel overly girly. (Truth: Scott actually chose the color!) I'm often asked what my biggest tip is when making over a room – and yes, I'm considering this closet a 'room.' Here's my secret: Make sure you always have fun with it. When we tiled the entryway flooring years ago, we replaced a small marble tile with a domino. It's only visible when the closet door is open, but it makes us smile every time, and that's how design should always be, don't you think? The domino and paint color make for a sweet combination in our entryway.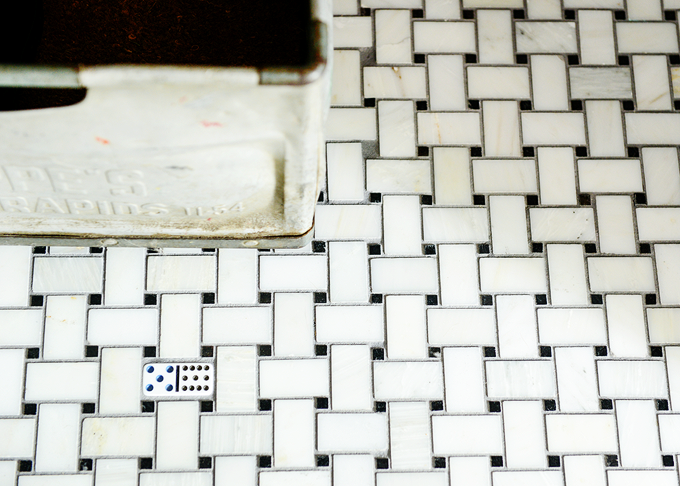 Happy painting!
Want more tips for styling your entryway? Check out these ideas from Making It Lovely.