Essential Bedding Guide: Bedding 101
At Crate and Barrel, we've assembled a bedding guide containing premium textiles, mattresses and accessories to help you design your own bedding collection. Create a customized relaxing retreat—a carefree zone where you can escape the day's busy pace. You can make your bed with a colorful spectrum of 100% linen bedding that gets softer with each wash and never needs ironing. Or cozy up in a peaceful oasis of crisp white percale cotton sheets decorated with a beautifully embroidered quilt. You'll find just the right pillow for a good night's rest, from all-down to down-alternative, and a mattress and box spring that perfectly fit your bed frame. In our bedding guide we take the time to find and highlight the quality details, such as hand-dyed yarns and elegantly finished hems, that allow you to put the finishing touches on the look of your bed.
Sheets, Pillowcases and Blankets
Selecting the best sheets, pillowcases and blankets for your bed is about more than just thread count. Be sure to find a fitted sheet that can accommodate the depth of your mattress (our fitted sheets are a generous 16" deep). Choose the type of fiber based on your sleeping habits and preferred hand feel. It's also a good idea to have at least two sets of sheets per bed, so that you can always make the bed no matter when you choose to do the laundry.

Percale or Linen
Our 100% cotton percale bed sheets have a tight weave for a crisp feel. They are cool to the touch with a smooth, matte finish that feels barely there against your skin, making them a good choice for warmer months. Linen sheets are breathable, can wick away moisture and transition beautifully between every season. As an added benefit, they are fully biodegradable and are made from flax—a renewable, environmentally-friendly resource. No matter your choice, both percale and linen sheets wear well over time and become softer with each wash.
Thread Count
The number of vertical and horizontal threads per square inch determines thread count. Contrary to what higher numbers suggest, an extremely high thread count can be too delicate a weave and may not be as durable over time. For cotton, our experience is that the softest, longest-wearing bedding begins with 200 thread count.
Blankets
Lightweight blankets are versatile additions to bedrooms and guest rooms. Substitute them for heavier coverings during temperate weather, and add layered coziness during cold weather. Look for blankets with borders for added detailing and interest. You can fold a blanket at the foot of the bed to add a band of extra color or texture. These textiles are also useful in living rooms, home offices and even outdoor spaces during movie nights or evenings under the stars.
Duvets, Quilts and Coverlets
Think of the covering on your bed as your central statement piece and the focus of your space. Dress it up or down with decorative pillows, accessorize with a rug, and add lighting, art and decor to complete the look. If you have a statement-making headboard, look for solid color textiles that make your headboard the focal point of the room. For a classic look that works in any space, you can never go wrong with all white bedding.
Coverlets
Our contemporary spreads make the most versatile beds. They are a comfortable weight that can replace quilts or duvets in warmer climates. You can also layer these spreads under quilts or duvets, folded over at the top edge for a more interesting look. Or use them as an accessory to dress the foot of the bed. Coverlets also store more compactly than quilts or duvets and are great to have as a standby for guests.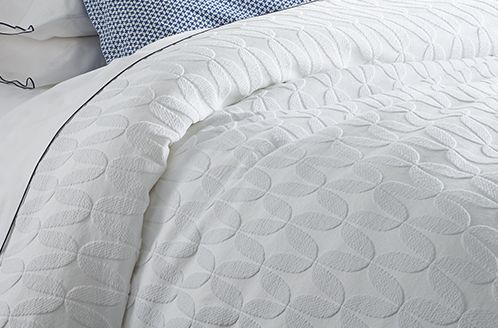 Quilts
At Crate and Barrel, our quilts are art for the bed. Many of our high­-quality quilts display skillfully stitched patterns to keep the mid­weight inner batting in place. Featuring a fresh use of color and pattern, our quilts offer a modern take on traditional comfort. Consider adding complementary pillow shams for visual interest and dimension.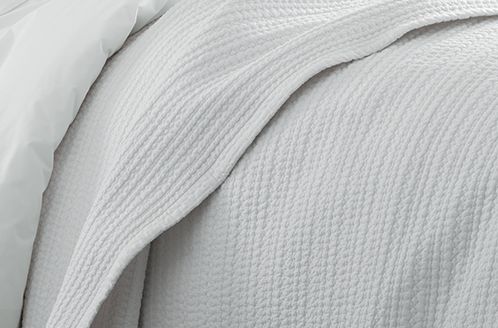 Duvet Inserts
Our European-style inserts top the bed in either a premium snow-white domestic down fill or an allergen-free Italian microfiber alternative. While they add a luxurious fullness to the bed, our medium-weight duvet inserts are perfect for all seasons, adjusting to body temperature for just the right degree of warmth.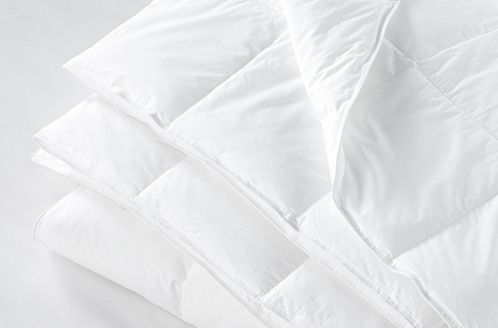 Duvet Covers
Duvet covers keep your duvets clean and provide endless opportunities to decorate your bed. You can choose one to use year-round, or swap out multiple covers according to seasons, holidays or even your moods. Look for products with inner ties that will keep your duvet in place as you sleep. To easily update the look of your space without purchasing a second cover, find one that's reversible with a complementary pattern or color on each side.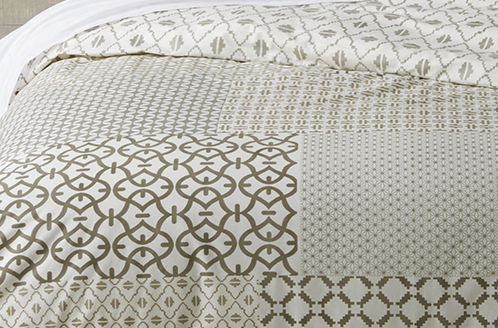 Bed Pillows
A variety of bed pillows adds depth and dimension to the finished bed. Our designers suggest you arrange them in the following order starting from the headboard: Euro, standard, sham and optional bolsters.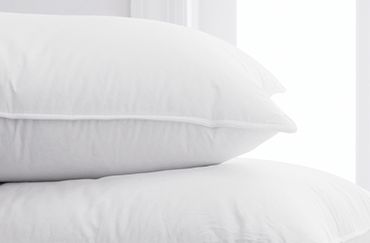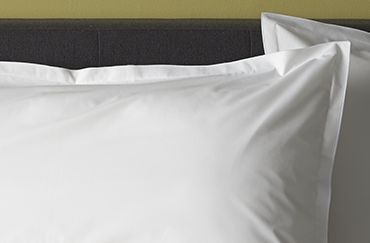 Pillow Fill
The fluffy luxury of pure domestic down fill creates loft and moldable cushion, perfect for all sleepers. If you prefer pillows with a firmer core of support, select duck feathers blended with down. For an allergen-free alternative, premium Italian synthetic microfiber provides a down-like experience.
Shams
We tailor our pillow shams with sophisticated details, such as flange seaming and piped edgings. While shams traditionally match the duvet, quilt or coverlet, you can add visual interest by contrasting a solid bed cover with patterned shams. Want a more contemporary look? Try king-width shams on a queen bed, or use three Euro shams on a king-sized mattress.
Mattresses and Foundations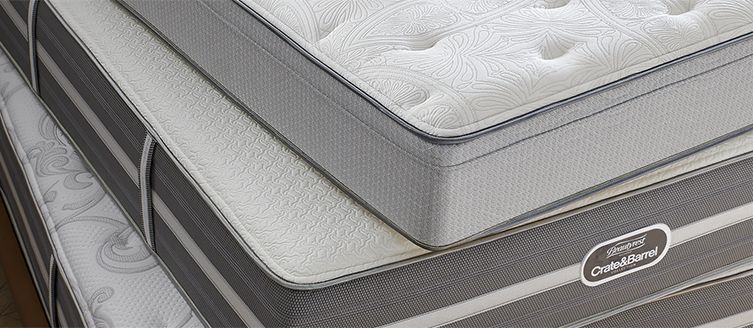 A high-quality mattress is the foundation of a comfortable bed. Look for construction details that improve sleep quality, such as a coil system to reduce the transfer of weight and movement from one side of the mattress to the other. A mesh border improves airflow and allows the mattress to breathe.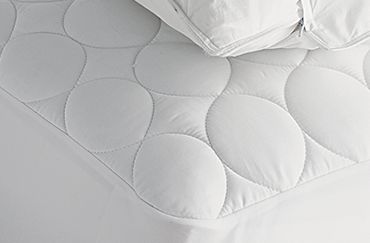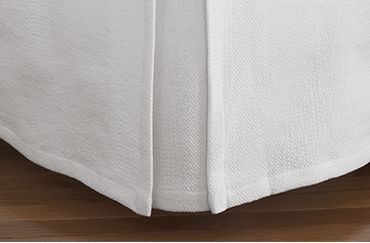 Mattress Pads
Mattress pads do more than provide extra cushioning for your mattress. They keep you warm in the winter and cool in the summer by wicking away moisture. To increase the life of your mattress, select fabrics that naturally inhibit mold and dust mites.
Bed Skirts
When you want to optimize space under the bed but don't want to see storage containers, consider adding a bed skirt. These items hide framework and under-bed storage. Select split-corner tailoring that will work with most bed frames.
Back to Top