Holiday
How to Decorate a Mantel for Christmas
The mantel is many things. It holds framed family memories and relics. It acts as the focal point of beauty within family and living rooms. For one special month each year–the harbinger of holiday joy, acting as the all-important Christmas stocking holder, donning bits of cheer.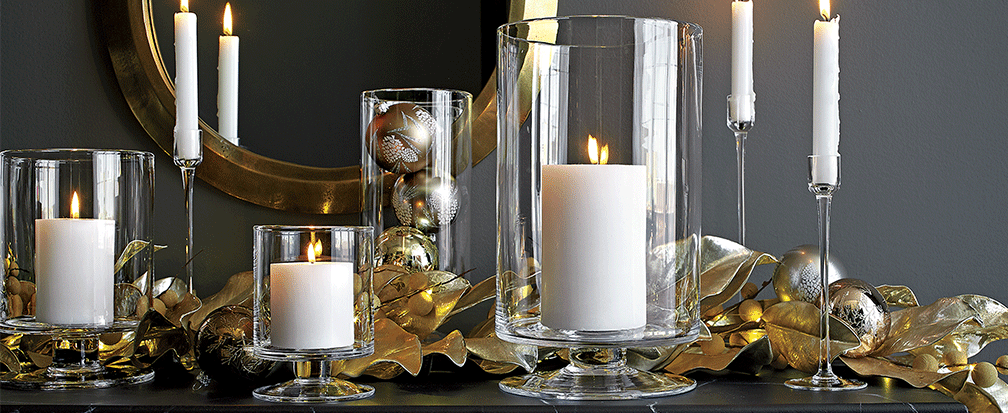 Knowing what an important part of your home the fireplace represents at the holidays, we have a few timeless Christmas mantel decorating ideas to help you create your finest holiday decor display.
1
Make it multi-dimensional
Texture, texture, texture. This is the key to a well-balanced design. Mix and match smooth pieces—vases or figurines—with organic elements like cinnamon-scented pine cones. Adding a strand of garland is a nice way to texturize your holiday mantel décor.
2
Sprinkle in some glitter
Perhaps not literally. However, the twinkle in Santa's eye is part of his charm, so incorporate extra sparkle by intertwining lights between the other items on your mantel. Consider incorporating shiny ornaments throughout the garland on your mantel. Better yet, wrap the garland itself in twinkle lights. This is one area where you might prefer to keep it minimal—festive yet classy.
3
Take it to new heights
Bookending the mantel with tall candlesticks gives it symmetry and boosts its presence. As a general rule, mingling flatter elements with loftier pieces creates a more dynamic display. Add a framed holiday print in the background and place a miniature Christmas tree slightly off center to add playfulness and visual interest.
4
Reflect back its beauty
Hanging a mirror above the fireplace has multiple effects. It creates the illusion of depth within the decoration, acts as a unifying centerpiece that pulls the ornamental elements together, and enlarges the perception of the room as a whole. It also reflects the excitement that will spread across the kids' faces on Christmas morning.
5
Create a stunning color palette
Choose your hues wisely, as they are the foundation for your holiday display. For classy simplicity, consider mixing deep greens and earthy browns with cream accents. For eye-catching elegance, mingle white, gold and silver together. Or you can never go wrong with a more traditional fireplace display full of primary reds and greens, with a dash of gold.
6
Breathe some life into it
Never underestimate the value of plants. A hint of foliage can breathe movement and life into the narrow platform. Anchoring the ends with miniature red poinsettias is a surefire way to spruce up your mantel for Christmas. Consider displaying boughs of real evergreens in a favorite vase or adorning miniature pine trees with bright red ornaments.
7
Cut back on chaos
Between the presents, stockings, cookies, and twinkle lights, your home already looks far more ornate than usual. You don't necessarily need a mantel centerpiece that gets lost in the Christmas chaos. Whether simple and elegant, or fun and whimsical,keeping it simple draws your eye to the specially chosen elements displayed atop your fireplace. Trim the clutter—not just the tree.
8
Light up your evenings
Mantels are the perfect place to display a variety of holiday candles, such as votives, lanterns and ornamental tealights. Mix sizes, colors and shapes to create a lively visual effect. To keep the look fresh, add unique bits and baubles to your display, including decorative reindeer, a statement vase or a Santa figure.
9
Nutcrackers Galore
If you collect nutcrackers, arrange them on your mantel to showcase your merry miniature army. Place them according to size, either largest on the outside and smallest in the center, or visa versa to create symmetry. Wind evergreen boughs across their feet, and embellish the greenery with a few red ribbons, bows or ornaments.
There's one final step in your design endeavor:
There's one final step in your design endeavor. Just before you open up your home to friends and family, go ahead and put your slippered feet up on the ottoman, sip some nutmeg-laden eggnog, and revel in the holiday mantel motif you've created.
Complete your holiday mantel with thoughtful gifts from our collection of stocking stuffer ideas. For more Christmas mantel decorating ideas, check out the Crate and Barrel Blog.
Back to Top