Everything You Need to Know
About Choosing Flatware
The Crate and Barrel flatware collection gleams in high-quality stainless steel designs that need very little care, go right in the dishwasher and cost a fraction of formal sterling. Each piece is hand-forged or stamped for substantial heft and weight, and a close look reveals the clean detail and definition associated with fine silverware. In fact, we work with the top silverware manufacturers to produce a number of our patterns.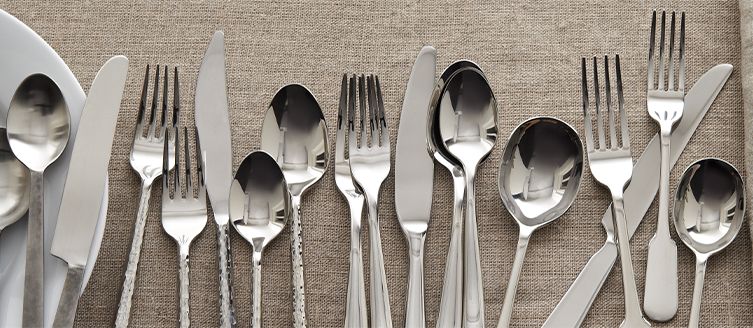 Stainless Steel Flatware: 18/10, 18/8 and 18/0
Stainless steel flatware is produced three different ways: 18/10, 18/8 and 18/0. The first number refers to chromium, which is another way of saying "resistant to rust and stains." The second number represents the amount of nickel in the flatware––the more nickel, the brighter the sheen. All three options are made for everyday use, and with proper care, will last a lifetime.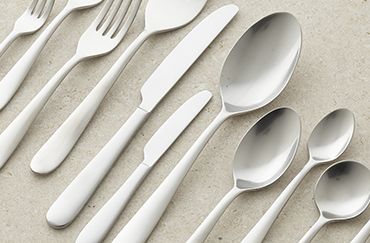 Care: Stainless Steel Flatware
Stainless steel flatware is dishwasher-safe and requires minimal care. We recommend using a detergent that isn't citrus-based, as well as not mixing metals in the dishwasher (avoid washing sterling silver with stainless steel, for example). Dry immediately. To remove minor watermarks, buff with a soft, dry cloth.
Quality Craftsmanship
It takes at least 25 steps of hand­forging or stamping steel to create our knives, forks and spoons for dining and entertaining. The result is substantial construction that's never light or flimsy.
Hand Forged Flatware
Forged flatware is comprised of a continuous piece of metal that's heated to extremely high temperatures, then shaped by hand to create a clean, simple pattern that has a heavier feel.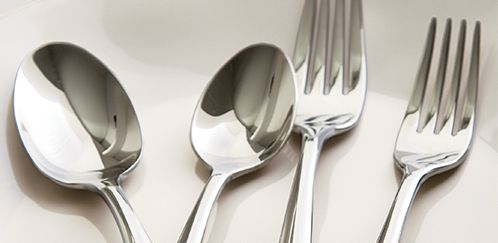 Stamped Flatware
Stamped flatware refers to a pattern that is "stamped" onto a continuous piece of metal. The result is flatware with a solid weight that doesn't feel too heavy.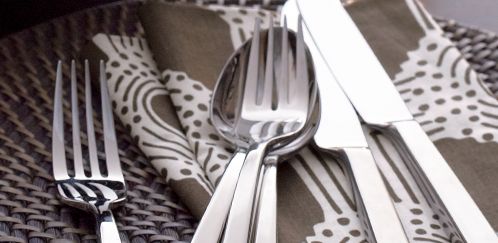 How Much
Start with as many place settings of flatware as you have in dinnerware. 12 place settings is our suggestion. You might also wish to add 12 extra each of forks and spoons to get you through coffee and dessert.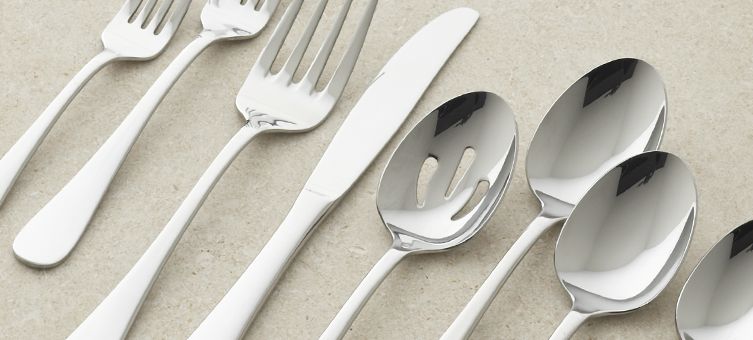 Serving Pieces
We also offer the most commonly used serving pieces, in both sets and open stock, to complement most patterns. These may include pastry servers, serving spoons, pierced spoons, meat forks, butter knives and steak knives.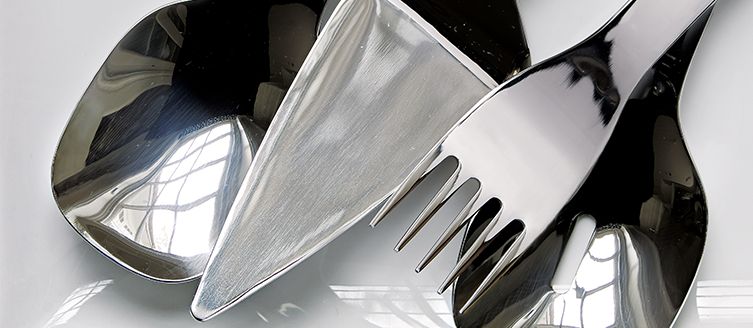 Sets and Open Stock
5-Piece Place Setting
Service for one includes salad fork, dinner fork, knife, soup spoon and teaspoon.
20-Piece Flatware Set
Service for four includes four each of salad forks, dinner forks, knives, soup spoons and teaspoons.
Open Stock
Individual pieces of stainless steel flatware for place settings are also available in some of our dining flatware patterns as open stock.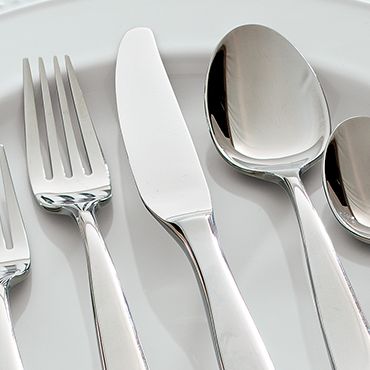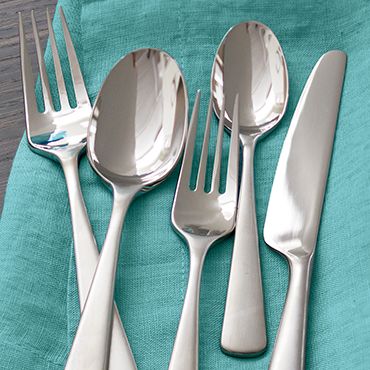 Choosing Your Perfect Flatware
Keep two basic considerations in mind when looking for a flatware set: how it feels and how it looks. Balance daily functionality with a style you love, and you'll look forward to using your flatware for every occasion—from quick weeknight meals to formal holiday feasts.
Pick It Up
Pretend to cut with a knife and fork to see if it's comfortable. Judge heft, substance and strength. Also consider the size and contours of the spoon bowl.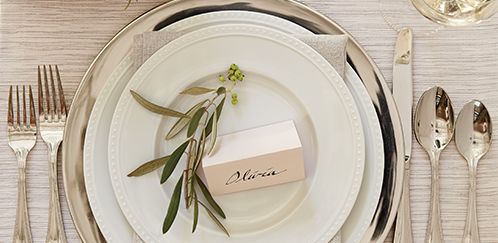 Choose a Look
With its gleaming forms and artistry, flatware is like jewelry for the table. Crate and Barrel offers more than 40 exclusive flatware designs, from sleek and modern to classic or formal. Many of our patterns work just as well for special occasions as they do casual meals. Or keep two sets on hand––one for everyday use, and one for formal dinners.