Entertaining
Fondue Party
The History of Fondue
They say that necessity is the mother of invention. Cheese fondue was originally a method created to make use of hard cheese, wine and stale bread. Those bits and pieces would have otherwise gone to waste at the end of a long winter in the mountains of Switzerland and France. In modern times, it still seems like a crime to throw out good ingredients, even if they're slightly past their prime.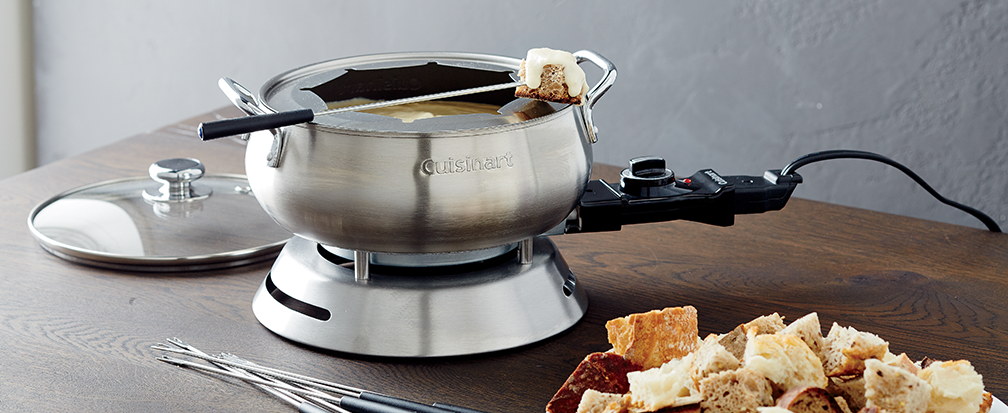 Fondue Party Ideas
Want to host a gathering that's a little different? At a casual fondue party, you won't have to monitor your oven constantly. Friends laughing around a cozy pot of fondue is the indoor equivalent of the campfire spirit; they'll feel like kids making their own s'mores.
Fondue was a big hit in the United States during the 1970s, and there was a fondue renaissance around 2012. So whether you pick a European, Seventies or current theme for your fondue party, remember: gooey cheese and melted chocolate never go out of style.
Here are a few technical tips to ensure your fondue—the star of the party—turns out just right:
Pick your cheeses and your foods for dipping
For best results, use a good cheese, such as Beaufort, Emmental, Gruyere or Appenzeller. You'll get authentic fondue flavor by melting the cheese with white wine and a little garlic; there are plenty of recipes available online. Beer can be used as an alternative to wine depending on the tastes of your crowd-either way, the alcohol ingredient (wine or beer) not only adds flavor, it prevents curdling. Popular items for dipping include good crusty bread, vegetables, and apples.
Choose your chocolate for dessert fondue
Typical chocolate fondue ingredients include bittersweet chocolate, heavy cream, sugar, butter and even red wine. For a decadent dessert party, offer three different fondue options: dark chocolate, milk chocolate and white chocolate. Mix caramel and walnuts into milk chocolate for a turtle dessert. For dipping, you can use marshmallows, bananas, strawberries, figs, graham crackers, pretzels and pound cake. Tip: cold fruit will hold chocolate better and result in fewer drips.
Select your main course cooking liquids and entrée foods
For meat or seafood fondue, you'll need to use a hot cooking component, such as oil, since you'll be starting with raw ingredients. To safely maintain the high temperature of the oil, choose a fondue vessel made of a high-heat-compatible material, such as cast iron, stainless steel or copper. Many oil fondue recipes recommend using vegetable oil, a mix of vegetable oils and olive oils, and/or broth. Popular items for dipping include beef cubes, sausage slices, meatballs and shrimp. For extra flavor, offer dipping sauces for the cooked morsels. If there are vegetarians on your guest list, consider adding a second fondue pot exclusively for cooking potatoes and other veggies. Consider printing out a set of cards detailing how long to cook each type of food so that meats reach the correct internal temperatures.
Keep guests happy with safety measures
When cooking fondue, there are a few health and safety considerations to keep in mind. Cheese fondue is only for dipping and is not hot enough to cook raw ingredients. Hot oil can be used for cooking but it does have some inherent risks. Be sure to pat dry any items that will go into oil before cooking to prevent oil splatters. Keep children and pets away from unattended oil pots, and in case of an oil fire, do not use water to put out the flames. Instead, cover the pot with a lid to reduce oxygen supply. Use a trivet to protect the surface that your fondue pot is sitting on. Fondue forks can get extremely hot, so do not eat food straight off of them. Use room temperature standard flatware instead.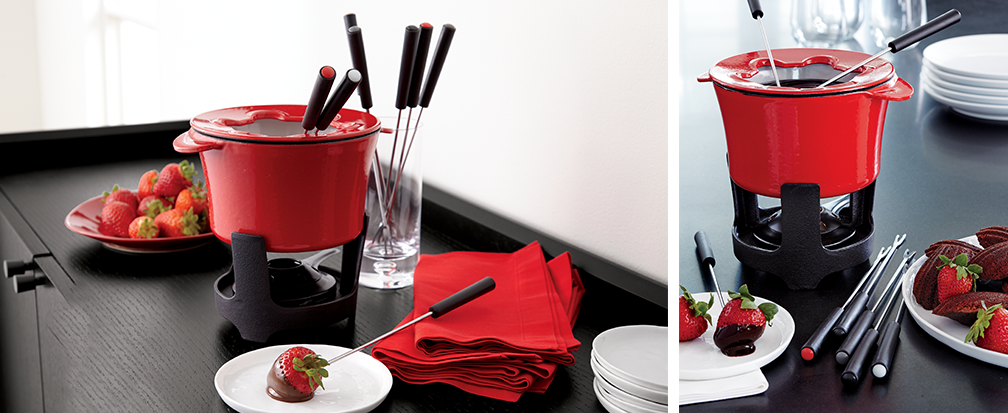 Remember General Fondue Tips
Create your fondue on the stovetop, then use the fondue pot to keep it warm. Your fondue will reach the correct temperature, and the mess stays on the stovetop so your fondue pot looks picture perfect for company. If a communal pot makes you squeamish or if if your guests have food allergies (such as a gluten intolerance), you can also purchase individual fondue pots. Cut dipping items into bite-sized pieces for easiest consumption, and use less crumbly day-old bread and slightly stale pound cake to keep the mess in check. Don't store your fondue pots too far out of sight or you'll forget to pull them out. Remember, a cheese fondue appetizer or chocolate fondue with dessert makes a lovely addition to any event. Fondue pots are also useful for keeping dips warm during parties—just make sure you have plenty of extra sterno fuel gel packs on hand so you can fire them up anytime.
Fondue Party Essentials Checklist
Fondue pot(s) (one pot typically serves about four people)
Fuel gel packs
Additional fondue forks, if needed
Regular flatware (see note in "Safety Tips" section)
Individual plates
Napkins, one for each guest plus plenty of extras (for obvious reasons)
Bowls to hold dips for cooked meats, seafood and vegetables
Serving plates to display raw items for dipping and cooking
Fondue ingredients
Dipping ingredients
Decorate According to the Party Theme
Consider the theme of your party, and plan music and decor around that theme. If you want to host a 70's fondue party, use table linens and dinnerware in retro colors to pay homage to that decade. Invite your guests to dress up in their best vintage outfits, and create a playlist of disco music. For a campfire theme, incorporate natural elements, such as real or faux botanicals, flowers and stems, wooden plate chargers, and citronella candles into your table decor. Include graham crackers, marshmallows and candy bars for dipping, and provide bamboo skewers as additional fondue forks. Use candles in hurricane candleholders and lanterns to provide flickering campfire-like lighting. Take your theme to the next level by playing nature sounds in the background.
Hosting a fondue party? Share your photos on Instagram using the hashtag #CrateStyle.
View More Entertaining Ideas
See All
Back to Top