Decor
Halloween Party Ideas: Food, Drink and Decor
Between costumes and candy, Halloween brings out the kid in all of us. Get into the spirit of things this season by hosting a gathering for adult ghouls and goblins, complete with decorations and drinks. We've gathered a few favorite Halloween party ideas that are simple yet spooky, and will make guests feel right at home. With a little planning, your bash will be scary-easy to pull off.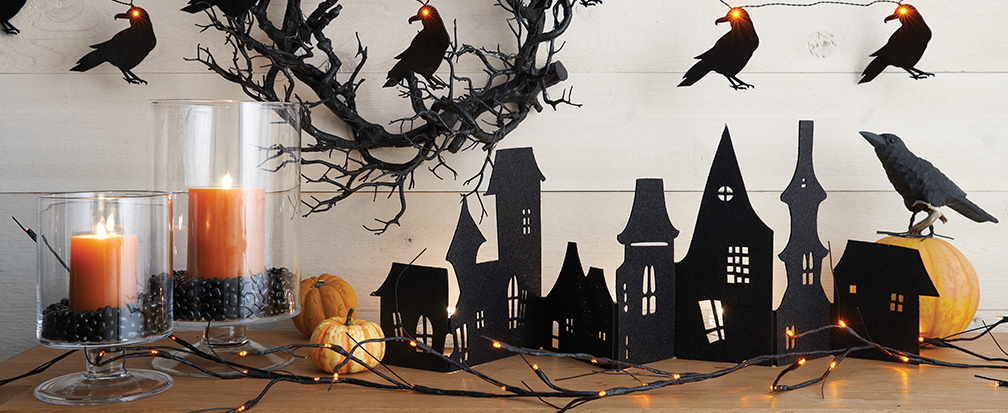 1
Lure guests into your Halloween party with an eerie entryway.
Hang a haunted wreath, bury a few spooky decorations in your planters, set out pumpkin decorations and gourds, or create a trail of candlelight to illuminate your front path. Consider using printables to create banners to hang above the snack table. Small touches go a long way to create a fun experience for guests as they arrive to your Halloween party.
2
Set up a spooky scene indoors, too.
Select one main room to decorate, like the dining room. Turn off overhead lights and use lamps instead to set a mysterious mood. Light candles throughout the space, and cue up a Halloween playlist on a music sharing site like Spotify. Make sure guests have plenty of room to move around and dance to the music. Don't be afraid to add decorations to other rooms where your guests will congregate, including kitchens, bathrooms and outdoor spaces. Keep your regular lights off and instead illuminate the party space with string lights hung around the floor or ceiling trim.
3
Don't be scared by surprise guests.
If you plan to host a sit down dinner, consider using eye-catching Halloween tableware to kick up your table decorations. To ensure you have enough plates and glasses to feed extra friends, stock up on basics like napkins, flatware, appetizer plates, cocktail and wine glasses. And if you stick to a simple color palette, such as all black and white, you'll be able to use them long after the party dies down. Using disposable plates and napkins? Remember to add trash cans in places that are easily accessible.
4
Serve a bewitching buffet.
Small bites and finger foods save you time and energy in prep work, and a buffet allows guests to snack all night long. Plan a Halloween food menu with recipes that are seasonal and simple to pull off, like roasted pumpkin seeds, spiced nuts and popcorn, mini pumpkins filled with dips, and devils on horseback. Turn fresh mozzarella balls into eyeballs with stuffed olives, or wrap prosciutto around breadsticks. Color lady finger cookies green to turn them into witch fingers instead. Use serving trays to group similar items together and arrange bowls and platters at different levels to give the table a sense of depth. Extra-spooky ingredients such as dry ice will make your buffet stand out.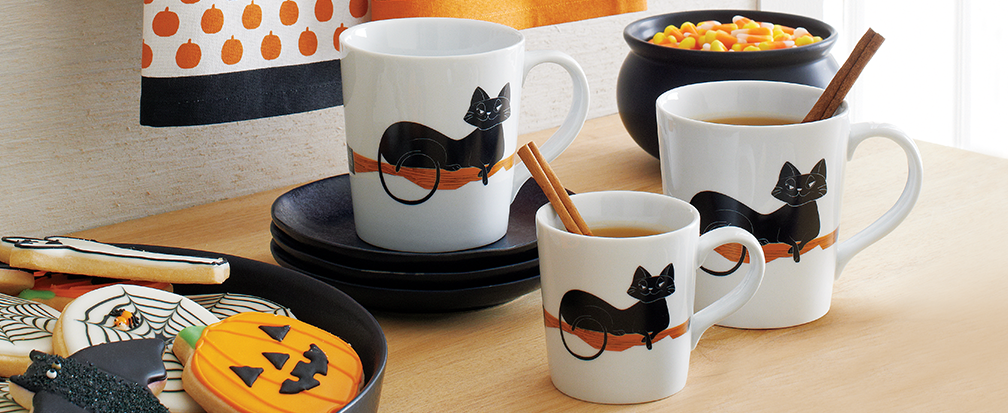 5
Let guests pick their poison.
By setting out a self-serve drinks station, guests can come and go as they please, and you can have the chance to mingle with your guests. In general, the more self-serve options you give your guests, the more fun you'll get to have. So consider making a punch recipe that fits with your theme (Blood Orange, Apple Cider), and you can double or triple the recipe depending on your guest list. Set out playful extras for the Halloween-inspired drinks, like licorice sticks or grape eyeballs. And to create a steaming cauldron-inspired punch, add dry ice to your concoction (just be sure to follow safety instructions).
6
Trick out a candy bar.
Arrange a spread of desserts with bowls of classic Halloween candies and sweet treats. Top ready-made cupcakes with white chocolate spiderwebs or make ghosts with meringue. For a truly decadent option, bake a dark chocolate cake and glaze it with a raspberry syrup. Set out plastic baggies for guests to fill with their favorite sweets before heading home from your party.
7
Capture Halloween costumes on camera with a photo booth.
Setting one up is simple: all you need is a camera and a tripod. Hang a backdrop, provide some props, and set the camera to self-timer to let guests snap away all night long.
8
Remember furry friends.
Pets can participate in the festivities, too. If your pet enjoys mingling with guests, a costume may be a great way to allow them to participate in the Halloween party. Try out a costume ahead of time to make sure it's safe and comfortable. Set aside a quiet retreat in a room away from the party for shyer pets as you mix and mingle with friends.
By planning ahead, you'll be prepared for any surprises that pop up in the night (not counting the ghosts). What are your favorite Halloween party ideas? Share them with us by using the hashtag #CrateStyle.
Back to Top