Holiday
Hanukkah Party Ideas
Hanukkah, a joyous winter celebration for Jewish people around the world, is the perfect time to gather your closest friends and family for an observance of what is sometimes referred to as the Festival of Lights. Though the date of the official holiday kickoff is determined by the Hebrew calendar and differs yearly, a few basic celebratory practices remain the same—lighting your Menorah only after sunset, burning the candles for at least half an hour, preparing dishes using olive oil. We've curated a collection of both traditional and nontraditional Hanukkah party ideas to help you and your loved ones commemorate the special occasion.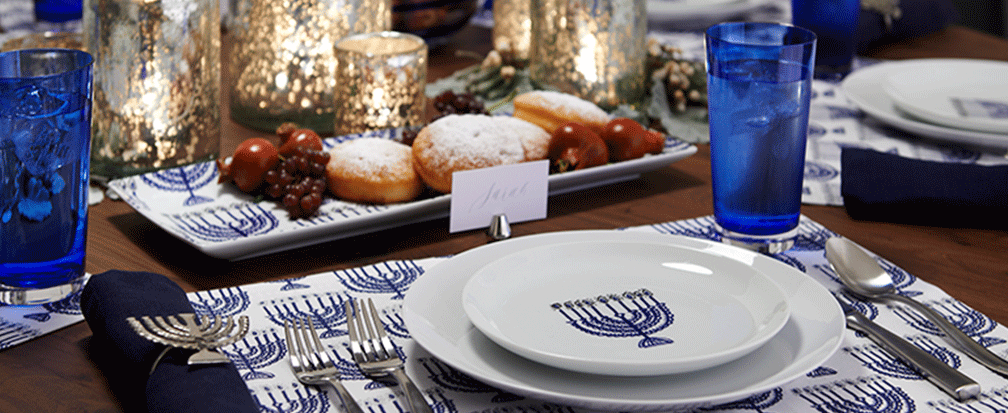 Make appetizers and desserts potluck-style.
Encourage guests to take part in the festivities by asking each family, couple or single guest to bring one appetizer or dessert to share. Request that guests notify you of the dish they're contributing ahead of time so you can make sure there's a wide variety of snacks for both before and after dinner. Prompt guests to think outside the box—they can modernize traditional Hanukkah party foods or add a personal touch to a classic dish. For example, sweet potato latkes make a tasty and vibrant appetizer, and the addition of dairy-free nut cheeses to a fruit and cheese platter creates space around the table for friends and family with dietary restrictions. Guests may also keep it simple, contributing a kosher wine or an apple, cinnamon and orange sangria.
Make your dining table the talk of the room with on-trend linens and creative centerpieces.
Trending monochromatic schemes give your dining table a simple and upscale look without the added effort of color coordinating. An all-white table is totally unexpected but still on-theme. Pair a white tablecloth and white linen napkins with classic silver flatware. Gold flatware, while less traditional, can work as well—look for patterns with yellow undertones for extra flair. Offset the monochromatic base of your table setting with a lush, textured centerpiece. Make your menorah the standout centerpiece item and decorate around it. Scatter blue and white tealights around the base of the menorah to draw even more attention to it. If you're worried about having live candles on the table, choose flameless tealights for a similar effect. Layer into the spread blue and silver ornaments and a couple of faux blue and white blossoms or silk flowers. If the kids want to contribute to the Hanukkah party, send them out to scavenge the yard for pinecones. Then, help your littlest holiday decorators paint the pinecones blue, white and silver. If you don't mind adding a little sparkle to your decor, dust in craft sparkles while the paint is still wet. If using a table runner, consider scattering your centerpiece decorations down the table instead of clustering them in the center.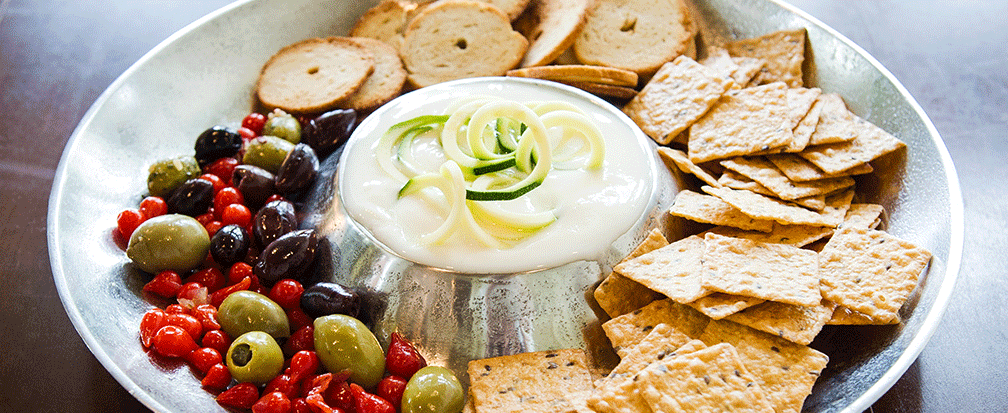 Keep dinnertime traditional.
One of the most enjoyable aspects of the holidays is the comfort of tradition. Modernizing the celebration keeps your Hanukkah party ideas fresh and fun, but the core of the gathering should reflect traditional values. Gather guests around the dinner table for a classic meal of short ribs or braised beef brisket; creamy, eggy kugel noodles and potato latkes or savory dill pancakes. Don't forget the homemade applesauce and any other potato-based sides, all fried in high-quality olive oil, a substance symbolic of the light of the Menorah. Make vegetarians and vegans feel welcome with egg-free fried potatoes and fresh vegetable crudite to dip in a faux sour cream sauce made from whipped coconut cream. You can also consider serving grilled or fried fish—such as salmon—to the table to satisfy those who don't eat beef.
Serve individually-wrapped desserts for ease.
Minimize leftovers sitting around your kitchen and taking up too much room in your fridge by creating a dessert menu of carry-out sweets for guests. Bake miniature cheesecakes, one of the more notable traditional dessert dishes, in a paper-lined cupcake tin. Serve to each individual guest on dessert plates at the dinner table or arrange on a couple of cake pedestals under glass cloches for a bakery-style display. For an extra-special touch, look for blue and white cupcake liners, and top each mini cheesecake with a button of ivory frosting and a couple of blueberries. Shrink your signature challah donuts into something more finger-food-friendly—fry bite-sized donut holes and build a small tower in the style of a French croquembouche, adhering the donuts together with a homemade caramel.
Last but not least, remember that Hanukkah is a celebration. Our final Hanukkah party idea is to take time to tell your friends and family how grateful you are to be spending time together. Pencil in time for a party-wide toast and cherish good food, better company and a lovely Festival of Lights.
What are your best Hanukkah party ideas? Show us how you celebrate the season with #CrateStyle.