Entertaining
How to Grill Pizza
Ever met a person who isn't a fan of pizza? We haven't, either. From ordinary slices of cheese to artisanal creations popping up across the country, the dough show isn't going anywhere for awhile. The latest spin doesn't even require an oven. Instead, chefs slide pies directly onto piping hot grills. The result is a perfectly charred crust with just the right amount of chew. Pizzas this good shouldn't be relegated to professional kitchens—anyone with a grill can throw a pizza party. So round up your crust-loving compatriots and find that foolproof dough recipe. Read on to learn how to grill pizza, including toppings, tools, techniques, and more. We promise it's as easy as pie.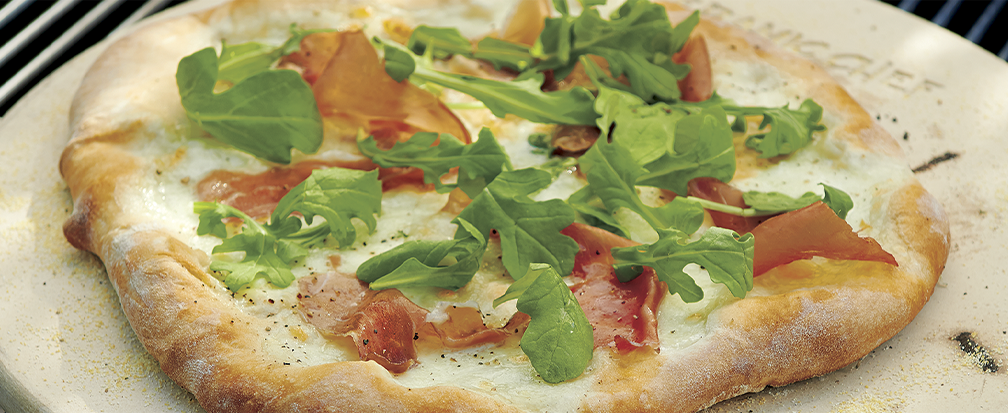 Tool Time
Arm yourself with a few key items to make the best pizza possible.
• A pizza stone absorbs moisture during the cooking process, ensuring a crispy crust. Just remember to put your pizza stone on the grill to preheat a few minutes before you start cooking.
• Pizza peels take the mystery out of transferring pies from grill to table. Slicing pie is easiest with a classic pizza cutter. It's sharp, cuts through crust without leaving uneven edges, and keeps toppings intact.
• Invest in a rolling pin if you plan to make your own dough. We couldn't recommend it more—homemade dough requires nothing more than flour, water, yeast, and salt, and will take your pie from good to great.
Tasty Toppings
Prepping your pizza toppings in advance is key; the grilling process happens much quicker than you might think (a matter of minutes). Choose a few simple options that work well together so guests can mix and match.
• A few cheeses (fresh ricotta, pecorino or Parmesan, buffalo mozzarella, chevre)
• Vegetables (arugula, caramelized onions, sauteed mushrooms, roasted garlic)
• Herbs (thyme, rosemary)
• Flavored oils (chili is a favorite)
• Meat (sausage, proscuitto)
• Tomato sauce (homemade is best)
• Lemon juice is a little-known flavor-booster; a mere squeeze atop a ricotta and arugula pie will do wonders.
• A couple of bowls of flaky salt and pepper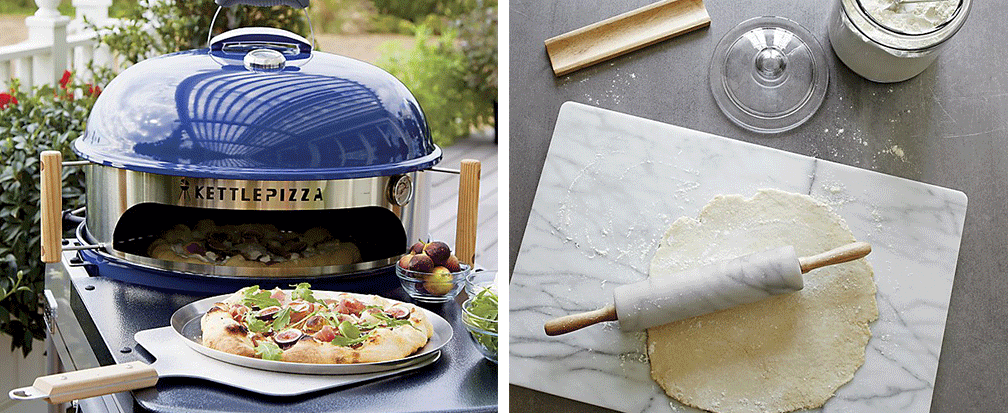 Summer Sips
A little-known fact? Pizza tastes fantastic with bubbly. You're making the effort to grill pizza. You may as well go the extra mile and grab a few bottles of champagne or prosecco. Your local wine shopkeep can help with suggestions.
Party Prep
The best pizza parties are simultaneously casual and stylish. Times like these call for simple serving pieces, a festive palette, and an understanding that things might get messy (tomato sauce has a habit of ending up on napkins, so steer clear of white).
• If you have space, a pizza topping bar is a playful—not to mention organized—settup. Rather than a tablecloth, you might try a roll of butcher paper. It's fun, lets guests spill without a second thought, and can be easily recycled at the end of the night.
• Arrange toppings in colorful bowls, then mark each with a labeled place card so guests know what's what. If you're using butcher paper, write labels directly on the paper with a bold marker.
• Place bowls in order: tomato sauce, cheese, vegetables and meat, herbs, flavored oil, salt, pepper, and lemon halves.
• Plates should be large enough to hold individual pizzas (if you choose to go that route) or a few slices at a time.
• Cutlery is a necessity; this keeps everyone happy.
• Napkins will inevitably end up with stains, so embrace patterned paper varieties. They'll add brightness and, again, make it easier for you at the end of the evening.
• Champagne flutes or coupe glasses
• Chill bottles in advance, then take them outside and keep them cold in an ice-filled chiller.
There you have it: our handy guide on how to grill pizza, throw a fabulous pizza party, and look good doing it. You're guaranteed to have fun ... any way you slice it.
How do you make the perfect pie? Show us your favorite grilled pizza ideas by using the hashtag #CrateStyle.
View More Entertaining Ideas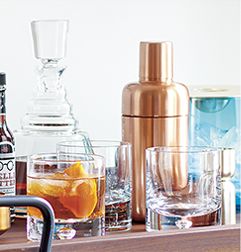 How to Stock a
Home Bar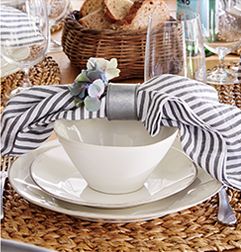 Table Decorating
Ideas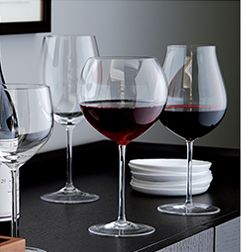 How to Host a Wine
Tasting Party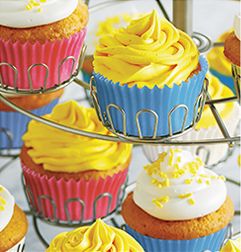 Cupcake Display
Ideas