Decor
Kitchen Lighting Ideas
No matter if you live in a sprawling suburban mansion or a quaint city apartment, the kitchen is most likely the hub of your home. Your kitchen is the place where friends celebrate, families congregate and guests relax with a cup of coffee. Monumental moments happen in the kitchen, which is why it's so important to incorporate kitchen lighting ideas that set the vibe for your entire home.
While attractive, comfortable furniture and modern, sleek appliances can help your kitchen shine, lighting is equally—if not more—important. Make sure you have the right kitchen lighting in place, from ambient lighting to task lighting to noteworthy accent pieces.
And don't worry about trying to make all of your light fixtures match. If you want to show off your various tastes, it's okay to break up the monotony with different kitchen lighting ideas. One interesting combination is mixing a dramatic light fixture with more practical pendant pieces. Another kitchen lighting idea is to add sleek sconces in unexpected sections of the space, like the kitchen's adjoining bar area or the entrance hallway from the mud room into the space.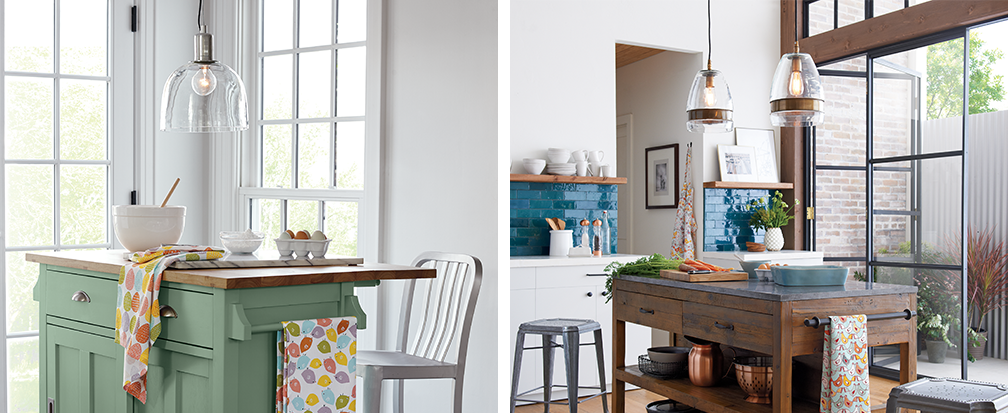 Tips and Advice for Choosing Kitchen Lighting
You can also glam up the kitchen with a chandelier over the sink or above the kitchen table. A bold chandelier adds character and can set the mood for the entire space. It also shows that you are design-savvy and willing to add some excitement to your kitchen. Consider bronze, nickel or metal chandeliers, which look modern and exciting in the kitchen. Consider for sleek, simple and stunning styles when searching a kitchen chandelier. Almost more than any other item in your home, chandeliers offer you a terrific chance to show off your style to guests.
When planning the kitchen's ambient lighting, make sure to keep it warm and inviting for everyday situations. Drum shades and chandeliers make for good ambient lighting, and consider adding dimmers to all your lights so you can set the mood for other celebratory occasions.
Pendants are also a great addition to your kitchen. There are numerous styles and looks to complement any style of decor. We love pendants over table nooks and islands, but they can really be used anywhere in the kitchen. Pendants can be fun and daring, and they are a good way to add a little flair in otherwise conservative homes.
In addition, while your task lighting—like under-cabinet lights or stovetop lights—is just as important as the ambient lights, it also gives you a chance to add some pizazz to the space, while supplying light to areas where clarity is needed and necessary. An artful pendant over the center of the kitchen island is a fun twist on task lighting, or even a pendant hanging in the food prep section of the room.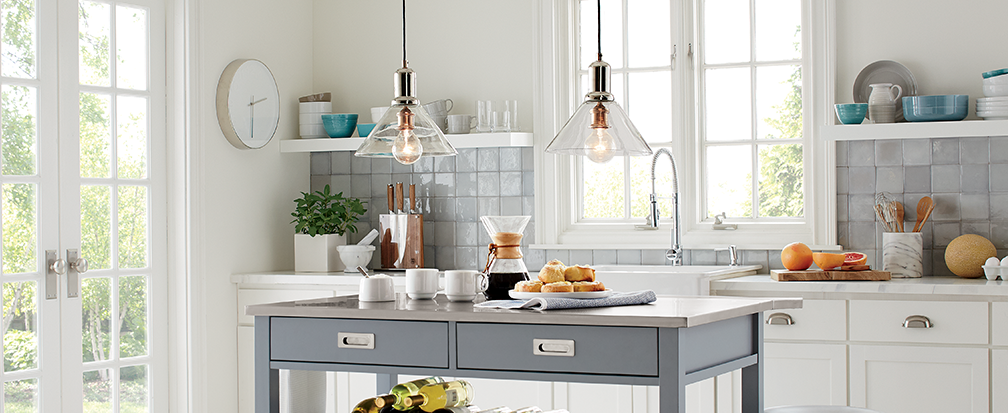 Final Thoughts
No matter what kitchen lighting ideas you decide to incorporate in your home, it's important to mix and layer different looks, styles and sizes, so the space functions efficiently and looks great. From big parties to small family dinners, the kitchen is where great things happen.
What are your favorite ideas for kitchen lighting? Share them with us by using the hashtag #CrateStyle.
Back to Top