Furniture
Transform Your Outdoor Space Into an
Open-Air Living Room
Whether you have a patio, porch, balcony, or entire backyard, make the most of your extra space by creating an outdoor "room," a sanctuary perfect for relaxing or entertaining. With cleverly arranging furniture and adding few simple design touches, the line between indoors and out can soften—and this extension of your home may become the most lived-in room outside the house. Follow our guide of patio furniture ideas to create the perfect outdoor space.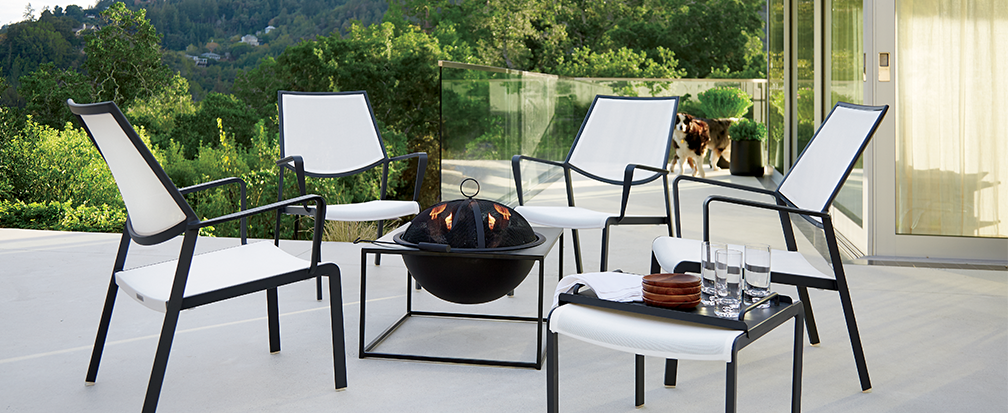 Create room-like zones in your outdoor space.
Designate an area for lounging and an area for dining, and use outdoor rugs and furniture to define these areas. Outdoor sectionals visually construe a lounge area; outdoor dining tables and chairs do the same for areas reserved for entertaining. If your patio space is larger, screens, gazebos, pergolas, or trellises can also be used to define activity zones, separate areas according to function, or help transition from one area to the next.
Choose a focal point for your outdoor living room.
A fireplace or firepit is a natural focus, as well as a great anchor for a conversational area—just arrange four to six lounge chairs around it. Or, if a beautiful garden, forest, or beach is visible from your outdoor area, use the landscape as your focal point. Set up an outdoor sofa facing the scenery, and accent with two chairs for additional seating.
Accessorize your outdoor space just like your indoor living room.
Beyond the plethora of decorative outdoor furniture available, weatherproof accessories such as metal candleholders, mirrors, plates, garden plaques, or statues can add style and personality to an outside living space. And if your area is at least partially protected, even hanging artwork outdoors is possible.
Add comfort and pops of color with outdoor cushions and pillows.
Think of this space as an extra living room, and use comfortable outdoor pillows as liberally as you would in a family room. Just make sure the materials are made to withstand fading from the sun and other outdoor elements.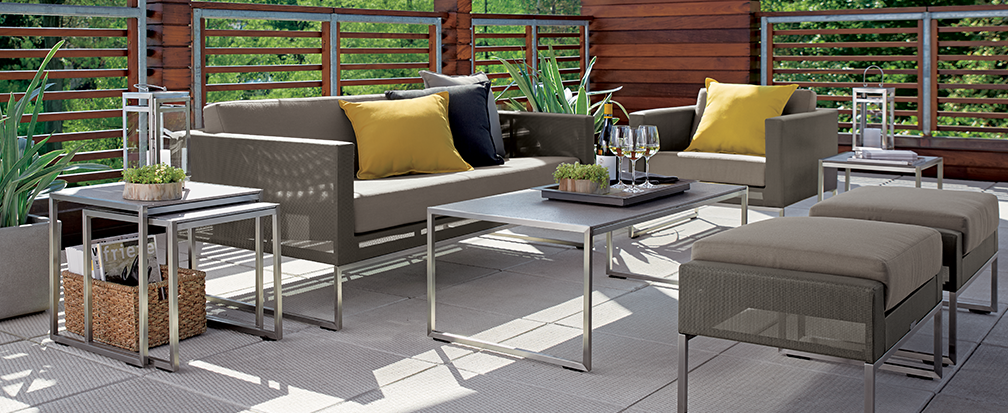 Set up an al fresco bar.
Whether you add a bar as an extension of an outdoor kitchen or as a stand-alone station, having a designated spot for drinks makes entertaining outdoors effortless. Use a garden workstation or potting bench as your "bar"—these indispensible outdoor furnishings are as up to the task of holding beverages and glassware as they are your gardening tools.
Turn any space into a verdant oasis with container planters.
Even a small patio can look lush with the addition of a group of potted plants. A row of strategically placed greenery or flowers can also act as a privacy screen or help further define sections of your outdoor space. Planning to be outdoors at night often? Brightly-colored flowers disappear in the darkness, but plants with pale blooms or white in the leaves will pick up the moonlight—and appear beautifully illuminated.
Decorate with string lights or outdoor chandeliers.
Extend the time you spend in your outdoor getaway long into the evening with ambient light sources that offer warm pools of light to gather within. Layer your lighting: Candle-lit lanterns hung from a hook in the ceiling or placed on tables or railing offer a subtler glow, and are easy to move where they're needed.
What are your favorite outdoor patio furniture and decor ideas? Share them with us by using the hashtag #CrateStyle.
Back to Top