Decor
Pantry Organization Ideas
It seems that lately, there's a trend towards living a more minimal way of life. But for anyone who enjoys cooking, there are things—many things—that are required in order to prepare a meal. Appliances, prep tools, spices, dry and canned goods and condiments are just some of these necessary supplies. For home chefs, the best pantry ideas are more about organization than minimization in the kitchen. Here, we concentrate on pantry storage solutions, but these seven steps are sure to make spending time in the kitchen altogether more enjoyable.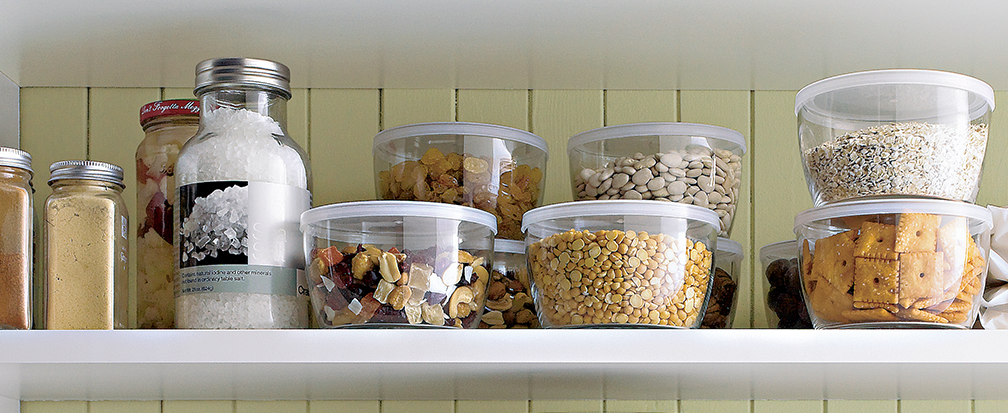 1
Clean out (and donate) pantry items regularly.
Go through with a discerning eye and really consider what you see yourself using in the next three months, and what you don't. Perhaps you have overstock of a certain ingredient; maybe you have a new dietary restriction that disallows using a certain item. Purging unwanted or unnecessary products is a great way to start fresh.
2
Purchase matching containers that are air-tight.
Not only does this make the pantry look cleaner and more cohesive, stacking storage containers are one of our favorite pantry organization ideas because they're a simple way to create order. Empty packaged grains, pastas, flour, etc. into each one and closely seal them shut each time they are used.
3
Label each storage tin, box and jar.
Adding a sticker with the date of purchase and contents makes for easy navigating when time is not on your side. It also saves money—you'll know what you have on hand and what you need to restock. It also keeps family members from opening and eating anything that may have expired.
4
Invest in a well-made, attractive spice rack.
This is the fun part for most cooks—having every spice and dried herb in the same place so they can grab, sprinkle and replace with ease. There are plenty of spice rack options—hanging shelves, over-the-door racks and even magnetic panels. Pick the one that makes the most sense to you and your cooking methods.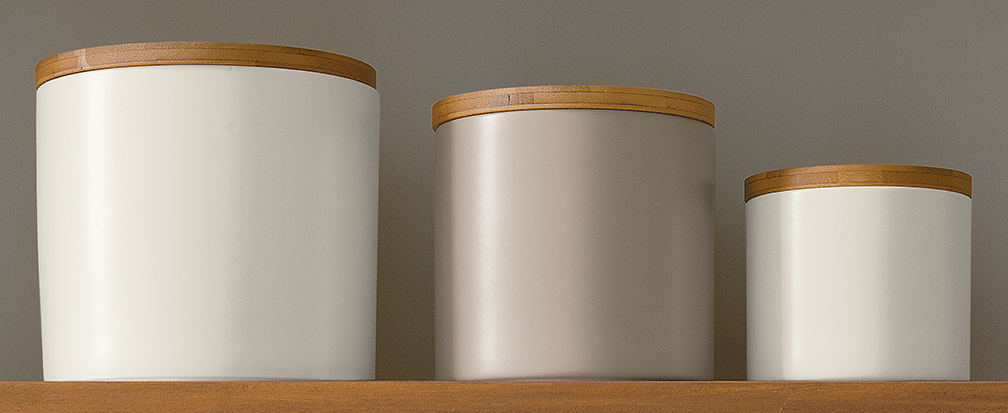 5
Keep like items together on shelves.
Pastas and grains go on one shelf, canned goods on another. Pair items like flours and sugars, sauces and condiments, cereals and snacks, and so on. You can even take it one step further and add larger labels on the bottom of each shelf so every member of the family can get in on the act.
6
Organize with expiration dates in mind.
Just as one should organize their fridge and freezer, the pantry items that are oldest are the closest to view so they can be used first. Items with a longer shelf life or duplicates can go in the back. For special seasonal recipes, pull those specific ingredients you've collected a few months before and bring to the front of the shelf.
7
Store seasonal products separately.
For the fall and winter seasons, heavy ceramic dinnerware, holiday baked good ingredients and decorative trays should be easy to reach. In the spring and summer, melamine and acrylic outdoor dinnerware, grilling ingredients and brightly colored platters should take their place. If pantry space is tight, consider moving seasonal products to the basement or other storage spaces. You'll only need to switch them out twice a year.
Once your pantry is clean, labeled and organized, preparing a basic meal is a breeze. Recipes that once took an hour or more—including time to find and gather ingredients—will now be far more efficient to make. The only thing left to do is invite your closest friends over for an evening of food, fun and memories. Bon appetit!
How do you organize your kitchen pantry? Share your tips and ideas with us by using the hashtag #CrateStyle.
Back to Top