Decor
Unexpected Elements That Work Great in a Bedroom
A dining room chair, a chaise lounge, a bar cart—much of the furniture reserved for your living room or kitchen can bring a fresh new look to your bedroom. Check out these surprising bedroom decor ideas to make your slumber space even more dreamy.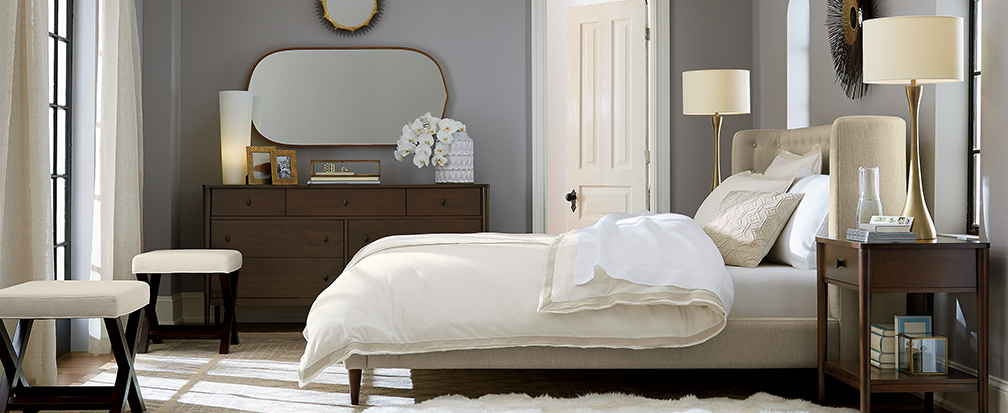 Swap bedside sconces or table lamps for dramatic mini pendants.
Pendant lamps aren't just for kitchens—in the bedroom, these chic, space-saving lights hung over each of your nightstands are both stylish and practical. Just think: You'll have more table space for books, magazines and an alarm clock, yet still have useful reading light.
Instead of a bench at the foot of the bed, consider a chaise.
A staple in many boutique hotel rooms, the very addition of a luxurious chaise lounge creates an inviting vacation-at-home ambiance in your bedroom. And positioning it at the end of your bed keeps it highly functional, as this is the spot where you can rest extra throw pillows or blankets, lay out tomorrow's clothes or put on your shoes.
Designate a dining side chair as a clothes stand valet.
Every bedroom needs a designated spot to drape just-worn clothing or an item or two that need to air. A dining side chair—though it lacks all the clips, trays, and other extras of a traditional valet stand—is the perfect landing place for sweaters, jackets, or folded slacks. Better yet, it'll look incredibly stylish even when empty.
Roll up a bar cart as a bedside table.
Most bar carts are the same heights as nightstands, and look incredibly charming filled with books, plants and a bedside water decanter rather than cocktail essentials.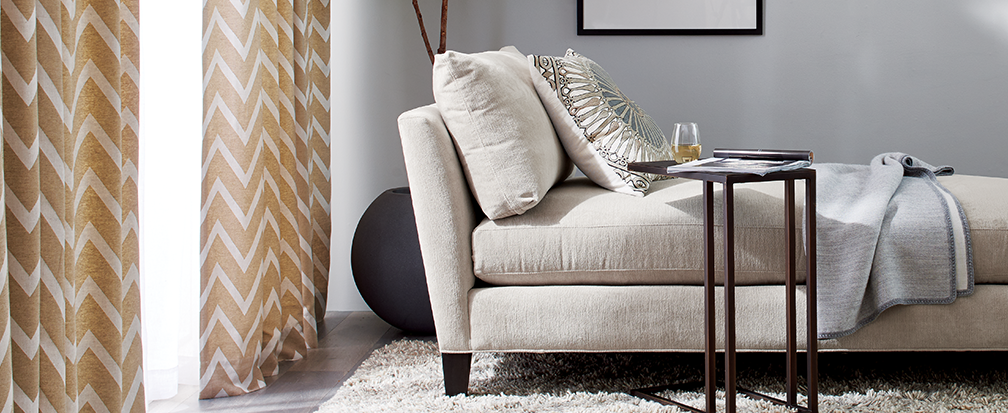 Hang patterned curtains in place of artwork above your headboard.
A wall of drapery not only creates a striking backdrop for your bed, it implies a sense of depth beyond (even if you never pull back the curtain) as well as visually extends your ceiling. For a different twist that delivers the same stunning results, try suspending any large swatch of luxurious fabric, pretty rug, or beautiful blanket behind your bed instead.
No vanity? Create your own with an entryway table.
Narrow and long, versatile foyer tables can fit into nearly any bedroom. Simply hang a mirror above it, add a delicate chair or ottoman, and voilà—instant vanity. If space allows, rethink one or a pair as elongated nightstands as well.
For a big-and-bold lighting option, bring in a modern arc floor lamp.
Usually reserved for stylish living rooms, a grand-scale arching lamp in the bedroom can create an impressive reading nook or stand in as an impressive above-the-bed light source. It's an ideal yet completely surprising element to add when you can't suspend a light from the ceiling.
Move in a handsome, multi-functional ottoman.
The sturdy cushion most often used as a footrest in the living room hides a ton of untapped potential. Consider one with storage—it's an extremely handy spot to stash extra blankets or sheets—then position it at the end of your bed, as seating at your vanity, as a low bedside table or simply as moveable extra seating.
What are your favorite ideas for bedroom decor? Share them with us by using the hashtag #CrateStyle.
Back to Top