Furniture
How to Clean Wood Furniture
Whether you're passionate about mid-century modern style, love the raw feel of the urban industrial look or like to cultivate an eclectic mix, you probably own at least a few pieces of wood furniture.
Wood adds warmth to a room, and today there are so many choices beyond oak, cherry and mahogany. Popular woods for indoor furniture include walnut, mango, ash and even teak. If you love a sense of romance and history, wood reclaimed from old buildings lends wonderful character to furniture.
Wondering about how to clean wood furniture? We've compiled a few tips and tricks to keep your furniture looking its best.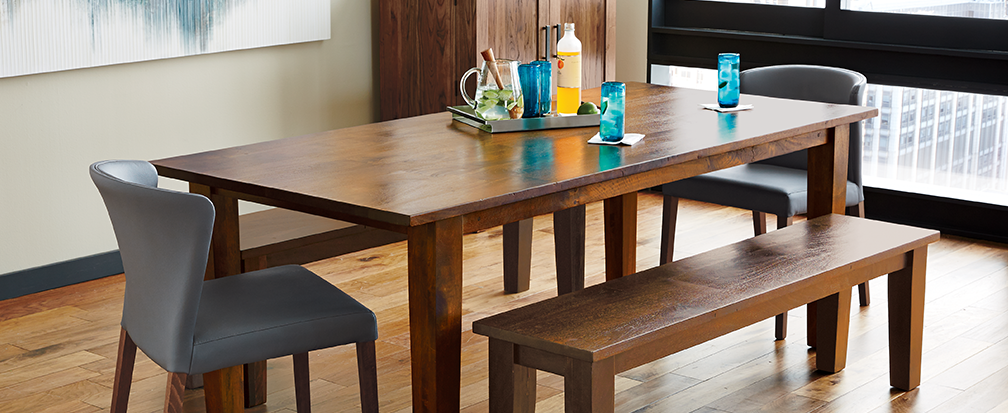 Steps for Cleaning Wood Furniture
First, determine what kind of finish or top coat your wood furniture has. Is it polyurethane (like the finish on some wood floors) or water-based? Is it coated with varnish? Is it rubbed with a wax that makes it silky smooth to the touch?
Next, check the directions and ingredients of your polish to make sure the product is compatible with the piece. Look for harsh chemicals that may pull out a stain or alter a finish. Some products may dull the wood's surface, others could darken or yellow it. And if the product promises a high sheen, avoid using it on unfinished or waxed wood.
For all types of wood, start the cleaning process by gently dusting the piece. Using circular motions, wipe with a slightly damp, soft cloth. If you need to work on a small spot, dilute a bit of dishwashing liquid in water. After adding the smallest amount of soap possible and testing on a hidden spot, dip a soft cloth into the treated water and wring nearly dry. Wipe the spot, then wipe clean using a barely-damp cloth. Finish with a dry cloth.
Furniture Cleaners
Beeswax can restore as well as clean wood furniture. Apply it with the grain, and be sure to purchase clear wax as it does come in a number of wood-equivalent shades, with ebony being the darkest. There even are wax products that mimic the look of liming.
Paste wax is another option. It's especially effective on finishes that are hand-rubbed, and it is often used on antiques. Application requires a bit more elbow grease, but it also adds a buffer layer that protects against surface scratches.
Treated cloths are also available to streamline the process of cleaning wood furniture. Some are even formulated to help remove rings and haze caused by moisture.
If you own teak outdoor furniture, be aware that it's normal for it to take on a silvery gray, weathered look over time. Many people enjoy this look and are happy to let nature take over; it doesn't mean the teak is damaged. But if you'd prefer to retain its original golden glow, you may choose to oil the furniture with teak oil once or twice a year.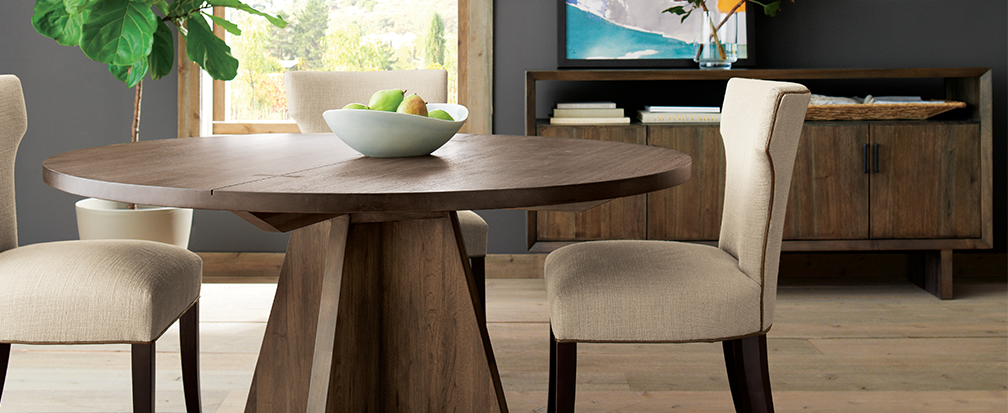 Additional Guidelines
Whatever type of furniture you're cleaning, be sure to read the manufacturer's care guidelines when you're learning about how to clean wood furniture. Some rules are obvious—it's not a good idea to place anything very hot on a table (use a trivet). Clean liquid spills immediately and use coasters to help guard against rings. Other rules may surprise you: Some manufacturers will advise against leaving printed materials on a wood surface since the ink can transfer. Many advise against placing a piece of furniture in direct sunlight since it may fade.
Check the product information for your furniture to see if it has a nitrocellulose lacquer finish, and if it does, avoid placing plastic items on it. Plastic can sometimes create a reaction that melts the lacquer--think plastic clock feet, radio feet, speaker feet, and plastic coasters and placemats.
If you follow a regular cleaning maintenance routine, your wood furniture will continue to look as good as the day you purchased it.
Back to Top