Prices and availability are subject to change from the time and date that you print this page.
10/31/2014 12:58:06 AM. For Customer Service, please call 800.967.6696
Calphalon® Contemporary 17-Piece Block Set
is rated out of
5
by
32
.
Rated

2

out of

5
by
Cait
from
Rusts
I received this off my wedding registry and within months, Rust stains started appearing. I called C&B customer service, and they advised that it was "pitting" stains from acidic foods. I hand wash each knife, and they don't sit with food on them for too long so I decided to bring them in store. They tried to polish the example I brought in and when they we're unable to remove the stain, they gave me a new set. Same exact thing happened with the new set. I'm not sure what the problem, is but the Purchasing team at Crate & Barrel needs to talk to Calphalon. Clearly, I am not the only one experiencing this problem.
Date published: 2014-10-08
Rated

4

out of

5
by
dvalenc
from
Great product for the price.
So far have had no issue with these knives, they do require regular sharpening as do most knives. Block is a great color and grip on knives feel great in your hand.
Date published: 2014-08-04
Rated

2

out of

5
by
TeamP
from
Already Rusting
We received these knives as a random wedding gift. Knowing we needed new knives anyways, we kept them. We've had them for two months and they are already rusting. The smaller knives also don't cut very well.
Date published: 2014-06-13
Rated

5

out of

5
by
repple321
from
Calphalon Knife Block with Kitchen Shears
Excellent knives. Kitchen Shears in the block a stroke of genius.
Date published: 2014-06-09
Rated

4

out of

5
by
tkleyo20
from
Great knives but...
These knives are a great deal. You get a variety of different knives, as well as, a set steak knives, which are a great addition to the set. When I first received the set, there was a defect in one of the knives. Customer service sent a replacement right away. However, now rust is developing on several of the knives. I always hand wash and dry immediately, and I've only had them 7 months. I don't think rust should be forming this early....
Date published: 2014-05-31
Rated

5

out of

5
by
AnetaA
from
Great sharp knives!!!
I ordered this knife set about a month ago and we LOVE them! Super sharp though, so be carefull handling them. When they first arrived, I thought I received a damaged set so I went to the store to exchange, but the handles looked the same, as if they were run through a dishwasher. But once I hand washed them they got their luster back and look awesome on my butcher block counter. Great set, you won't regret buying them.
Date published: 2014-04-18
Rated

4

out of

5
by
Elissa86
from
Great Knives
My fiance and I registered for these after extensive research at C&B and other retailers. We wanted knives that had a jagged steak knife and these are perfect. We only have 2 complaints: The block has 2 empty spaces for "extra" knives - I suppose this is a good feature for some, but not for us. The knives easily get water marks in the DW. I know you're supposed to hand wash everything, but when you use a knife to cut through raw food you want to fully disinfect it in the DW. Overall, they are really good knifes and are very attractive.
Date published: 2014-03-25
Rated

4

out of

5
by
CG2009
from
Great knife set
Very happy with this block set. Would give it a 5 except the knives stain just a little. However, a little baking soda and water takes the stains right off. Stays sharp, especially with the steel.
Date published: 2014-03-25
Rated

5

out of

5
by
MD Newlyweds
from
Great product! Great price!
We did a lot of searching for a knife set for our wedding registry - and based on reviews and the price we went with this one. We couldn't have been happier! This set makes food prep so easy - and they clean-up well and look beautiful on our counter too! Also we love that they come with 8 steak knives for any large dinners we may have! We know these will do their job for many years to come. Thank you Crate and Barrel for carrying this great, well-priced product!
Date published: 2013-03-05
Rated

5

out of

5
by
MrsStone
from
Great Knife Set!
We received this as a wedding gift from our registry and we use it everyday! The quality of the knives are outstanding and the array of knives they give you within the set is super helpful for all of our kitchen needs. I really appreciate that there are more slots for knives if we buy more as well as on the end of each knife it tells you what it's name is and the length! Great purchase!
Date published: 2013-03-04
Rated

4

out of

5
by
jema72410
from
Nice set
Overall, I like this set. All the essentials for everyday cooking. However, I have noticed rust spots in certain areas if they are not hand-washed and dried right away. My husband doesn't like that part, and has put them through the dishwasher a few times. Try not to do this because the lovely black handles start loosing their luster when run through a dishwasher. Other than that, I would recommend them.
Date published: 2012-11-23
Rated

4

out of

5
by
eric1536
from
Great knives - awkward block
We registered for this set of knives and I was so excited to finally have a good knife set. The knives themselves are great. They are incredibly sharp, they feel good in your hand, they have a modern look and clean design, and I love the fact that the ends are labeled. For the knives themselves, I'd give it 5 stars, but I only gave 4 stars because of the block.The block looks darker in person than it does online. Also, the slots that the knifes go into are open to the bottom, so be careful when you move it in case some of the knives poke through. Also, there are two extra slots, which is nice if you plan on buying more knives, but we aren't going to anytime soon, so it just looks weird right now.The slots also aren't cut to fit specific knives, and it isn't intuitive which knives go where. My old knife blog fit each knife snug - this one the knives move around because most slots are too big.Overall, the knives are awesome, but the block isn't great at all.
Date published: 2012-09-09
Rated

2

out of

5
by
Active Cooker
from
Mis numbered and dangerous
First off the knifes are great! I've had a couple of block sets and these have worked great. However, as a block set Calphalon really messed up. It's a 17 piece set in which the knife block has 19 holes. This would be good if your adding knifes but they then didn't make the wholes fit any knife you would legitimately be adding to a block set. So, it great detracts from the look.Also, if you are moving your house, or have have an active kitchen like me where you move things around depending on what event your prepping for BE VERY CAREFUL!! Calphalon messed up the measurements for the block. The steak knives and 8" stick out a good ways. If you move it and aren't very careful you can slice up your arm pretty good... cause they knifes do stay sharp.As a block set I was disappointed with Calphalon. It's not their usual quality.
Date published: 2011-10-02
Rated

5

out of

5
by
Heidi B
from
Quality & Value
We love this set of knives! It makes every cutting, slicing and dicing job far easier - what a difference a really good knife makes!Only want to caution, as others have indicated - they are VERY sharp (which is why they work so well), however, extra caution is necessary when using them, especially in the beginning if users are not used to such sharp knives.
Date published: 2011-08-23
Rated

5

out of

5
by
Kales
from
Great product!
Very nice! I love how sharp the knives are! It looks great in my kitchen! Every type of knife I need! :)
Date published: 2011-08-23
Related Products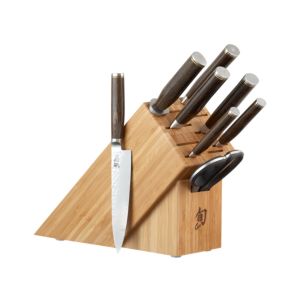 From the makers of Japan's finest cutlery comes this Premier collection with...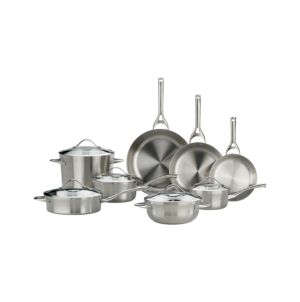 For cooks with an eye for design. Durable, professional quality pans show...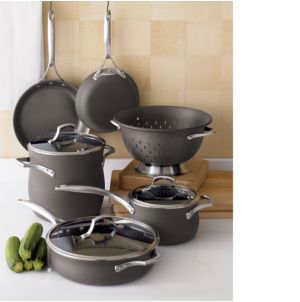 Professional performance with a choice of two revolutionary nonstick finishes for two...