Prices and availability are subject to change from the time and date that you print this page.
4/20/2014 11:57:47 AM. For Customer Service, please call 800.967.6696
Modern technology steps in for precise ingredient measurements and portion control. Display pulls away from the base unit for easy reading beneath large dishes or containers (see additional photos). Easy-read imperial or metric measurement read-out features an optional backlight. Easy settings take into account containers and allow you to add ingredients. Steel platform is removable for easy cleaning.


OXO® Food Scale with Pullout Display
is rated out of
5
by
19
.
Rated

5

out of

5
by
Angie S
from
Exactly what we needed
Needed a scale to help us keep track of serving sizes, because we are calorie counters. I hate when packages say a serving is 3 oz- c'mon who knows what that is? :) well, now I know. The best part is the zero out function. You can put your plate on the scale, then zero it, and measure your food. It's exactly what we needed!
Date published: 2013-03-05
Rated

5

out of

5
by
sleepierhead
from
Love it. Glad I finally bought it.
This is a great scale. Lived in Europe, the scale I brought home finally died after 20 years. Tried to get by doing my cooking by volume only, finally couldn't stand it, shopped around a lot and got this. A dream come true, so easy to use, large to small amount, tares so you can zero out the weight again and add the next ingredient to the bowl. Awesome! Now it is Pinewood Derby time and I'm going to weigh the cub scout race car exactly and get a full-weight advantage! Yes!
Date published: 2013-03-05
Rated

4

out of

5
by
mimom
from
Very very nice
Have enjoyed this product for 3 years. I bake a lot with foreign recipes which call for weighing ingredients accurately. Consistent performance, well made. Love the seamless, pull-out display, which is easily wiped clean and so nice for larger containers. Wire has held out through hundreds of pull-outs by two toddlers. Would upgrade to 5 stars if it had option to display decimals.
Date published: 2014-01-19
Rated

4

out of

5
by
Hayley
from
Quality Scale
We received this as a wedding gift. We cook a lot, but also make our own soap. If you know anything about soapmaking, you know how important it is to have the weight completely right! It was also important to have a stainless steel scale in case the dry lye fell on it while measuring. This does the job, and we've had no problems with it.
Date published: 2013-11-17
Rated

5

out of

5
by
Katalogue
from
Nice Scale
Very good Scale. Easy to use, and accurate. The only drawback is when you move the container on the scale to a different position, the weight may change a little bit. But it is only 1 or 2g different so it doesn't annoy me much.
Date published: 2013-03-05
Rated

5

out of

5
by
jennnnnn
from
Great to use especially while on a diet!
I bought this about 5 months ago. I needed a way to measure out exactly what I was putting into my body and exactly how much for my diet. Also, a lot of the recipes included more than measurements of cups and teaspoons. I needed a way to measure out oz and lbs. This scale is very accurate and easy to use for these purposes. Also, I go back and forth from my parents house and I tend to stay there for weeks. I take this with me and its so convenient because its small and easy to carry.
Date published: 2014-04-08
Rated

5

out of

5
by
Talula200
from
Great Scale!!!
I just bought this scale, so have only used once so far. For the first usage, it was very easy to use, did a great job measuring out serving sizes, and looks good on the counter.
Date published: 2013-06-08
Rated

5

out of

5
by
Megs13
from
Perfect!!
I bought this for my sister who is in culinary school, and she absolutely loves it!! I will be buying one for myself!
Date published: 2014-03-27
Rated

5

out of

5
by
Kayline
from
A must have!!
I have always had an inexpensive kitchen scale and used it occasionally. Recently, my German mother-in-law shared some treasured family recipes that contained ingredient measurements by weight rather than volume. Husband and I spent a long time converting the measurements before I realized that measuring by weight was much easier and more accurate. That's how I wound up with this scale and I don't know what I did without it! I use it nearly every day now.It is super easy to use and the "zero" function is awesome for zeroing out the weight of whatever container you're using or before you add another ingredient to the container.I highly recommend this first-class product!
Date published: 2013-11-17
Rated

5

out of

5
by
Devon
from
Excellent purchase!
I've been needing one of these for a long time and finally got around to it - I'm so glad I bought this one! Baking by weighed ingredients gives a more accurate recipe/finished product. I recently have started home bread baking, and weighing my dough for perfect loaves is a cinch with this digital scale! The tare feature is unbelievably handy, and I love being able to switch from metric to empirical measurements with ease. The pull-out display is genius and very handy when using large bowls that would otherwise obscure display visibility. This is a very user-friendly product and very easy to use; I only did a cursory glance at the small user manual before I began using. I highly recommend this!
Date published: 2010-04-12
Rated

4

out of

5
by
abfick22
from
Almost great
Nice large display that can be slipped off the base to avoid overhanging bowls - VERY convenient. But weight displays in fractions instead of decimals - huh? I've never heard of a digital display NOT in decimals. I've been all through the manual figuring I just had to find the way to reset the factory default, but no luck. My husband couldn't figure it out either. So, a very good scale but not great.
Date published: 2013-11-17
Rated

5

out of

5
by
snowgirl62
from
Must Have!
I had been looking for a food scale for months - and finally found exactly what I wanted in this product! It's perfect for large or small quantities as it breaks down into 1/8th oz. I love the taring feature so that I can measure into the bowl or pan directly. This has been a great addition to my kitchen!
Date published: 2009-11-01
Rated

5

out of

5
by
Marc2
from
Excellent all around
This scale is great. Does exactly what a scale should no more no less.It`s very acurate measures down to 1g. The pull out display turned out to be quite useful. Easily cleaned because the platter comes off. Tare funtion works great. It`s small compact size makes it easy to store in a small kitchen. It has changed the way I bake, using mass is much more accurate than using volume. It also helps conceptualize what a portion size really is.I would reccomend you run out and buy one of these.
Date published: 2010-06-03
Rated

5

out of

5
by
peachysk8
from
Great Scale
I guess I didn't put the batteries in correctly the first time - or the batteries that come with it are no good...- but once it was up and running, this scale has already proven a useful addition to my kitchen/cooking. Having the ability to switch from standard to metric is helpful, and it's easy to wipe down. The pullout feature is useful - I mostly use my scale to portion meat before wrapping in foil to freeze- when the foil hangs over the screen, just pull it out! Great buy.
Date published: 2011-09-13
Rated

5

out of

5
by
smw1
from
GREAT TARE FEATURE
I love the tare feature. I also love that it weighs up to 6 pounds. I use it all the time.
Date published: 2010-02-09
Related Products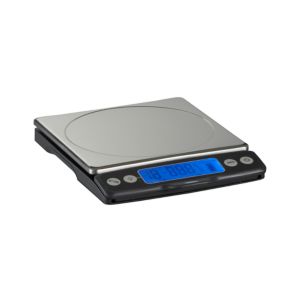 Modern technology steps in for precise ingredient measurements and portion control. Display...