Prices and availability are subject to change from the time and date that you print this page.
4/24/2014 8:11:13 AM. For Customer Service, please call 800.967.6696
Rojo 46" Media Storage Cabinet
Rojo Red Tall Cabinet
is rated out of
5
by
153
.
Rated

3

out of

5
by
Juniper2024
from
It's nice from the outside
Got this 4-5 years ago. Although it's really cute, unique, looks great from the outside, no matter how much we cleaned the black dusty residue on the shelves never came off. I even had it professionally cleaned a few times. The black dusty residue has stained all of my books and that just beats the purpose of good storage...I would've not bought it if I knew this. Also customer service or other owners of this, any tips on how to either permanently remove the black dust from shelves? I was thinking maybe paint over it with black paint??? Any ideas??? This is really annoying that any white pages bottoms of the books get black stains on them...
Date published: 2014-03-16
Rated

5

out of

5
by from
Best bookcase Oh So nice in Red
Love this cabinet. Not only is the Red a perfect color to compliment my decor but I really needed to get all of my books and pictures in one location so I could free up all of the small, cluttered places in my guest room. This cabinet is deep enough to hold a variety of book and box depths, wide enough to demand attention, and tall enough to cover the high cracks in my wall!! Talk about multi-purpose.Delivery was on time. Delivery guys were very professional and took care no to damage my wood floors when moving the bookcase into position.For my small home, this was a great choice for getting organized.
Date published: 2014-03-16
Rated

4

out of

5
by
Mamu
from
Red Beauty
I bought the Rojo tall cabinet as a birthday gift for my wife. She wanted it back about a year ago when we bought the Basque dining set and cabinet. I was pleasantly surprized at how much I like the looks and functionality of the rojo. We use it in our dining room as a stroage place for the kids art and school supplies. It looks great with mixed style baskets on the shelves and really holds a lot. It is sturdy, well built, and very graceful for such a tall piece. I love the hardware, but I wish it had separate closure element for the top and bottom doors. With only one toggle, all four doors open at once. Overall, we are very happy with it :)
Date published: 2011-11-26
Rated

5

out of

5
by
jaspercparks
from
Love these piece!
We purchased both the bookcase & the media cabinet. They look spectacular in our family room. They bring color into the room, but, because of their muted finish, they aren't overwhelming. The bookcase holds a tremendous amount for the footprint that it takes up in the room. The only note is that you need to clean out the interior as the black finish can come off onto books. Also, take a good look at the cabinet when delivered, as we did have one that had a significant amount of "distressed" areas that it should not have had. I called our salesperson and they sent a replacement without question. So, we ended up impressed with C&B customer service as well as the furniture!
Date published: 2013-01-10
Rated

5

out of

5
by
NewYorkerXO
from
Flawless, Timeless, Life-long
This is something you keep your entire life. It can be used for books, in the dining room, anywhere. It makes the home, trust me. I've had mine for about 5 years and everyone loves it who comes over. It's the pop of color that you need and matches just about any decor. Worth the investment.
Date published: 2013-12-06
Rated

1

out of

5
by
UnhappyinVegas
from
Powderpost Beetles included
I've never written a purchase about anything...whether I was happy or not with the purchase.I bought this piece back in November. I wasn't that impressed with it, it was ok. The piece does seem to be very photogenic and looks good in the pictures. But I was fine with it.Then on June 25th I was cleaning up the den where the ROJO cabinet was in and saw some very fine light wood colored dust on the floor underneath the cabinet. I cleaned up the floor and didn't really give it much thought. The next day I noticed the dust was there again. Now I'm concerned with termites. I called Crate and Barrel the next day (June 27th), and she corrected me saying they weren't termites, but "dust beetles". She said they've had cases of "dust beetles" in this cabinet before. So I looked it up online, called Terminix and they are Powderpost Beetles. They do the exact same thing as termites, but seem to be harder to find since they dig into the wood, lay eggs, and the subsequent larvae then spend the next 1 to 5 years eating wood until they eventually emerge as adults.So beware, if you buy any of these pieces of wood furniture, especially the kind that is "aged" like this piece, there's a good chance that it might have these beetles which can infest your house. Even worse if you have wood floors like I do, since there is no good way to treat the floors besides ripping them out and treating the floor beneath.For the record, Crate and Barrel's customer service was excellent, and the piece was picked up, and I should be issued a refund, but its too early to tell.So that's my post, best of luck
Date published: 2014-04-17
Rated

5

out of

5
by
dds10
from
Statement Piece!
I ordered the Rojo Cabinet with the matching media stand. They came about a week later and were placed exactly where I wanted them. The color is bold, yet not overpowering. It goes perfectly with my pale green walls and earthy tone accents. A few dark brown pieces complement the dark red. Slight odor, yes, but dissipating. There an almost black shoe polish finish on the inside. It lessens when wiped down, but I still wouldn't accessorize with grandma's lace. Very large, commands attention. Can go with rustic hewn look or elegant French country. I love these pieces!
Date published: 2014-02-15
Rated

3

out of

5
by
DesignDad
from
Cute, marginal quality
This is a very cute piece but has some definite flaws. Our cabinet came with a door that was coming apart on one of the corners, which I glued back together. One of the shelves was quite warped and dipped down in the front by almost 1/2". I installed some wine glass racks and had to cut, paint and install some shims to make them level. It is a very unique piece, you just might have to give it a little TLC to make it work.
Date published: 2014-01-10
Rated

3

out of

5
by
LaQuintaWashingtonMJ
from
ROJO
I have wanted this cabinet for a long time and finally ordered it when I bought a second home in the desert. I actually ordered two of them to fit side by side in an niche in the great room and planned on taking out a shelf in one to put the tv inside. I had a HUGE problem with the quality of the cabinets - I know they are unique and no two are alike BUT the cabinet's quality was terrible. Customer service was wonderful and tried twice, bringing out different cabinets, but they were all flawed. Some of the cabinets were leaning, lopsided doors, totally different sizes. I ended up keeping just one of the Rojo cabinets and will try something else for the area. Now I see that the item is back ordered for 2 months and I wonder if I got delivered all the rejected ones.....I like the cabinet I kept...
Date published: 2013-10-26
Rated

5

out of

5
by
Happy in NC
from
Love the Roho!
I had been wanting to redo my dining room for some time. I loved the Roho the first time I saw it and decided to build my new dining room around it. I am using it for dishes, glassware, etc. It is a substantial piece and the distressed red color is beautiful and easy to work with. The Roho cabinet is really that special piece in the room. It could also be used in just about any room of the house.The price is very reasonable for such a large, sturdy piece of furniture. Including this purchase and previous purchases, I can say that CB has the best delivery service that I have ever experienced.Also, I have not experienced the smell that others commented about in previous purchases.
Date published: 2012-01-28
Rated

5

out of

5
by
Tenaj
from
Beautiful accent pieces.
We just received rojo tall cabinet and media center. They are wonderful, rustic but not country. Both pieces are in our remodeled kitchen. Our granite has ruby flecks and I wanted something that would make that color pop. I was really concerned that the color would be too bright but it is not. The brown glaze softens the red so the cabinets blend in beautifully.They appear to be very sturdy and well made considering how reasonably they were priced. They are perfect accent pieces in our neutral colored kitchen. The delivery people were pleasant and efficient. Over all, a great shopping experience.
Date published: 2012-04-04
Rated

5

out of

5
by
Heather78
from
Love my Rojo
Hello Everyone, I just bought a house with no pantry.. Searched everywhere for a cabinet that could be used as a pantry... but didn't want that cheapo look.. I came accross this cabinet and read all the reviews before placing order.. Just wanted to be sure I would be happy. I am so happy I got the cabinet. Its huge, its different, its perfect. Some people complained about the imperfections like marks in wood and some color variation.. I love that about the cabinet. Looks like it came from an antique store. Makes it unique and more beautiul in my opinion.. My cabinet did come with a smell, as if it was just painted. So I am airing it out currrently and have a few boxes of baking soda on each shelf as one person recommended. The smell doens't bug me like other reviewers. It is tall and needs to be secured to wall. The cabinet does come with a plastic tie to attach to wall but I am going to figure out a different way.. just not sure yet. Also, I bought the cabinet and it was delivered within two weeks. the movers were awesome. I recommend this cabinet to everyone.
Date published: 2013-12-03
Rated

5

out of

5
by
HeatherBurt
from
A nice, well-made piece
I've owned this cabinet for 3 years now and it's gone through two moves.  I live the versatility of this cabinet.  I use it in the dining room but it would work well in a living room as well for books and curios. The piece is tall and needs a room with some height
Date published: 2013-12-11
Rated

5

out of

5
by
OtayMom
from
Exceeded Expectations
I've coveted this piece for years. I saw it on a TV show, searched for it for months, and finally found it at C&B. After installing wood floors, I knew this was the piece to finish my dining room.I use it to store wine, barware, excess serveware, vases, etc. It holds a ton. I see this piece in our family forever. It will work in a dining room, library, bedroom, bathroom, office, loft, just about anywhere.Love it, love it!!Of course, the delivery experience and service from C&B was also great. Can't be beat.
Date published: 2011-10-29
Rated

5

out of

5
by
runnermom22
from
worth the wait
We fell in love with this cabinet when we saw it at our local Crate and Barrel. We ordered it, but had to wait 3 months for it to arrive but it was totally worth the wait! I have my fiesta dinnerware collection inside which adds a great pop of color. This is truly a statement piece of furniture. I have many pieces of Crate and Barrel furniture, but this is by far my favorite....so far.
Date published: 2012-12-08
Related Products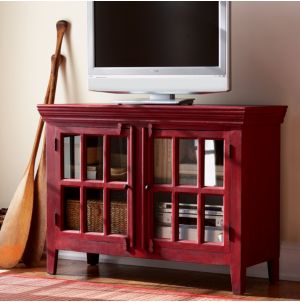 With all the warmth and rustic charm of a one of a...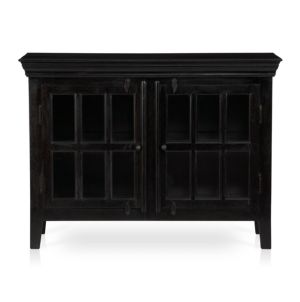 Modern media center with an heirloom look, handcrafted along traditional lines in...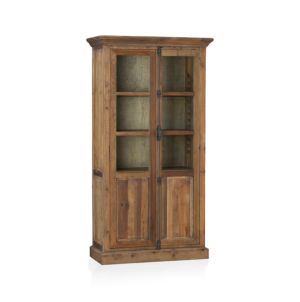 Reclaimed pine from buildings no longer in use in China give our...