Decor
Candle Centerpiece Ideas
Our love for candle centerpieces will never burn out. They're warm and welcoming, and provide the most flattering light at dinner parties. And unlike fresh floral arrangements, a candle centerpiece will last for many meals to come. Even better, the look is incredibly easy to replicate and can be arranged in a matter of minutes. No matter the season or occasion, these six candle centerpiece ideas will spark instant inspiration and will leave guests glowing all night long.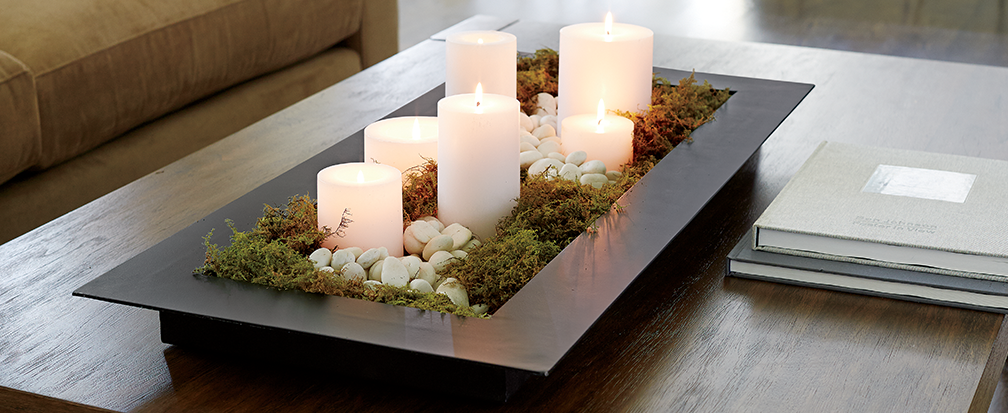 1
Arrange pillar candles of different sizes atop
a serving platter.
Add dried beans or rice (i.e. kidney beans, red beans, pink lentils, red rice etc.) around the candle arrangement until the platter is fully covered without overflowing. Not only will the beans or rice add color and texture to the table, but they'll collect any wax drippings and can be tossed afterwards.
2
Fill a large centerpiece bowl with water, then light a votive to float in the bowl.
Repeat with enough votives to fill the bowl, but not crowd the surface. To add a dose of color to your candle centerpiece, tint the water slightly with a drop of food coloring to match other party decor.
3
For a cheerful and colorful display, arrange small glass bowls on a white platter and fill them with water.
Then float fresh, seasonal flowers—such as bright peonies or hydrangeas—inside the bowls. Use a single flower if it's large enough to fill the bowl or group smaller flower heads together for a similar effect.
4
To create a romantic, laid-back look, scatter white tea lights or votive candles in holders along the table (this will create an illusion of a longer table).
Don't have candles all of one size? A variety of heights actually adds dimension to your centerpiece, so just aim for holders in the same color palette, like cream or white. Another idea for adding instant atmosphere on a clean, minimalist table: group the holders atop a single mirror to create a twinkling candle centerpiece.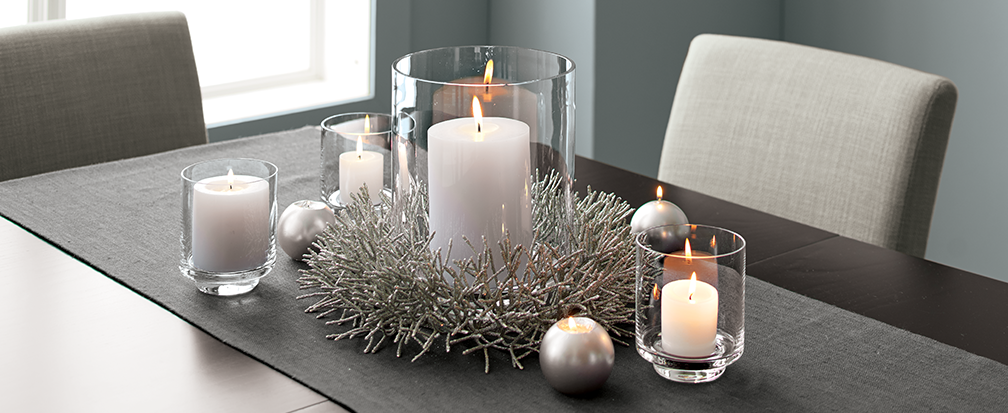 5
Pour sand into the base of an oversized hurricane candle holder until it's covered.
Then rest an appropriately-sized pillar candle into the sand, making sure the top of the candle sits at least an inch or two below the holder's top edge. If desired, add more sand around the inner rim. Repeat with multiple candles and holders. Then group the holders together in a single arrangement, or scatter them like a table runner along the table's center.
6
Wreaths aren't just for doors. Blaze a new design path by placing a wreath on the table.
Look for a hurricane candle holder that fits inside the center of the wreath. Place a pillar candle inside—or a slender taper with candle adhesive on the bottom to keep it secure—and light it just before guests arrive.
Once the party winds down, safely blow out the candles. Consider leaving the arrangement in place permanently or even setting up similar candle centerpieces on your coffee table, entry table, or fireplace mantle. No matter the room's color, style, or mood, an arrangement of candles goes a long way in making your home more warm and welcoming to guests.
What are your favorite candle centerpiece ideas? Share them with us by using the hashtag #CrateStyle.
Back to Top