Decor
How to Style a Coffee Table
Decorating a coffee table can be a lot like painting a blank canvas. Instead of layering oils or acrylics, texture can be built up with diverse elements to make a flat, plain shape pop up into an eye-catching display of whatever proportions you choose. The possibilities for decorating your coffee table are vast, but here are just a few ideas to get you started.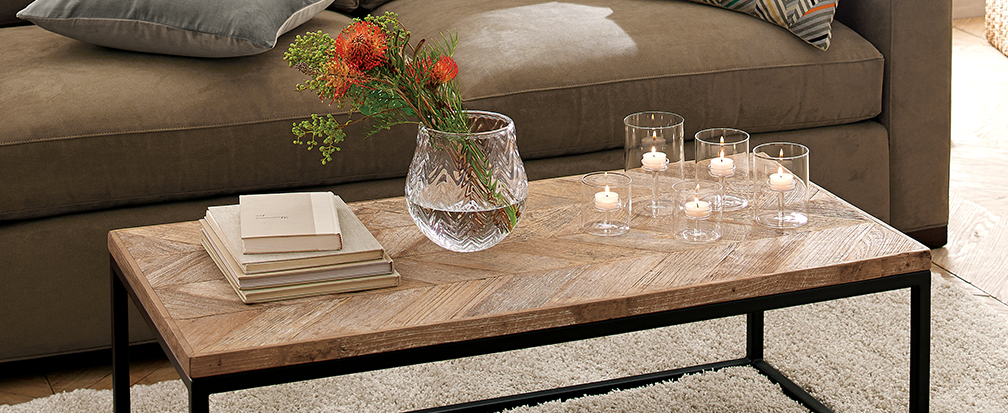 Coffee Table Ideas for Bookworms
Heap your living room coffee table with intellectual property, while making it look pretty sharp in the process. Stack up books as your coffee table centerpiece. It's a decoration that can never go out of style, and you can mix it up regularly with different covers. This is a great way to theme your table. Whether you're presently into the classics, cooking, gardening, or simply want the warm feeling of your favorites surrounding you, your coffee table design can evolve along with your interests.
Cocktail Coffee Table Ideas
Nothing looks more divine than light glinting off the edges of lovely glasses and bottles holding libations. Start with a mirrored, silver, or burnished metal tray in the center of your table. Fill it with carafes and decanters of varied shapes and styles. The interplay of bottles magically looks dapper, no matter the assortment. Plus, this table is great for entertaining or unwinding after a long day at the office.
Coffee Table Storage Ideas
A hollow, circular ottoman with removable lid can double as both a coffee table and storage. Or, for more compartmentalized storage, a low wooden hutch with miniature french doors can make a great coffee table. While your coffee table surface looks smooth and clean, small items like remotes and magazines can be tucked away underneath.
Masculine Coffee Table Ideas
The decoration of this table is all about the table itself. Go for an oversized leather ottoman with a flat top. This is a coffee table that might just be best for propping up your feet and holding a few television remotes: comfortable, minimalistic, and still looks handsome.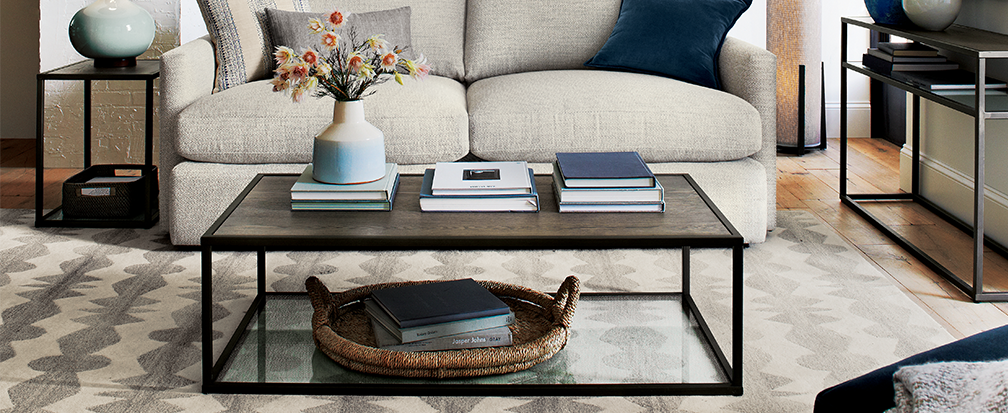 Modern Coffee Table Ideas
If you lean toward mid-century modern or truly modern style, choose a coffee table with clean lines and classic colors, and then add accents. Pair a marble, teak wood or walnut coffee table with a sleek glazed, nickel finish or geometric terra cotta vase. Use a watercolor molten glass bowl as a centerpiece. Fill a long brass tray with rocks and floating candles or, for an equally upscale decor alternative, use a glass terrarium with gold trim.
Natural Coffee Table Ideas
Bring the outdoors inside by adding greenery to your coffee table decoration—either cut flowers or potted plants work for a home garden feel. A white orchid, with its slender stem draped over the center, can leave an elegant impression, while a smooth, short-cropped cactus can give the table an organic, western appeal. You can never go wrong by sprucing up your coffee table decoration with a little fresh foliage.
Whether your coffee table is raw wood or polished, filled with flowers or your favorite works of fiction, a few simple decorations can go a long way.
What are your favorite coffee table decorating ideas? Let us know by using the hashtag #CrateStyle.