Holiday
How to Decorate for the Holidays Using Ornaments
You've decked your halls with boughs of holly and trimmed the living room tree. But still, there are boxes of family Christmas ornaments to unpack. Turn your home into a winter wonderland by using your collection of ornaments in unexpected ways. Whether it's a family ornament passed down through the decades or a beautiful glass orb gifted to you on your first anniversary—wrap your home in the spirit of the season with some of our Christmas ornament ideas.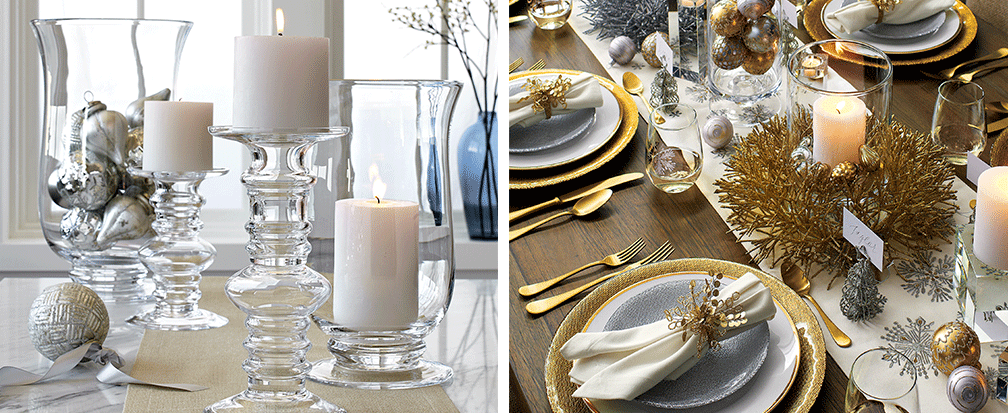 Come on in
Drape a garland of rustic Christmas ornaments and holly over your front door. If you live in a colder climate, be sure to choose ornaments that can withstand the winter elements. For a modern visual pop, place a topiary on each side of the front door and trim with a monochromatic color scheme. We like the shimmer of all metallic ornaments for the holidays.
Once inside, welcome your guests with an entry console table dressed for the holiday. Wind a leafy garland down the center of the table, tucking candles and Christmas ornaments along the way. Include kids or grandkids by asking them to collect pine cones that they can add to the display.
Look up higher. If your entryway has a chandelier, hang colorful globes between its regular crystals to add a dash of fun and color to the fixture. For a more traditional feel, find a mistletoe ornament to encourage friendly greetings as guests enter your home.
By the fire
The fireplace mantel is a natural stage for holiday decorations. Start by draping greenery the length of the entire mantel. Next, at each end, cluster a few glass cylinder vases and hurricanes. Couple them together so you have a variety of shapes, sizes, and heights. Fill each vessel with ornaments grouped by color or texture. Use the rest of the mantel to display a mix of holiday cards and pillar candles.
Mantels are also the perfect place to display Christmas collectibles, such as nutcrackers, snow globes or Santa figures. Try arranging the nutcrackers so that the largest pieces are on each end of the mantel with smaller ones closest to the center. Hang a wreath, decorative mirror or other holiday wall art above the center of the mantel. Scatter miniature poinsettias, ribbons, candles and greenery along the ledge to complete the look.
On the coffee table use a low bowl to display additional Christmas ornaments. Throughout the holidays invite your guests to choose one to hang on your tree, and be sure to ask them about their own favorite Christmas ornament ideas. Cluster glass cloches filled with ornaments to add more height.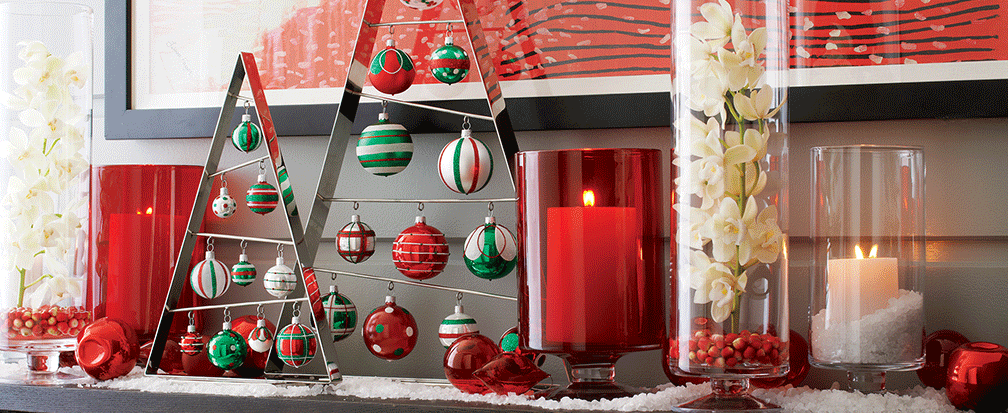 At the dinner table
Instead of a floral centerpiece, place a pillar candle in a large glass hurricane at the center of the table. Surround it with a collection of ornaments—we like ones that reflect the glow of the flame, such as clear glass orbs, or gold and silver Christmas ornaments.
If your look is more minimal than traditional, fill a large vase with bare tree branches and delicately hang ornaments off each limb.
When it's time to eat, invite guests to the table by placing an ornament at each seat as a placecard. Hand write names on a cardstock tag and attach each tag to a globe. Use twine for a rustic look or a silk ribbon for a more refined place setting.
Where you least expect it
Use a small ornament tree to display your collection in a powder room or guest bedroom. In the family room, or even on a stairwell landing, hang an ornament chandelier with a mix of ribbons, cards and Christmas ornaments for an unexpected celebration.
Take the opportunity to bring your holiday decorating into the kitchen—ornaments are the perfect fit for the space. Weave a petite evergreen bough in the light above your dining table, and hang round red ornaments using pretty ribbon or clear line. Embellish tops of kitchen cabinets and other tall storage furniture with a bunting made from velvet ribbon and ornaments in a contrasting color.
That's the thing about the holidays—if you're lucky it finds it's way into every nook, cranny and room of your home.
Want more Christmas ornament ideas and inspiration? See how Orlando Soria, founder of the interior design blog Hommemaker, decorated his tree with California cool style.