Decor
Decorating with Mirrors
Mirrors are standard fixtures in bathrooms and changing areas of the home. But mirrors also serve as functional design pieces in other rooms, allowing a chance to express personal style while adding dramatic flair, visual interest and the illusion of added space to a room. When it comes to decorating with mirrors, here are a few tips to help maximize both the fashion and function of a mirror.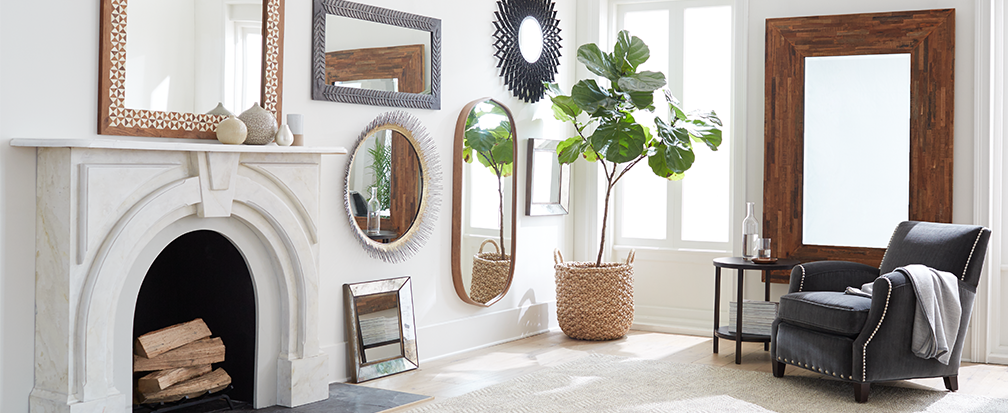 Optical Illusion
Mirrors bring light and depth to a room, which creates the illusion of more space. This is especially helpful in making small rooms look larger, and when positioned just right, a mirror can expand the look and feel of a room. Place a mirror adjacent to or across from a window on the wall or floor to create the illusion of another window in the room, allow the outdoor view to be seen from more angles and boost natural light within the space.
Big Mirrors
Large, full-size mirrors add drama to a room, especially when used in small spaces. A full-size mirror at the end of a hallway can open it up and make it seem less cavernous and more expansive. When placed in the entryway, a large floor mirror provides a quick and easy decor element, and makes the often small space seem bigger and more welcoming—but it also allows for that last head-to-toe glance before rushing out the door.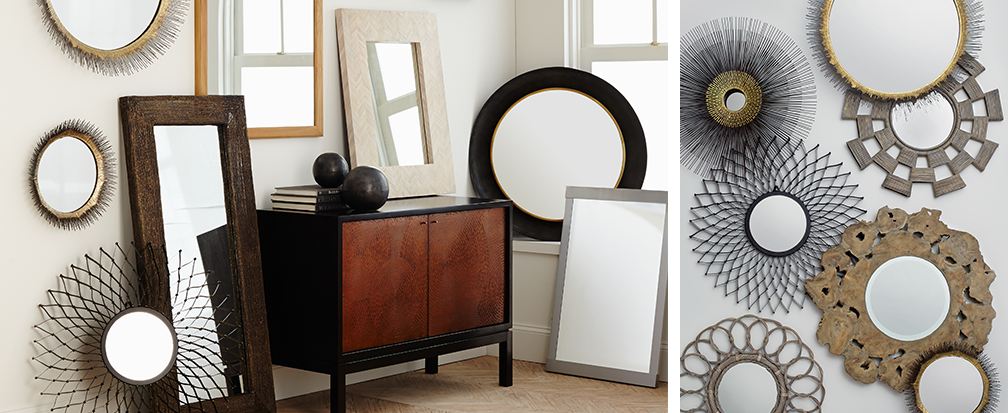 Small Mirrors
Try combining different sizes and shapes of mirrors to create a mirror wall. The trick here is to find mirrors with different frames and borders, which will add visual texture while ensuring that the wall mirror decor looks more like a gallery than a funhouse. Just keep the scale of the mirrors in proportion to each other and the wall--leave enough space between them to avoid a cramped or cluttered feel. You can also incorporate mirrors into a decorative gallery wall or a shelf arrangement alongside photos, textile hangings and artwork to create an element of lightness and space among weightier pieces.
Light Source
Consider the light sources in a room when decorating with mirrors, as one of the best assets of a mirror is the way it plays with light. Placing a mirror next to or behind a lamp or hanging light fixture can amplify the glow and stretch its reach further, while using mirrors in a room filled with candles doubles the effect of all those tiny flames.
Personal Style
As with almost every element of interior décor, mirrors can be a reflection of your personal style. So whether you like the drama of gilded antique frames or the minimalist appeal of sleek, modern borders—or a blend of both—select pieces with that are interesting to you, complement your design style and add the desired decorative touch to the room.
With some thoughtful consideration and a few tricks of the trade, decorating with mirrors (well-placed) can transform the look and feel of your home while allowing your personal taste to shine.
How do you decorate with mirrors? Share your tips and ideas with us by using the hashtag #CrateStyle.
Back to Top