Furniture
Dining Room Ideas
Decorating your dining room opens up a world of creative potential. From dining tables and chairs to rugs and curtains, the pieces you choose set a tone for the family and friends who gather 'round. We've been communing around tables for centuries, in all sorts of environments. Some spaces are designed for intimate conversation; others for more buttoned-up affairs. No matter what, the goal is the same: To create the perfect recipe of furniture and decor. The task at hand is exciting, but we suggest taking it slow before deep-diving. We're here to help. Our mini how-to guides you through our top dining room ideas so you can host with the most.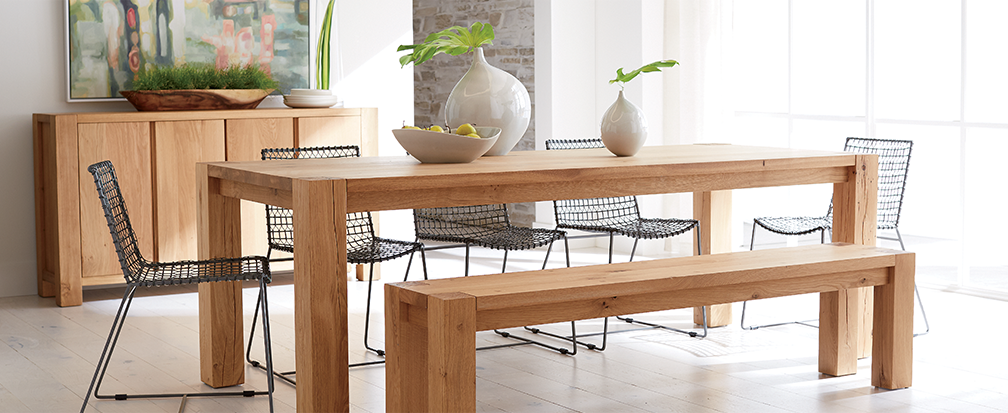 We've Got Questions
And you've got answers. To get started, we've provided a list of crucial questions to help hone in on what type of entertainer you are.
How big is your dining area?
How many nights a week/month will you spend in the dining room?
Do you entertain frequently? If so, for how many?
Will the room be used for family dinners? Dinner parties? Neither? Both?
Do you throw holiday gatherings?
Do you prefer seated affairs or do you prefer a more casual get together?
How would you describe your style as a host: loose and laid back or just-so and precise?
Dining Room Furniture Ideas
Tables
Whether you're looking for round or oblong, rectangular or square, you'll find a table that suits your style. Some suggestions:
Round tables are best for smaller gatherings (and are ideal for family-style meals)
Round tables allow for less leeway when it comes to expanding your group (it's tough to squeeze in extra guests)
Tables with leaves shrink and grow to suit smaller and larger groups
When choosing your table size, don't forget to account for holiday entertaining. You don't want to pack your guests in, but it's reasonable to assume people will sit a bit closer than normal. We call it a "holiday factor:" a tight 2-inch gap between each chair.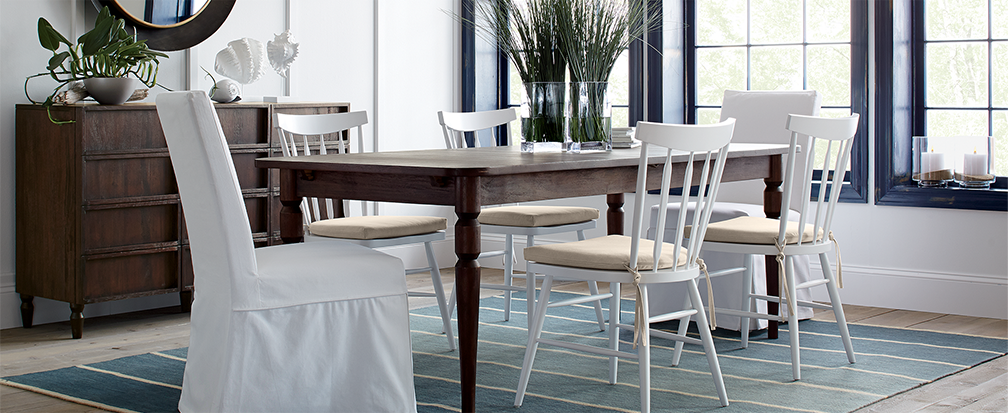 Chairs
Striking that balance between comfort and modish is easier than you think:
Don't be afraid to mix and match. Try different chairs in the same color, the same chair in different colors, or the same materials with different patterns. Combine vintage and modern for diversity, or choose a variety of textures (woven, slipcovered, upholstered).
Chair heights are evocative. Higher backed armchairs project visual dominance; lower backed, armless chairs blend with your table.
Benches are ideal for more casual dining rooms. Mix with chairs or buy one for each side.
Chair cushions can add many things, from comfort to a pop of color. Bonus: Though they read mostly casual, you can remove them for formal affairs.
Dining Room Rug Ideas
Rugs tie a room together. Bold and subtle, patterned and solid, plush and austere, there's truly something for everyone.
Look for a rug that's large enough so chair legs don't catch when guests push and pull their seats out and in.
Curtains
We'll shed a little light on this often overwhelming task:
Busy, bright patterns work best when the rest of your decor is subtle or muted.
Heavier fabrics evoke formality; breezier materials (linen, for example) read as more easy-going.
Accent Pieces
Spruce up the rest of your space with accent pieces that nod to your signature look.
Small table owners, fear not. Food is just as elegant when set on a sideboard. It's also an ideal setup for a buffet.
Bar carts keep drinks separate, can be easily wheeled between the kitchen and dining room, and look stylish, too.
With these tips in hand we hope you're inspired to create the dining room of your dreams. Because fantastic meals deserve a backdrop to match.
What are your favorite dining room ideas? Share them with us by using the hashtag #CrateStyle.
View More Furniture Ideas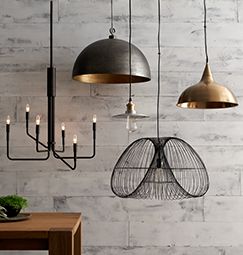 Lighting Ideas
for Your Home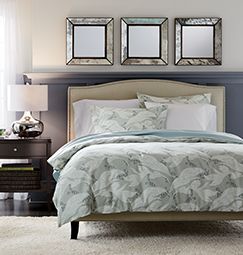 Design and Style
Bedroom Ideas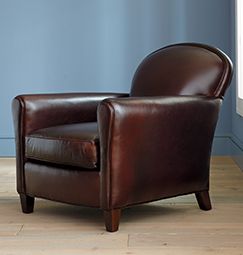 Tips for Buying
Leather Furniture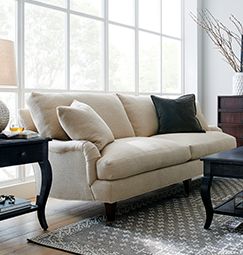 How to Choose
a Sofa
Back to Top