Furniture
How to Create an Eat-In Kitchen Space
Designing your dream kitchen is easier than you might think. Large or little, narrow or wide, every kitchen is a canvas for customization. Our pros have plenty of smart eat-in kitchen ideas that prove function can also be fun—and that even a small kitchen can be big on comfort and creativity.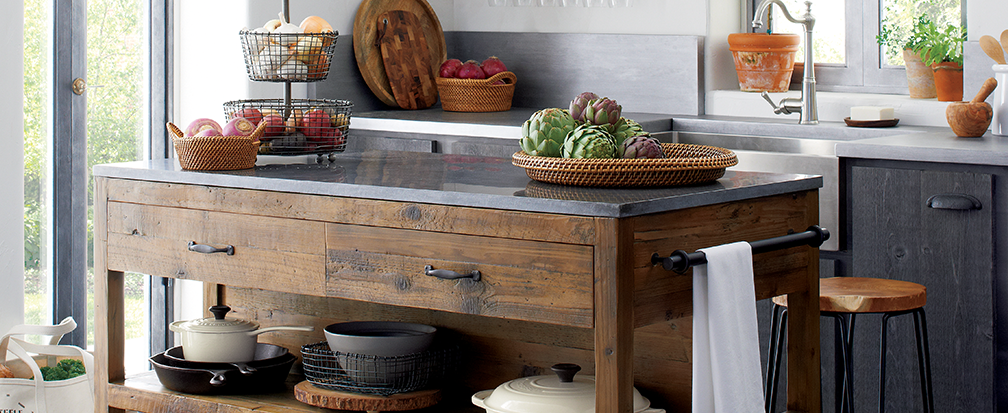 Mix and match.
Don't be afraid to play with shape and height. If space permits, we love round tables for their cozy-retro feel. Use a mix of mismatched chairs to add visual interest, or keep things sleek with a matching design. Slide backless chairs under tables to further maximize space. For a polished restaurant look for your eat-in kitchen, opt for a pedestal table or high-diner with cushioned bar stools.
Use benches to save space.
If you're lucky enough to have a nook with a built-in banquette—or have a rectangular or square table—buy a bench or two, respectively. Nest it under the table after you eat so you can move around the room more freely. Think outside the box and use entryway or bedroom benches (those with seats that lift up are extra useful for storing additional linens and tablecloths). We recommend a bench cushion for comfort and color. Some storage benches are a couple of inches higher than the average 18" height of a dining bench, so measure the seat height first to ensure it's a comfortable fit that allows for plenty of leg room under your table.
Create your own nook.
No nook? No problem. Think of that unusual cranny, curved wall, or random window as an opportunity. From tulip tables to curved benches with bottom storage drawers, you can maximize these quirky spaces stylishly and sensibly.
Multitask your space.
Counter-height tables can serve double duty as work areas. Simply move your laptop to the sidelines when you're ready to get cooking. Even better? Transform the table into a buffet or bar when you entertain. Islands and storage carts on wheels can be moved in and out with ease, giving you the freedom to finesse your surroundings for any occasion. Mirrors do wonders when it comes to creating the illusion of space. Try mirrored cabinets, or take advantage of a bare wall and hang a detailed mirror like you would a painting.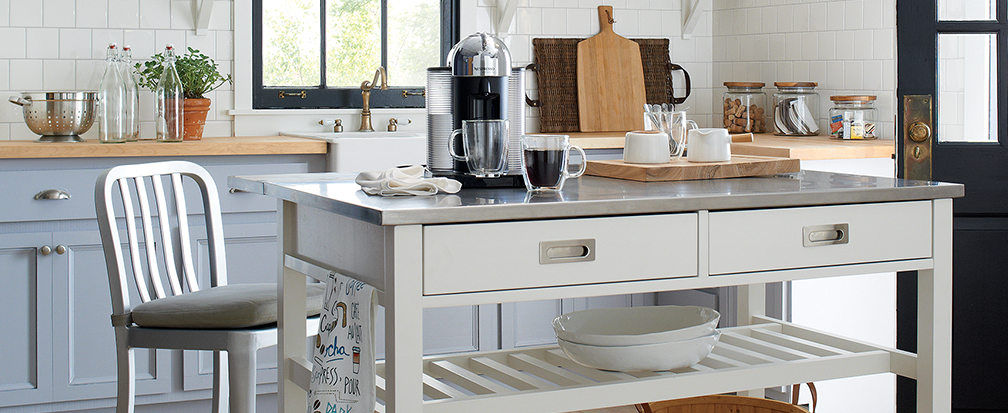 Find storage solutions.
When space is tight, shelving is a lifesaver. Exposed shelving options—bookcases, sturdy wall shelving—are ideal for showcasing attractive servingware and make reaching for plates or glasses easy for you (and approachable for guests). Short on storage for your pot and pan collection? Look no further than a wall-mounted pot rack. Trust us, you'll get hooked on the silence (no more clanking in the cupboard). Racks with slatted shelving are great for larger stockpots and cookbooks.
Show off your cookware.
Copper kitchenware collectors can keep their favorite pieces out on display. Hang cookware and specialty pieces from hooks for easy access and a lived-in feel. Graphic aprons and artful dish towel designs in plain view also add personality and warmth to the kitchen.
With a bit of imagination and our small eat-in design ideas, you can quickly transform your existing kitchen into a space that is inviting, warm and works at peak efficiency.
What are your favorite ideas for an eat-in kitchen? Share them with us by using the hashtag #CrateStyle.
Back to Top