Choosing the Right
Cookware for Every Cook
Cookware technology has become so advanced that it's often overwhelming to choose. At Crate and Barrel we edit the choices, eliminate the confusion and in record time match you up with the essential cookware that's right for how you cook. Whether you're a novice, a savvy pro or a nonstick health-conscious foodie, we've got your pan. And if counting counts, you'll find we carry as wide a range of cookware materials as many specialty gourmet stores.
Nonstick
Why is it so popular? It offers non-fat cooking, an aluminum core for even heat, great food release and, therefore, quick cleanup. At Crate and Barrel, we bring today's cook the most cutting-edge nonstick technologies without sacrificing an ounce of style. Our nonstick collections offer a hard-anodized, heavy-gauge aluminum exterior and nonstick interior.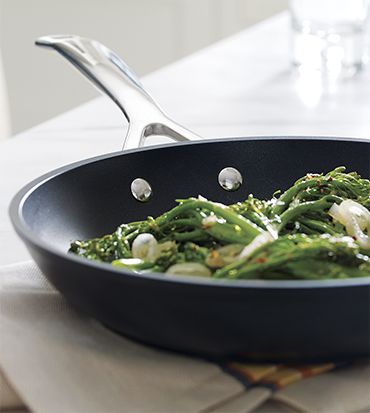 Care: Nonstick
Let pans cool thoroughly before washing, and avoid placing hot pans in cold water. Most nonstick cookware can go in the dishwasher, but repeated dishwasher use can lead to drying of the nonstick surface. Hand-washing will prolong the life of the pan. Use detergents that don't contain bleach or citrus additives. Nonstick cookware is safe for use on most stovetops. Use nylon-coated or wood utensils only.
Ceramic Nonstick
If having a green pan is important to you, this material, in our opinion, is a superior choice. Ceramic nonstick is free of PTFE and PFOA, and it's extremely scratch-resistant. This fully clad three-ply cookware has an aluminum core for quick and even heat conduction, and its magnetic stainless steel exterior is compatible with all types of cooktops, including induction.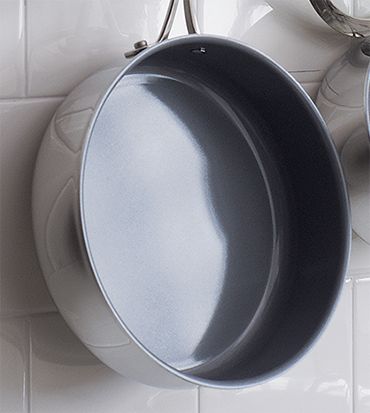 Care: Ceramic Nonstick
Though ceramic nonstick cookware is dishwasher-safe, hand washing is recommended. Allow pans to cool thoroughly before placing in cold water. Ceramic nonstick cookware is safe for use on all stovetops, including induction. Use silicone or wood utensils only.
Stainless Steel
Stainless steel cookware is nonreactive with high-acidic foods. Its tri-ply construction has a thick aluminum core extending from the bottom of the pan all the way up the sides to cook with even heat distribution. The polished stainless steel interior will not discolor from foods, and the gleaming stainless exterior is magnetic, making it suitable for induction as well as traditional cooktops.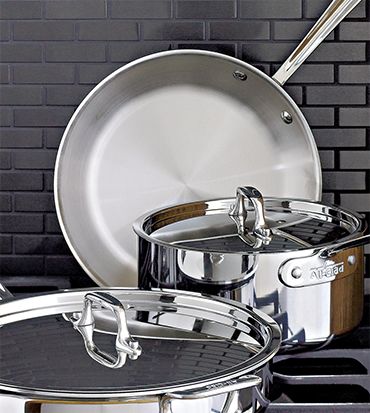 Care: Stainless Steel
Dishwasher-safe and durable, is safe for induction as well as traditional cooktops. Avoid bleach and abrasive cleaners. For a spotless shine after washing, hand dry each piece. Stainless steel cookware is suitable for use with all utensils, even metal.
Non-Enameled Cast Iron
Non-Enameled Cast Iron
Non-enameled cast iron (or bare cast iron) has been relied upon by generations of cooks for its affordability, longevity and ability to handle the high temperatures needed for searing and frying, as well as for slow-simmering stews and slow-roasting dishes. When properly seasoned, it takes on a non-chemical, non-stick coating. Non-enameled cast iron is also said to impart iron particles into foods while cooking for an added health benefit.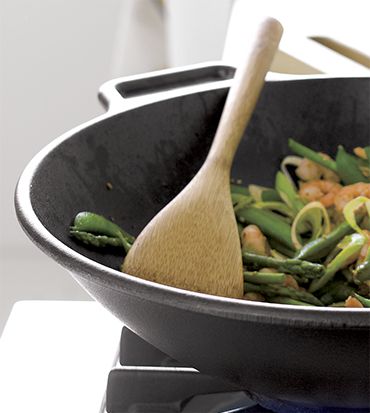 Care: Non-Enameled Cast Iron
Allow to cool before contact with water, then clean promptly with plain water or mild soapy water. Dry immediately and rub with a light coat of vegetable oil. Re-season yearly. Do not soak. Cast iron may be used on all stovetops, including induction.
Enameled Cast Iron
Enameled Cast Iron
Enameled cast iron has been clad in smooth, vitrified porcelain, which helps prevent rust, makes for easier cleaning and requires no seasoning. Enameled cast iron comes in a variety of vibrant colors, and is best used at low to medium heats. It does not hold odors or flavors and is non-reactive, which makes it ideal for cooking acidic foods such as tomato and wine sauces.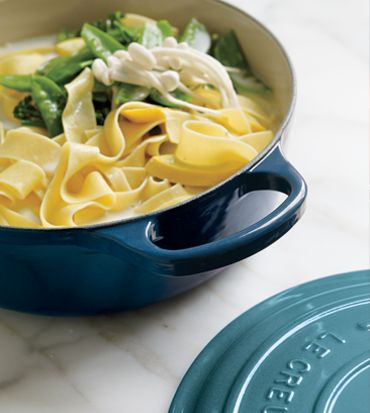 Care: Enameled Cast Iron
Cook with non-metal tools to avoid chipping the enamel. Allow to cool before contact with water, then clean promptly with mild soapy water. If there is food residue, fill with warm water and soak for 15 to 20 minutes before washing. Dry thoroughly. Enameled cast iron is dishwasher safe, but hand-washing is recommended to retain the enamel's shine.
Copper
Superior heat conductivity and a quick response to temperature changes make copper the ideal element for cooking delicate foods and complex dishes. Extremely energy efficient, copper usually requires only a low or medium heat setting. Our copper cookware embodies the rich heritage of this material with a copper exterior that heats quickly, tempered by an interior layer of nonreactive stainless steel for superior control.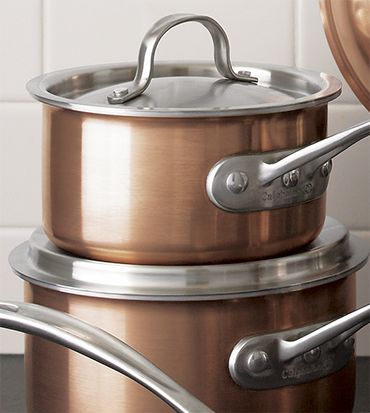 Care: Copper
Copper cookware should be washed by hand, while still warm. Use a mild detergent and a soft brush or nylon pad. Avoid bleach and abrasive cleaners. To remove tarnish and dark spots, try copper polish made for cookware and a soft cloth.
Essential Cookware: Our Top Picks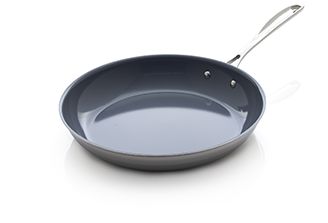 Fry Pan
Here's one pan you'll use several times a day. From making omelets to sautéing veggies, this multi-meal must-have has slanted sides that let you move ingredients around quickly. A generous surface area maximizes space on the stovetop.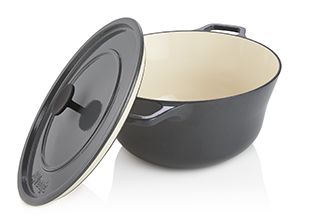 Dutch Oven
With this versatile addition to your cookware, you can start dishes by braising stovetop, then finish in the oven, and serve at the table—all in one pot. Make stocks and sauces, stews, roasted chicken or risotto.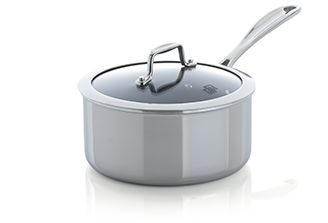 Sauce Pan
We consider a sauce pan one of the most basic kitchen essentials. Don't let the name deceive you—this do-it-all workhorse goes beyond sauce. Make gravy and syrups, reheat soup, prepare rice and potatoes, and boil or steam vegetables.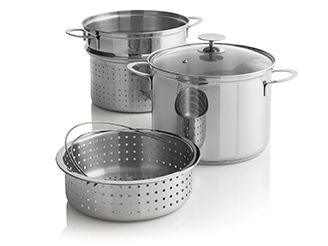 Pasta Cooker/Steamer
You'll use this versatile pot several days a week for soups, stews, even lobster dinners. A deep pasta insert lifts out to drain, and a separate top basket steams vegetables, seafood and potstickers.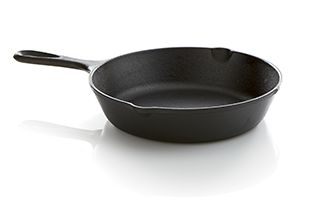 Cast Iron Skillet
No kitchen should be without the virtues of at least one piece of cast iron cookware. A versatile cast iron skillet holds high heat to sear, brown and blacken.