Entertaining
How to Stock a Home Bar
In an age when every bar and restaurant in town seems to flaunt a mixologist, most people we know continue to steer clear of slinging drinks at home. But why wait for a night out to enjoy your favorite cocktail? Empower yourself by stocking a home bar; then throw a party to celebrate. Our handy guide breaks down bar ideas, tools, serving pieces and more. Read on and be inspired by our home bar essentials—that's the spirit.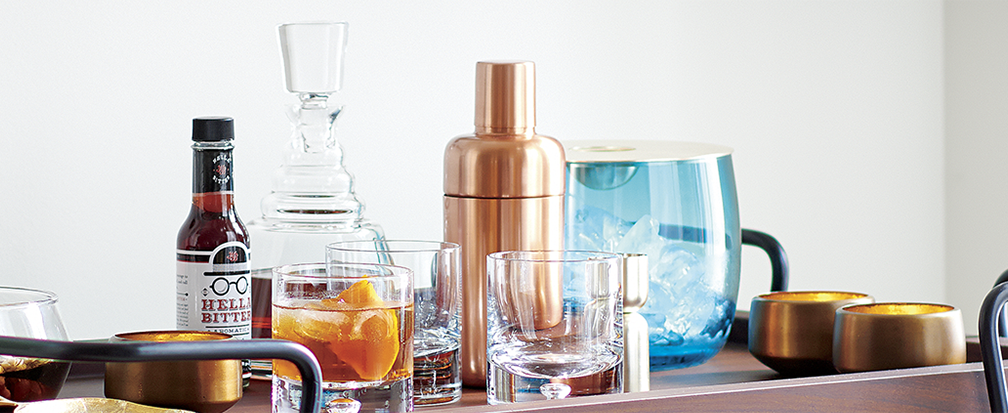 The Drinks
Word to the wise: Start small. You can always add to your collection later. Start with a set of foundation spirits for creating cocktails:
• Gin (think: G&T, Martini, Gimlet, Negroni)
• Whiskey / Bourbon (think: Old Fashioned, Manhattan)
• Tequila (think: Margarita, Paloma) Tip: Look for brands made with 100% agave
• Vodka (think: V&T, Martini)
• Dark Rum (think: Dark & Stormy, Cuba Libre)
• Light Rum (think: Daiquiri, Mojito)
• Bitters (think: Manhattan, Old Fashioned)
• Campari (think: Negroni)
• Ginger beer (think: Dark & Stormy)
• Simple syrup (1:1 sugar boiled in water; use for sweetening your spirits)
The Mixers
Again, start small. The list below will give you an arsenal broad enough to stir up a bevy of beverages for your group:
• Seltzer
• Tonic (Don't skimp on an inexpensive brand)
• Fresh-squeezed juice (lemon, lime, orange)
• Cointreau (think: Margarita)
• Sweet Vermouth (think: Manhattan, Negroni)
• Dry Vermouth (think: Martini)
The Garnishes
You can take or leave garnishes, but if you're up for it, they look fancy (and add to the fun):
• Maraschino Cherries (artisan as opposed to artificial)
• Mint leaves (and other herbs)
• Citrus peel
• Olives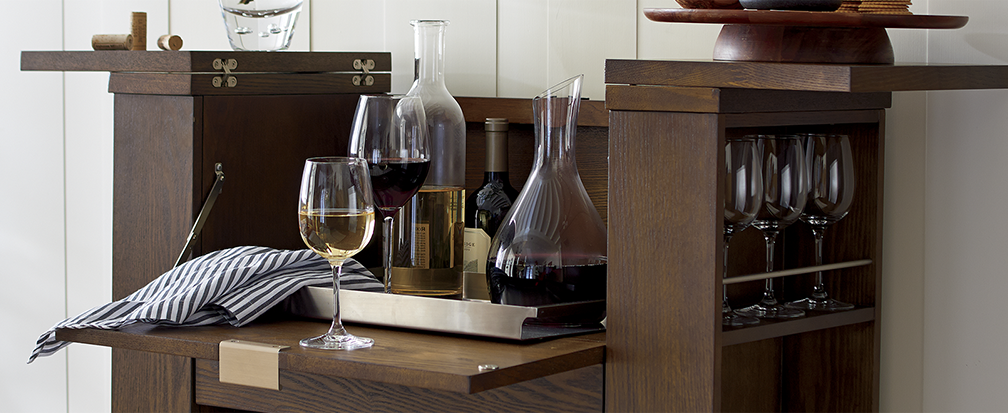 Serve with Verve:
• Glasses: 6-8 each highball, Old Fashioned, and stem
• Bar cart: If you've got room, a bar cart doubles as eye candy. Simply roll it over for the party. (Keep it in a darker place when not in use; sunlight spoils spirits.)
• Tray: Whether on a bar cart or in place of one, trays take your setup to the next level (and keep them neat).
Accessories
Unless you develop a taste for more complicated liquid creations, there's no need to get fancy:

• Shaker (shaken cocktails)
• Cocktail-mixing glasses (stirred cocktails)
• Bar spoon
• Springed strainer
• Jigger (a.k.a. a shot glass, for measuring)
• Muddler (for crushing herbs and citrus)
• Ice cube trays, smasher, Lewis bag
• Tongs
• Spirit decanter
Party Essentials:
• Napkins (enough for few per guest)
• Ice (for a crowd)
• Recipe cards printed with your favorite cocktails (Call your favorite bar and ask for that recipe you love. Chances are they'll be flattered and spill their secrets.)
• Snacks (Fill bowls and dishes with spiced nuts, crackers and cheese, and pretzels.)
Use our home bar essentials as a guide for your
first cocktail gathering.
With one party under your belt, the sky's the limit. Over time, you'll add to your bottle and serviceware collections, double your guest list, and feel confident enough to take your recipes up a notch—maybe even create one yourself.
Find more home bar ideas on the Crate and Barrel Pinterest board.
View More Entertaining Ideas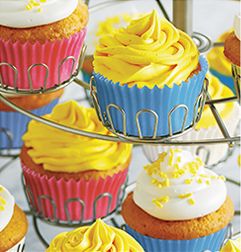 Cupcake Display
Ideas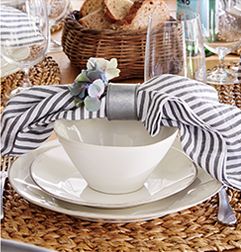 Table Decorating
Ideas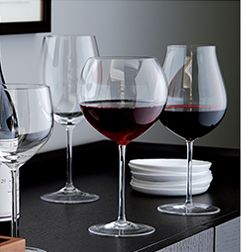 How to Host a Wine
Tasting Party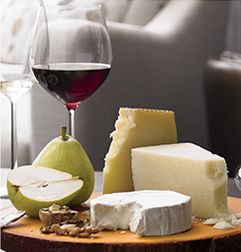 How to Create a
Cheese Platter
Back to Top