Entertaining
How to Set a Table
Setting a welcoming table is one of the joys of hosting, so relax and have fun with it. Pick a level of formality for your table that suits your style, the event and your guests. Then enjoy the creative experience as you create a table that will add to your guests' comfort and delight in the meal. Here are a few simple tips for how to set a table.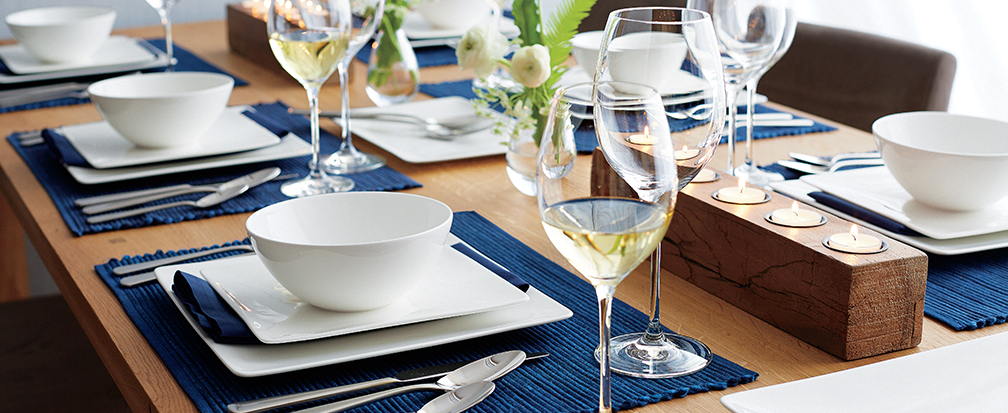 Setting the Table, the Basics
Begin by spacing chairs evenly around the table so you don't have to shuffle place settings later. Next, center a placemat and charger—if you're using them—and an entree plate in front of each chair. The napkin goes either to the left of or on top of the plate. A simple but impressive-looking napkin fold we love is done like this: open a square napkin and lay it flat, then fold it in half three times (square to rectangle, rectangle to square, square to rectangle). The side with the open flap should sit against the table, leaving a crisp rectangle showing on top.
Flatware is typically organized in the order it will be used. A basic place setting from left to right looks like this: salad fork, dinner fork, plate, butter knife with blade facing the plate, spoon. Water and wine glasses go at the top right of each place setting, above the knife and spoon.
Before you decide which dishes to use, think about how many dinner courses you'd like to serve and how you'll serve them. If you're planning a family-style meal, guests can pass serving plates and bowls and use the same entree plate throughout. But for formal sit-down meals, plates are cleared and guests are served each course on a new dish.
Place cards are a nice touch for any medium-to-large sized group regardless of formality level. If your guests are less acquainted; it relieves some stress as guests determine their seats, and helps facilitate good conversation.
Formal Place Setting Tips
To give your dining table a formal and elegant feel, start by using a tablecloth. Napkins that match are great for a traditional look, or you can use coordinating napkins to relax the tone. Adding more flatware and dishes can also help elevate a seated meal. Follow the basic flatware instructions listed above, then start layering in extras: a teaspoon goes next to the soup spoon, and a bread and butter plate go to the left of the forks with the butter spreader resting across the plate. A teacup and saucer can be placed above the spoons with the cup handle facing toward the right. A formal dinner is also a good time to enjoy items like napkin rings, chargers, salad and dessert plates for multiple served courses, elegant taper candles in gleaming candlesticks, formal bone china, and handblown, leaded glass or crystal glassware for extra sparkle. Tip: for a formal dinner, but sure to serve cocktail-hour drinks in glassware that coordinates with your place settings so you won't have unexpected elements on the table when your guests sit down for dinner.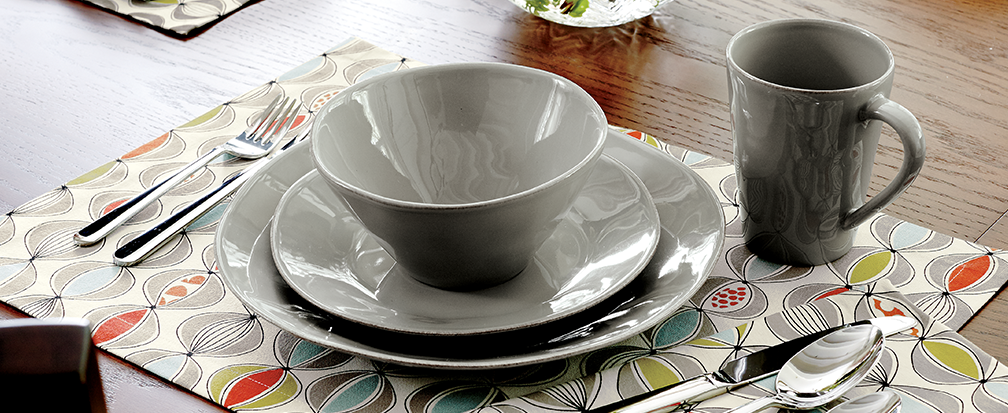 Informal Table Setting Tips
For informal occasions, skip the tablecloth and use placemats instead—they add color and texture to a casual table setting without feeling overdone. Neutrals and natural woven textures are as charming as mismatched prints in fun colors, so pick whatever you'll enjoy most. A napkin placed on top of each plate, rather than to the right, also looks more relaxed. You can still dine by candlelight at informal gatherings, but try using pillar candles placed in hurricanes to add an approachable ambience to your table setting. If you have a larger group and you'd like for guests to switch seats before dessert—a fun way to ensure more guests get to chat—be sure to exclude any dessert serving items from the initial table setting. Finish your table with centerpiece elements ranging from beautiful fresh floral arrangements to bowls of fruit and pots of herbs.
Share how you set a table to Instagram with the hashtag #CrateStyle.
View More Entertaining Ideas
See All
Back to Top