Entertaining
Must-Have Kitchen Tools and Equipment
For many, the kitchen is the epicenter of the home: It's a place to gather, unwind, indulge and cook. Preparing meals for friends and loved ones is utterly rewarding—especially when you have essential kitchen tools and equipment to help you get the job done. Our guide boils down the best of kitchen tools, from cooking and bakeware to cutlery, appliances and electrics to accessories.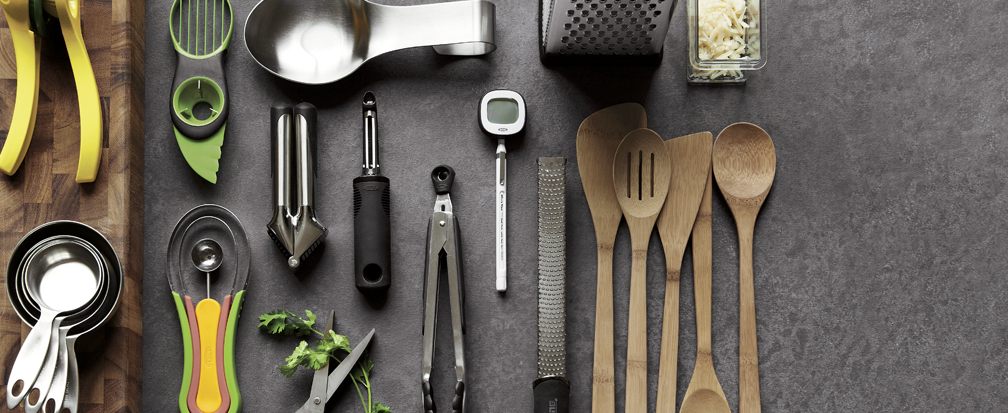 Appliances and Electrics
There's no denying it: Sometimes, the human hand just can't cut it like electronics. Gadgets cut prep time, deliver consistent results, and can generally be cleaned in the dishwasher. In short, they'll make your life easier. Below, a few of our go-to's kitchen equipment pieces:.
Imagine cooking a meal without having to break out your knife. It's possible with a chopper, which cuts vegetables evenly and quickly, taking your veggie prep down to almost nothing. Like a chopper's big sister, food processors chop, grate, and blend with the push of a button. For soup, homemade mayonnaise, stiff-peaked egg whites and more, look no further than the immersion blender. The genius appliance allows you to puree right in the vessel you're using. Bonus: Its slim design takes up virtually no space. If you, like the rest of America, cannot survive without toast , get your hands on a toaster; if you have space, a toaster oven is a great alternative to a microwave, as it reheats and even broils food. Serious bakers use stand mixers to do everything from whipping large quantities of eggs and cream, to mixing cake and cookie batter, to efficiently making pliable pizza and bread dough. It's a cinch to clean, too.
After you've got your basics, look to specialty appliances to satisfy your culinary whims: Popcorn makers add a delicious twist to movie night. After you use your ice cream maker for the first time, it's hard to go back to store-bought -- it's that easy. Waffle makers are designed for easy weekend brunches, and always a hit with kids.
Cookware and Bakeware
A kitchen fully stocked with the necessities is a happy one. Ensure your meals are a breeze with an assortment of cookware and bakeware. Pick up a full set or add to your collection one by one.
Keep an assortment of nonstick frypans and skillets on hand (one large, one small) to fry eggs and saute onions without worrying about anything sticking to the pan. Higher-edged sauce pans (both large and small) are excellent for cooking grains and soup in addition to spaghetti sauce. For a stack of perfect pancakes, you'll need a griddle. And a grill pan makes it easy to achieve those namesake grill marks every cook lusts for. After you have the basics, look to specialty cookware to round out your tools. For easy, one-pot meals, we suggest a slow-cooker. Cook oats overnight for creamy oatmeal for breakfast; simmer pot roast while you're at work for fall-apart meat; make chili for a group—the world is your oyster. Love to stir-fry or bake authentic cornbread in the oven? Look to woks and cast iron skillets. Fondue sets make for an entertaining, delicious evening; and panini presses whisk you straight to Italy via grilled sandwiches without leaving your home.
Baking sheets are standard for every home cook. From baking cookies and granola to roasting vegetables, they're a worthwhile workhorse. (Cover with parchment paper, Silpat or foil for zero cleanup.) Casserole dishes are another go-to, prized for their ability to travel from oven to table, and to bake everything from cheesy pasta to bread pudding. Home bakers require both cake and pie pans to get the job done; collect a variety of sizes and shapes for different occasions. We suggest keeping a set of ramekins in your cupboard for entertaining; single-serving souffles, pot pies and berry crumbles add whimsy to your meal.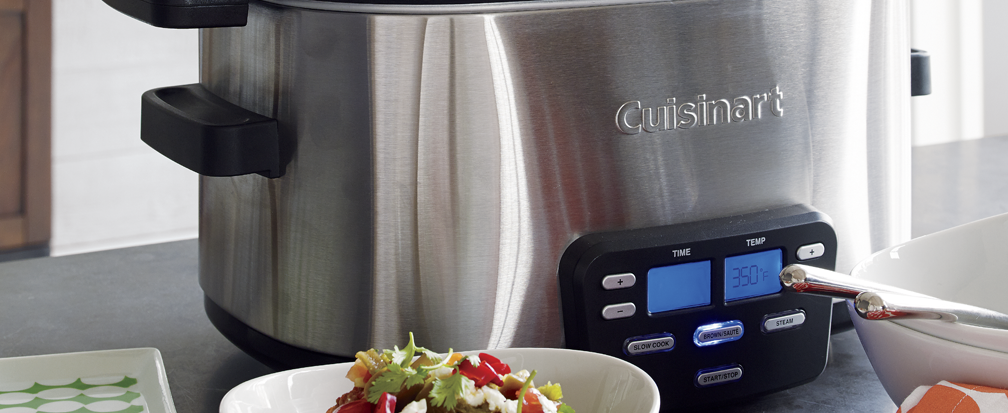 Cutlery
Good knife skills require sharp, sturdy knives that are properly cared for. We suggest purchasing a set so you have paring knives, different sized chef knives, tomato and bread knives close at hand. For safe storage, keep knives in a wooden chopping block on the counter, magnetic strip or in an in-drawer knife block. Proper caring is required in order to maintain longevity: Sharpen as needed, whether on a stone or at your local sharpener, and never put them in the dishwasher; a simple soapy sponge should do the job.
Specialty cutlery and entertaining essentials will undoubtedly be put to use: Carving knives simplify the task of large-scale meat-carving. When you're ready to serve, grace your guests with steak knives to cleanly slice thick cuts of meat.
Kitchen Accessories
Now that you've got the larger essentials on lockdown, look to must-have accessories to cut down prep time. Probably our most-used tool is a Microplane zester/grater. We use it to zest citrus, grate ginger and garlic, and make piles of thin-wisped parmesan. Our citrus juicer is a close second, leaving no juice to waste and keeping pits at bay. For grinding spices and making pesto, nothing beats a mortar and pestle. And a garlic press is so helpful, you'll never let it out of your sight.
When it comes to entertaining, an arsenal of cheese paraphernalia is essential: cheese boards, knives, slicers and markers. Look for tools that can wear many hats: Melon ballers make fruit salads easy, and can double as a cookie scoop. Peelers keep nubby vegetables clean, and make beautiful vegetable spirals for raw salads.
What are your favorite kitchen tools and equipment? Share them with us by using the hashtag #CrateStyle.
Back to Top