Entertaining
How to Use a Pizza Stone
Is there anyone out there who doesn't love pizza? There's something comforting about digging into a perfect pie, when bubbly crust, crushed tomatoes and melted cheese come together just so. But eating delicious pizza doesn't require a parlor and a pizzaiolo. If you've never tried your hand at cooking one from scratch, you're missing out—it's almost too easy. All you need is a handful of ingredients, a hungry companion or three, and the piece de resistance: a pizza stone. Follow our guide on how to use a pizza stone to cook the perfect pie.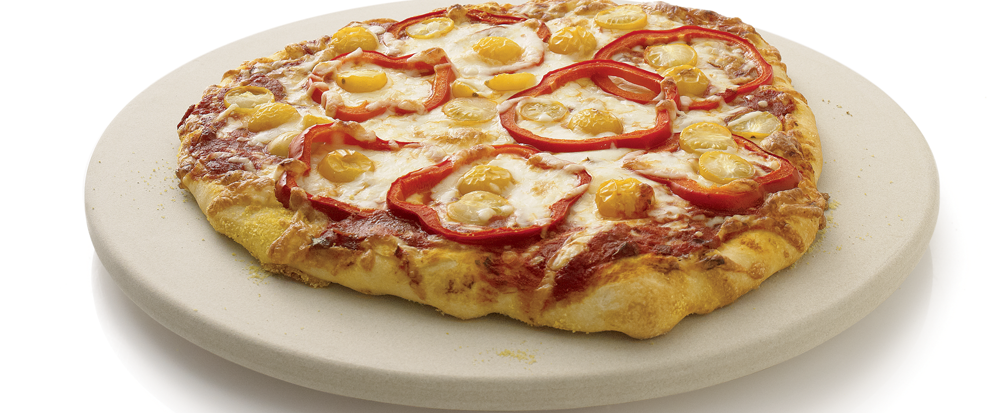 What is a Pizza Stone?
Simply put, a pizza stone is a slab made of ceramic or stone that serves as an oven- and grill-safe baking surface. But that's not its only benefit. Pizza stones are prized for their ability to mimic the bottom of a fiery hot wood-burning oven by dispersing heat evenly, minimizing hot spots and wicking moisture from your dough, resulting in the crisp, bubbly, charred crust you see in restaurants.
Types of pizza stones vary: Some cannot be cleaned with soap; others are dishwasher-safe. There are individual-size stones and circular varieties for larger pies. Some stones require seasoning, the way cast iron pans do, while others have an enamel coating. Which you choose is up to you. To season your stone, lightly coat it with vegetable oil before using. The more you season, the tighter the seal and the crisper your crust. To preserve the seal, wash your stone while it's still hot using hot water and a grill brush. Soap will loosen your seal, requiring reseasoning.
It's worth noting that a pizza peel will make your task even easier. Designed to easily slide pies on and off directly from your counter into a hot oven, they're an excellent complement.
Ready to Bake
First, decide whether to bake or grill your pizza. (You can use gas or charcoal; grilling will impart smokiness and char). If you're baking, place your pizza stone on the lowest rack of a cold oven, turn it to its highest temperature setting, and pre-heat for at least an hour. (Heating the pizza stone before baking makes for that delicious blistered char.) Next, scatter the pizza peel with cornmeal to prevent your pizza from sticking. Then slide your rolled dough onto the peel and add toppings. When your stone is nice and hot, carefully slide the pizza directly from peel to stone, and bake (the process will take mere minutes; roughly 6-7 for larger-size pies). Remove the pizza from the stone using the peel. After cutting using a scissor or pizza cutter, it's time to feast.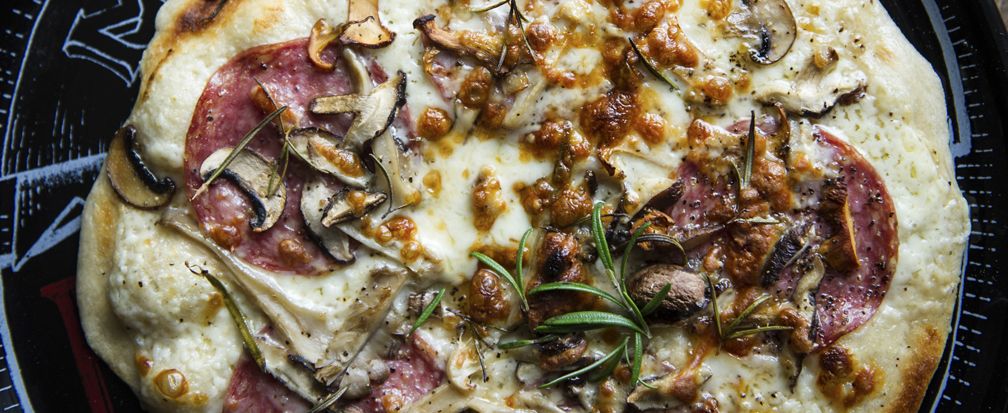 Ready to Grill
Just like when you bake, you want to pre-heat your stone before grilling. Place it on a cold grill, close the top, and heat on a medium flame. Then follow the baking instructions, using a peel to slide the pie on and off. If you can safely transfer your stone to your table, it makes for a beautiful serving piece (don't forget your trivets).
After you've perfected your technique, the sky's the limit. Try your hand at deep dish, Neopolitan and thin-crust. Play with toppings, from red pizzas to white to experimenting with different varieties of cheese. Make your own chile and garlic oils for drizzling on top of piping hot pies. And don't forget to have fun.
How do you use a pizza stone? Share your favorite ideas with us by using the hashtag #CrateStyle.
Back to Top