Decor
How to Organize Every Room in Your Home
Keeping your home organized is easy with the help of a few key products and simple room organization ideas. Small investments of money and time to keep your home organized will pay dividends, saving you time and stress in your day-to-day life. When developing an organizational system, first pare down your belongings. Only keep items that you use and those that bring you joy; donate or throw any excess clutter. This will help you determine the quantity of different types of items you own and the space required to store each type. Next, adhere to the classic organizational philosophy of 'a place for everything and everything in its place.' Create spaces for like items and spend a few minutes each day returning items to their designated homes. As with any other cleaning endeavor, purging and organizing is an ongoing project, but with the right tools and a positive outlook it can also be an enjoyable and rewarding process. Read on for a few inspiring organization ideas to get you started, room by room.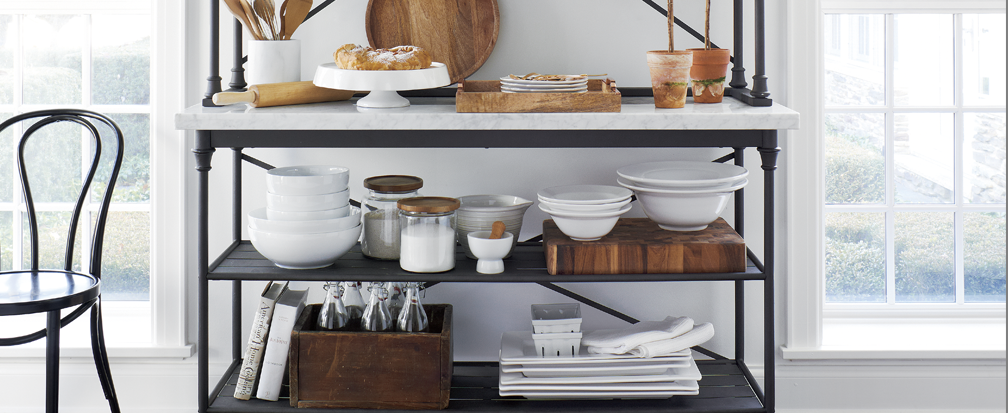 Living Room Organization Ideas
Baskets are an attractive and easy way to store items that are similar in type. They come in a range of sizes, materials and colors, making them appropriate both for hidden spaces as well as those that are in plain sight.
Photo ledges are useful for organizing and displaying a rotating collection of personal framed photos without damaging the walls.
Adding a coat rack, umbrella stand and/or a storage bench can help to corral outerwear near an entry that isn't near a coat closet.
Bathroom Organization Ideas
In small bathrooms where counter space is a premium, consider mounting a floating shelf for added storage.
Use a drawer organizer in a vanity drawer to organize bathroom products. Small containers from jars to baskets also help to organize items by type in vanities and closets.
Classic bath accessories keep countertop items looking tidy. From soap and lotion dispensers, to trays, to glass canisters for cotton balls, the right bath accessories will help you maintain order and peacefulness in your bathroom.
Bedroom Organization Ideas
Consider how you use your bedroom to ensure you have the correct freestanding pieces to accommodate your needs. For example, bookcases for books if you read frequently in your bedroom, hampers if you change clothes in your bedroom, etc.
To make it easy to keep things tidy, be sure every bedroom that is not connected to a bathroom has a wastebasket.
For a guest bedroom, be sure sure overnight guests have organizational essentials from a luggage rack to a hamper for used towels and sheets.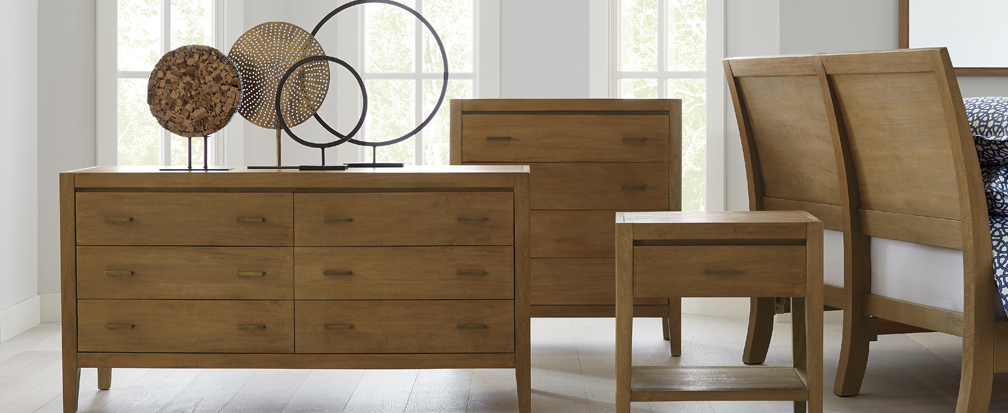 Kitchen Organization Ideas
Use stackable containers to keep the pantry organized. If you have more space than you have shelving, a freestanding shelving unit in the pantry can provide valuable additional storage.
Classic kitchen essentials are classics for a reason. From drawer organizers, to utensil holders, to fruit baskets, to knife blocks, all of these items are known for helping a kitchen running efficiently.
Remove packaging from packaged foods wherever possible, but especially for food that lives on countertops, such as sugar for coffee. Neutral containers are more appealing than the flashy packaging made to grab attention on grocery store shelves, plus reusable containers often keep food fresh longer.
Home Office Organization Ideas
Office supplies are easily accessible when organized by type in drawers in drawer organizers, or on desktops in cups.
Magazine racks and letter trays can help with the constant influx of paper goods from event invitations to periodicals. Separate papers by type; keep items that still need to be reviewed separate from items that are simply kept on file, and have a specific space for those that need to be mailed.
Be sure to keep a wastebasket in an office area, which frequently needs to be decluttered.
Laundry Room Organization Ideas
Hampers, sorting bins, and baskets can help you keep laundry organized by type in the laundry room, making it much easier to gauge when it's time to run each type of load.
A folding ironing board and a folding drying rack are both invaluable resources to keep in a laundry room. They help your laundry efforts remain contained to their proper space, and both are slim and easy to store either stacked or hung on the wall.
Have plenty of laundry baskets on hand. When you're not using them to haul laundry back and forth, they are great for relocating items in bulk to another room, or for storing decorative pillows or guest towels.
How do you organize the rooms of your home? Share your favorite organization tips and ideas with us by using the hashtag #CrateStyle.
Back to Top