Decor
Small Bathroom Decorating Ideas
While the bathroom is one of the more frequently used rooms in the home, it is often given the least amount of space. If your powder room or bathroom feels cramped and cluttered, consider it time to redecorate. Even if space is at a premium, there are plenty of ways to infuse the room with style and sophistication—ultimately making it feel more spacious. A small bathroom can be a bit of a design challenge, but with a few small bathroom decorating ideas, you can create a relaxing retreat no matter the square footage. Learn how to make your small bathroom feel bigger.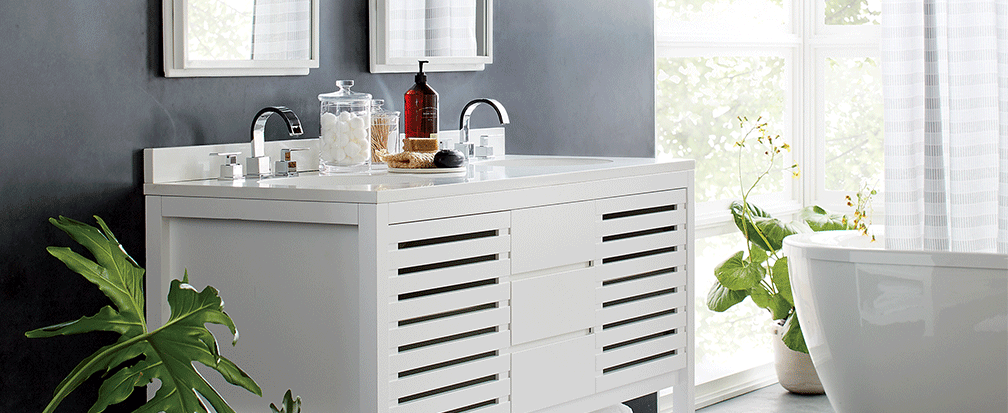 Optimize Storage
Keeping your bathroom from appearing cluttered is one of the first steps to making it feel larger. Therefore, storage is a key component to small bathroom design.
Make use of the wall space above your toilet by adding shelves or cabinets to store toilet paper and towels. Contemporary floating shelves can span all the way to the ceiling, creating the illusion of height and maximizing storage space. Items you use infrequently can be tucked away on the highest shelves. In a full bathroom, add towel racks above the tub to make the wall space more functional and to keep towels close at hand. Built-in cubbies in the shower create a neat place to tuck away shampoo and conditioner, keeping the space feeling spacious and relaxing.
While pedestal sinks and open-cabinet vanities help keep a petite bathroom feeling open, they don't always offer enough storage. Try using baskets under the sink to organize toiletries. You can also add a small ledge above the sink to increase counter space for soap and lotions. Using a mirrored medicine cabinet above the sink is another solution to tuck away toiletries and makeup.
Create Light
As a general rule of thumb, any room in your home will feel more spacious if it is light and bright. If your small bathroom doesn't have a window to let in natural light, there are a few simple tricks to create the appearance of more light.
First, utilize a large mirror above the vanity. This provides the illusion of more space through the reflection of light. Another way to increase the appearance of light in the bathroom is to incorporate metallics into the decor. Choose hardware and fixtures with a silver, gold or brass finish, and incorporate coordinating metallic tiles into the shower design.
If your powder room does have a window, make sure to choose translucent curtains that offer privacy while still letting in plenty of light. Depending on your bathroom decorating budget, consider adding recessed lighting or even a skylight, which exponentially increases available light without taking up valuable floor space.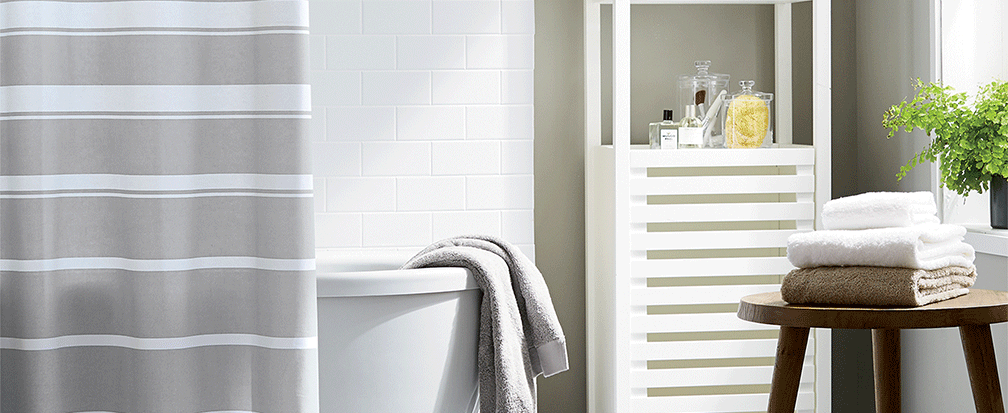 Use Bright Surfaces
In addition to creating more light, use the wall color and other surfaces to make the space feel bright. Light colors create the illusion that the space is open and airy, similar to a relaxing, spa-like oasis.
Choosing a light paint color such as white or grey helps the washroom feel bright and clean. Add a touch of your personality by creating an accent wall using a bolder color or cheerful wallpaper that resonates with your style. Opting for vertical stripes can help to make the room appear taller. If you choose to use a pattern on the walls, keep the flooring and tile simple to avoid overpowering the small space.
Additionally, the countertop, flooring and other surfaces impact the appearance of your small bathroom. A light quartz or marble countertop will keep the space feeling light and breezy. Use clear glass for the shower stall to avoid breaking up the space with a shower curtain. Being able to see all the way through the shower will give the appearance that the room is more spacious. Look for light flooring with long lines to trick the eye into thinking the space is longer. It can also help to run the same flooring into the shower to avoid dividing the space.
Streamline Fixtures
To keep the bathroom balanced, carefully choose fixtures that match the proportions of the room. Slim lines and narrow profiles help to create the appearance of more space, and will even make it easier to use the room.
Even on a very petite vanity, a small, rounded sink bowl will leave more counter space available for organization. Likewise, a slim, sleek faucet will take up less space and appear more streamlined. In a particularly narrow powder room, consider a small, wall-mounted sink that takes up the least amount of space.
Also opt for slim fixtures, hardware and shelving with wall-hugging profiles and shallow measurements that won't intrude too much into the bathroom's limited space. Finally, incorporating a sliding door can make it easier to maneuver in a tight bathroom, especially compared to a traditional hinged door that opens into the space.
Share your small bathroom decorating ideas with us using the hashtag #CrateStyle.