Choosing the Perfect Table Linens
A highlight of our stores is the table linen "wall" where you can mix and match every imaginable color, pattern and texture—from handwoven natural fiber placemats to a bright spectrum of 100% natural linen and cotton tablecloths and napkins. You can also go online to view our exclusive collection of everyday linens for casual dining and elegant table linens for special occasions, creating your own look right at home.
Cotton
Cotton table linens combine everyday functionality with timeless style to dress the table. Choose this material if you're looking for durable linens that are machine-washable and can easily be used for casual meals and special occasions. One of our favorite looks is a crisp white cotton tablecloth for its classic simplicity.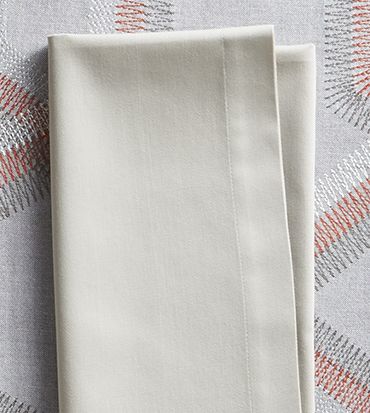 Care: Cotton
Most cotton linens are machine-washable in cold water. Tumble dry low. Warm iron as needed. Avoid bleach.
Linen
Relaxed style and soft texture give linen understated elegance. A natural choice for entertaining, this lightweight material works well in a casual setting. Its relaxed, wrinkled look is part of its inviting character.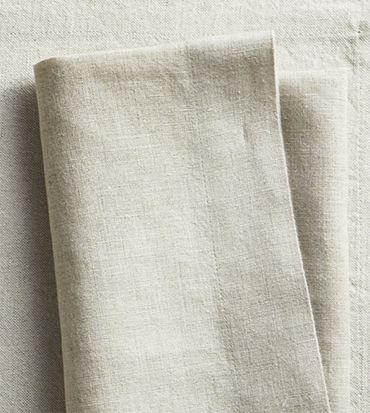 Care: Linen
Most linen tablecloths, placemats and napkins are machine-washable in cold water. Tumble dry low until damp. Warm iron as needed. Avoid bleach.
Fabric Blends
Table linens made with a blend of materials offer rich tone-on-tone color and variable texture at an everyday price. Easy to care for, they bring out the best of each material. A linen-cotton tablecloth, for example, will have the smooth drape of cotton and the softness of linen.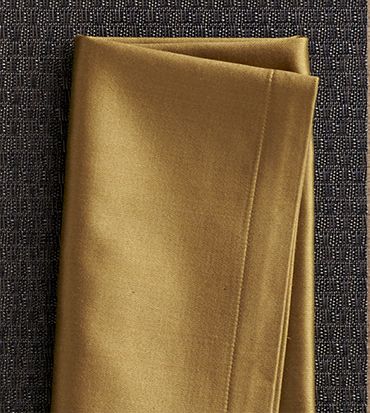 Care: Fabric Blends
Most blends are machine-washable in cold water. Tumble dry low. Warm iron as needed. Avoid bleach.
Types of Table Linens
Tablecloth
Classic White
We always begin by suggesting you invest in a beautiful white all-cotton tablecloth and matching napkins to use on their own or as a foundation for layering in color and texture.
Casual
The quickest everyday table setting starts with a casual tablecloth in a solid or seasonal pattern with coordinating napkins. We also suggest layering in woven fiber placemats to add texture. All of our casual tablecloths are everyday easy, machine-washable.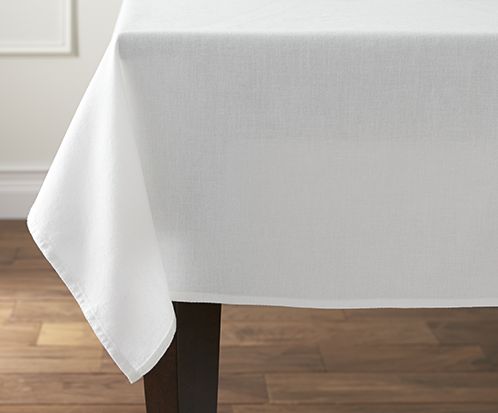 Placemats
This is where all the fun comes in. You can work in tonal neutrals for a formal look. The latest seasonal colors for a fun, casual look. Luxurious fabrics or graphic patterns in holiday themes. Handwoven fibers to add texture and interest. Even wipe-clean plastics for breakfast and lunch.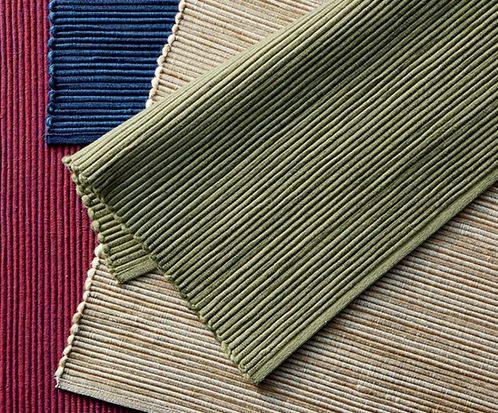 Napkins
Artfully folded napkins set the scene for a meal. Whether pressed and creased or made into origami for the table, a creative presentation lets guests know they're in for a treat. For a quick solution that pulls the table together, try napkin rings. Choose a uniform set for a cohesive look, or mix and match for a creative display.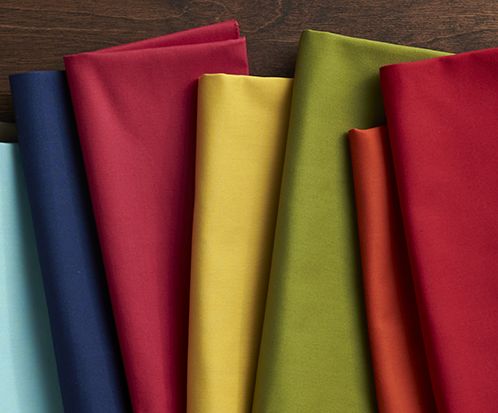 Table Runners
We love the way a long table runner adds drama, unifying centerpieces with the rest of the table. Our collection includes embroidered, natural fiber and patterned runners that mix and match. One of our designers' favorite ideas is to place multiple runners across the width of the table, creating a "placemat for two" for opposite guests to share. Picture this: If you have 3 guests per table side, position 3 runners across the table, creating 6 places. Which brings us to this bit of advice—experiment and play with table linens, and you never have to set the same table twice.