Prices and availability are subject to change from the time and date that you print this page.
8/22/2014 2:24:03 PM. For Customer Service, please call 800.967.6696
Crate and Barrel Exclusive
A traditional arabesque pattern scrolls contemporary in a colorful palette of plum, sage green, slate blue, pumpkin and gold on ivory. Printed on cotton by an Italian textile house renowned for its richly colored designs that maintain their brilliance over time. Reversible duvet has tailored button closure. Matching pillow sham has a generous 2" flange and back flap closure. Duvet inserts and bed pillows also available.


Try our Bedding Planner Design Tool
Lucia Duvet Covers and Pillow Shams
Lucia Standard Pillow Sham
is rated out of
5
by
143
.
Rated

5

out of

5
by
clee09
from
Great colors!
I purchased this duvet back in January mainly because it matched my bedroom paint color. When I received the duvet I was extremely happy. The colors not only matched my bedroom wall but gave me a wonderful starting point for decorating the rest of the master bedroom. Now four months later I am still satisfied with my purchase and the quality of the duvet.
Date published: 2014-05-27
Rated

3

out of

5
by
Mary1234
from
So pretty, very poor quality
The print was beautiful, definitely more cream background than appears in photos. Unfortunately, the fabric was thin and low thread count. The buttons were too close to the edge of the cover and looked like they were about to rip. It was stitched with one line of thread throughout the duvet and the shams. I'm very sadly returning it because it's just not worth the $300 price.
Date published: 2014-05-26
Rated

5

out of

5
by
NCER1999
from
Works with any wall color! Even prettier in person
A prior reviewer pointed out how versatile this duvet is with so many different colors in its design. We are living in a temporary rental and our bedroom had a not-so-lovely shade of peach on the walls. This bedspread actually made the color on the walls work! I couldn't believe it! I have had it (and 2 shams) for 2 months now and still admire it each time I come in our bedroom. It adds such a touch of sophistication to the space. The photos online simply don't do it justice. If I hadn't seen it first in a store display prior to moving overseas, I doubt I would have looked twice at it.
Date published: 2014-05-20
Rated

5

out of

5
by
Romine
from
Elegant
This is a wonderfully elegant duvet that seems to get better with each wash! Matches the seasons and, with the variety of earthy tones, goes with any theme/color I try. I am planning to buy a second in the event CB stops carrying this print!
Date published: 2014-04-07
Rated

5

out of

5
by
BabsbytheBay
from
Still in love.
I've had the Lucia duvet cover and shams for 4+ years now and I have yet to see anything that comes close to tempting me to replace them which is good as Lucia is an investment but worth every penny. The rich colors and beautiful pattern make me smile, the fabric is soft and launders beautifully, and looks as good as its first day on the bed.
Date published: 2014-04-07
Rated

5

out of

5
by
studiosherwood
from
Beautiful to look at and touch
I love this duvet set. It is beautiful to look at and to touch. I have found the attractive pattern looks great with either orange, blue or lavender sheets- which makes life easy too! This duvet looks fresh all week long and I get lots of compliments!
Date published: 2014-04-07
Rated

5

out of

5
by
sblack07
from
Absolutly In Love
I have had my eye on this duvet for a couple of years, I'm so glad I decided to purchase it. Because it has so many colors, I works well with most any wall color.
Date published: 2014-04-03
Rated

5

out of

5
by
Lizzybear63
from
Well worth the wait.
I was in the store and bought a Pillow sham, because I just LOVE the pattern.It has been on my mind for a long time, but I was never sure it would go with my decorating style....Just LOVE , LOVE the colors. So, after getting the sham filled and tossed onto a cozy reading chair....THAT DID IT...I finally ordered the duvet ( and another sham)...Well...the end result was just BREATHTAKING...It is a contemporary pattern....that looks beautiful against the burgundy wall my bed sits upon.( in a country cape cod)...my ONLY REGRET....was waiting so long ( like two years) to give in to a new design style...
Date published: 2014-03-29
Rated

5

out of

5
by
lindastl
from
Fabulous colors!
The color combination can't be beat! I've had the duvet cover for over a year and some times I punch it up with more orange or subdue it a bit with charcoal. After I'm done using it as a duvet, I think I might have curtains made with it. Defines versatile.
Date published: 2014-03-25
Rated

4

out of

5
by
MHP88
from
beautiful
I love this duvet! I had been looking for something interesting for a long time, and finally came across this one. I love that there are so many colors in the pattern to go with different sheets. The only reason I didn't give it 5 stars is because of the price.
Date published: 2014-03-25
Rated

5

out of

5
by
eadels
from
Going on 6 years and still love this bedding...
I was surprised to still see this bedding offered 6 years after I originally purchased. I've loved every minute of this product and think the quality is excellent. Over six years after originally purchasing, I'll still get compliments on the pattern and new house guests think it's new. I would definitely recommend this product (assuming the quality has kept the same over the years...)
Date published: 2014-03-22
Rated

5

out of

5
by
Trisha76
from
Love the Lucia
I bought these a couple months ago and have been very pleased with them. I love all the colors and the pattern. I've been wanting the duvet for a couple year and finally just did it. The quality is good. The material is soft and the ties in the corners work well.
Date published: 2014-03-21
Rated

5

out of

5
by
kellikel
from
Gorgeous, Classic & Fun Duvet!
I've had this duvet for 5 years now and I still LOVE it. It's held up well and I haven't grown tired of looking at it! There are many ways to accessorize thanks to all of the wonderful colors....my bedroom wall is a darker purplish blue and bedroom set is mahoganyand it all looks very warm and cozy. No plans on replacing this anytime soon. If you're on the fence, my vote is to go for it!
Date published: 2014-02-14
Rated

5

out of

5
by
mapjames
from
Unique colors and pattern that really adds warmth
I had this pinned on Pinterest for months. One day I got an email that alerted me that my "pin's" price had dropped. I went to Crate and Barrel that day to look at it as it had been many months since I last saw it in person. The colors and design are so unusual that I was unsure whether or not I wanted it still but the salesperson at the store was to me that I could take it home to see how it went with my bedroom and if I didn't like it, I could bring it back, (unused, of course). So I took it home and my husband loved it!! I bought some eggplant colored pillows to match. For summer I might get some lighter ones for a change. It is a wonderful from my plain white duvet and beige I always seem to gravitate to. It is worth the cost.
Date published: 2014-01-09
Rated

2

out of

5
by
yepp
from
they ungrow on you
I've had these for a few years now, and they are good quality construction, however I no longer like the design. It's because while the design itself is attractive, it is very hard to design around. So, if you love it enough to design a whole room around it, go for it. But, if you're looking for something nice, not too demanding, something that could blend in with a variety of moods/styles, then this might not be it.
Date published: 2014-01-07
Rated

5

out of

5
by
icfuzzybunnies
from
Beautiful!
I have been so in love with this bedding for a year and a half and it finally went on floor sample! I just put it on my bed and it is perfect with my plum sheets and grey/white pillow! It is vibrant and you can pull so many colors from it!!!
Date published: 2013-12-15
Rated

5

out of

5
by
BikerBabe
from
Beautiful design, LOVE the colors
I bought the Lucia duvet cover a year ago, and after many nights of use and many washes later, the colors are still as vibrant as the day they arrived. The design is fun yet elegant, cheerful yet mature. To me it was more than worth the price.
Date published: 2013-12-03
Rated

4

out of

5
by
darcyinoregon2
from
Had for 2 years now
I bought the king size duvet and 2 shams 24 months ago. Absolutely love the colors! Matches up with many colors. The buttons and holes did not hold up. With once weekly washings that was the first to go. The strings to hold the comforter in place also shredded after a year also. After 2 years I am finally replacing one of the shams which ripped along the top. It just wore out. However, 2 years of constant use, I feel the duvet and shams have held up pretty well. Overall, would recommend.
Date published: 2013-11-30
Rated

4

out of

5
by
tulsamama
from
Beautiful and comfy!
I have had this duvet cover for several years and I STILL absolutely love it! SO much, that I'm ordering a new one. I dropped one star because the button holes need to be reinforced better... Most of mine have torn.
Date published: 2013-11-15
Rated

5

out of

5
by
Ingridlynn
from
beautiful dose of color without being overwhelming
I bought the lucia duvet in queen and loved it immediately, after moving recently we switched to a king sized bed and sadly couldn't use the queen duvet... but, I ended up ordering the King and still get to enjoy this beautiful duvet cover and matching pillows!
Date published: 2013-09-17
Rated

5

out of

5
by
kldb
from
Divine.
I saw the Lucia bed linens on a friend's bed three years ago, have been thinking about it ever since, and don't know why I waited so long to purchase it. The graphic design is beautiful and the occasional crumb or drop of wine won't visibly stain it. Luscious colors,  the fabric is soft and feels good against the skin. I'm hoping the sheets are available again soon.
Date published: 2013-08-17
Rated

5

out of

5
by
AZYANKEE
from
Completes my winter bedroom 'look'
GREAT COLORS (I BOUGHT THE QUEEN DUVET COVER, 2 KING SHAMS AND THIS), QUITE ELEGANTLY CHANGES THE ROOM'S LOOK FROM THE WHITE COLORS OF SUMMER, AND SOFT TO THE TOUCH.  WASHES BEAUTIFULLY AND SMOOTHS OUT WITHOUT A LOT OF IRONING FUSS!
Date published: 2013-08-15
Rated

1

out of

5
by
harper64
from
Color is not as vibrant as it appears to be online
Recently bought this, but returned it. The colors were washed out, as if it had been washed 100 times. It looked much prettier online.
Date published: 2013-08-15
Rated

2

out of

5
by
julia54
from
Scratchy
I bought this with great hopes.  It was exactly what I wanted, until I started sleeping with it on my bed.  Now this will sound weird but I woke up in the night itching all over. I tried to wash it, hoping that the starch (?) they put on it would wash off but it didn't. I have never had this experience before with anything I have ever bought.  Who knows? So sorry that I have to return it.
Date published: 2013-08-10
Rated

5

out of

5
by
Nutricia
from
Beautiful Pattern
We were redoing our bedroom in Florida and couldn't find a cover we thought was pretty. This pattern is modern and elegant. Our painter helped us pick a cream color for the walls, because going too white can make the background look dingy - but it looks great in our room.
Date published: 2013-05-05
Rated

5

out of

5
by
Renee M
from
Delighted
I am delighted by how colorful this duvet cover is without being loud. I am especially happy that it matched my decorative pillows and wall coloring to a "t." The quality of the fabric is great, the button closure works well. Couldn't be happier with this and the shams.
Date published: 2013-04-16
Rated

4

out of

5
by
omegarose
from
Beautiful Duvet
This duvet is very beautiful. The colors are very vibrant, even after washing a number of times. The background is not actually white, it's more of a very light beige.The reason I gave it four stars was, as other people mentioned, the seam by the closures did come apart very easily when trying to put the duvet on. Overall though, I am very happy with the purchase.
Date published: 2013-03-07
Rated

5

out of

5
by
Unique Made in Italy
from
Date published: 2013-03-04
Rated

4

out of

5
by
EMM1116
from
So bright and cheery
LOVE this duvet and its bright colors. The texture is great and its very high quality. My only issue is that I don't feel like it holds onto the duvet as well as it should, maybe one or two more ties would make the difference.
Date published: 2013-03-04
Rated

5

out of

5
by
TexasKate
from
Goergeous!
I fell in love with this duvet cover in the store and received it as a gift. The colors are bright and fun without being too over the top. The fabric is soft and duarable. I am sure I will have this for many years to come. Love it!
Date published: 2013-03-04
Related Products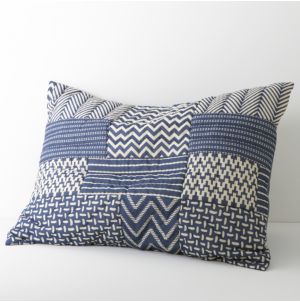 Ethnic inspired patches of blue and white chevrons, herringbones, and casual stripes...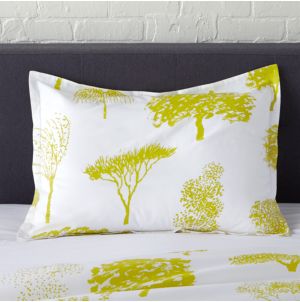 Global forest plants citron silhouettes of the world's trees on crisp white...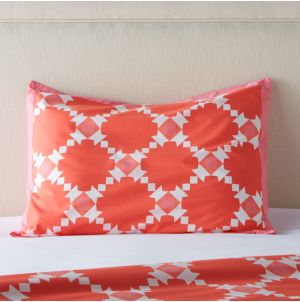 Classic geometric quilting pattern updates in sunny coral and white as a...