Decor
Stylish Above-the-Bed Decor Ideas
Decorating the bedroom is all about creating a space that is comfortable, tranquil and personal—a place where you, your family or guests will feel good waking up in the morning or closing your eyes at night. Hanging design elements on the walls surrounding the bed is one way to create this kind of space, but don't neglect the area above the bed. Leaving it blank, or relying solely on a headboard for wall decor, can make a room feel unfinished—not to mention, it's a waste of valuable wall space.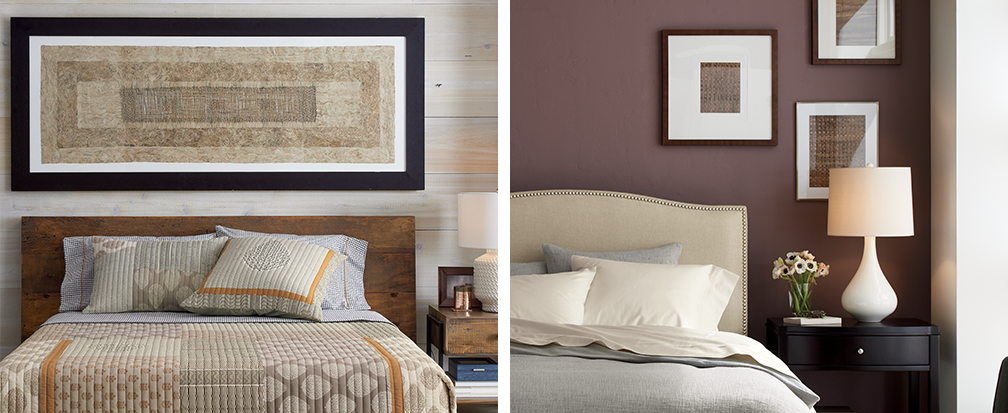 Decor, lighting and other above bed decor brings a stylish, modern look to your bedroom while allowing more opportunities to showcase your personal effects. As an added bonus, it can also act as an aesthetic problem solver by adding additional light or rounding out the look of the room. Here are a few ways to get the most out of that wall space with above bed decor.
1
Create a gallery wall by using a range of framed prints, artwork, photos and other wall decor in a variety of sizes and shapes. Pieces that are similar in style or color can make a monochromatic statement, while combining different hues, frames and textures creates visual interest.
2
For a look that's minimal and striking, try selecting one major print to serve as a focal point for the room. For maximum impact, be sure to keep it in proportion to the wall and the length of your bed, as a single, smaller piece can easily be dwarfed by surrounding wall space.
3
Mirrors can be used in the same way as prints: clustering different sizes and shapes creates visual texture, while one big looking glass makes a bigger statement. Either way, mirrors offer design extras, such as the illusion of a bigger room and another angle to give your ensemble a quick once-over—a great solution for bedrooms that lack full-length mirrors.
4
Whether they vary in size and shape or are exactly the same, grouping wall clocks is a timeless approach to decor. Set them all to the same time for a look that's striking in its unity, or if you're a globetrotter, try hanging multiple clocks and setting them to the time zones of favorite vacation spots.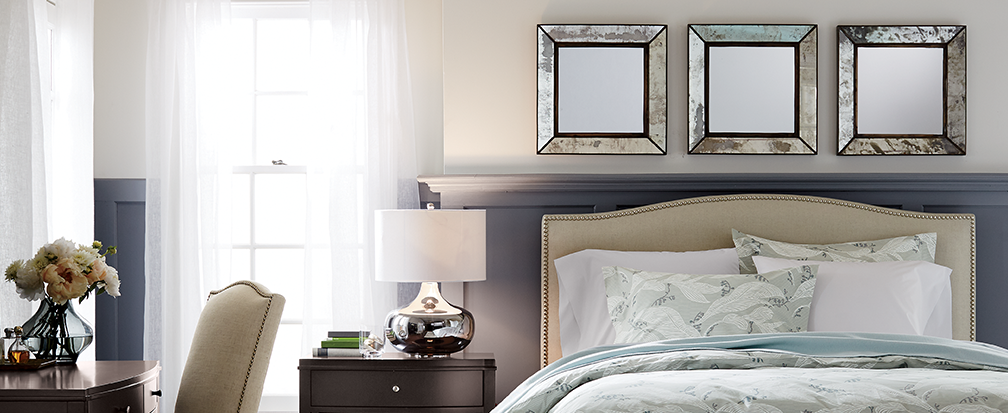 5
Sconces can provide a creative design element while adding more light to the bedroom. Consider the type of light needed when selecting and placing the sconce. For example, when pointing the sconce down toward the bed, it can function as a reading lamp; when positioned near artwork, a sconce can help reinforce the impact by illuminating the piece. To add a calming and romantic tone to the room, choose sconces that use candles or votives for a softer glow.
6
Rather than hanging everything on the wall, use ledges to display photographs, artwork or objects. Additionally, ledges can also provide a surface for reading lamps, as well as books, eyeglasses, phones or other items that you want to have within arm's reach.
7
To add another layer of interest to above bed decor, start by creating an accent wall with a swath of wallpaper or a bright paint color that's different from the rest of the room, then hang decor on top of that. Just be sure to keep colors and styles cohesive for an eye-pleasing result.
With a few of our recommendations, the area above your bed is a small space that can make a big design difference.
What are your favorite above bed decor ideas? Share them with us by using the hashtag #CrateStyle.
Back to Top