Decor
How to Style Your Bed: Bedding Ideas
The master bedroom's bedding design is often the first thing that the eye sees when crossing the threshold of the room. Not only does it have the ability to set the tone for the room, but depending on the fabrics you choose, it also helps determine the comfort level of your bed. Here are a few tried and true bedding ideas for making your bedding design a striking focal point of the master bedroom: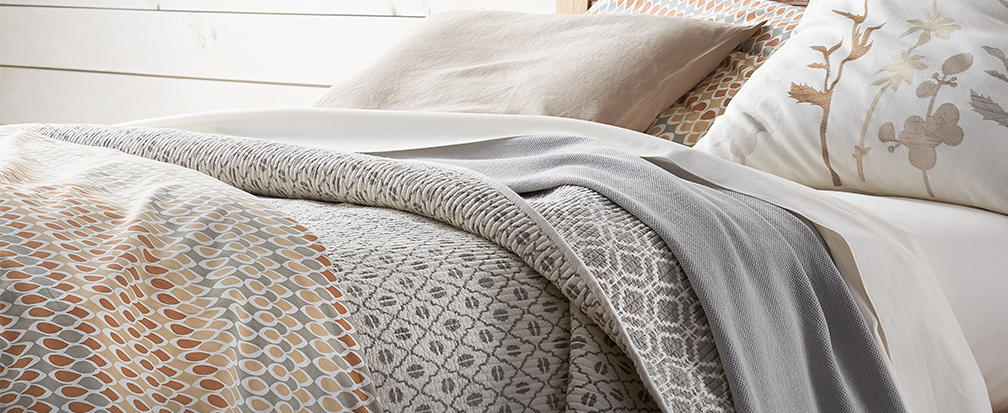 1
Simple and Classic
White bedding is an attractive option one hundred percent of the time. You cannot go wrong with a simple, puffy white down comforter and matching shams. Regardless of your color scheme in the room, this is the perfect complement. It's also one of the most soothing designs you can choose. For smooth, clean edges, go with a no-frills white linen or crisp cotton duvet. You can otherwise choose a slightly more textured option like a jacquard woven quilt or coverlet. Adding a thick cotton yarn throw to the foot of the bed is a nice way to incorporate just a touch of color. Mix up the footer throw to go with the season. Having a base of white linens is the easiest way to make your bedding design versatile on a whim.
2
Patterned and Pretty
Make your bedding design a little more dynamic by selecting a pattern as its focal point. The possibilities are vast: A honeycomb medallion motif looks fantastic in a slightly bright color. For earthy brown and grey tones mixed with oranges or yellows, choose Indian textiles. For scrolled patterns awash in a colorful palette, look for Italian fabrics. Impressionist patterns in a bright palette can create an energetic ambiance. Duvets in botanical silhouette prints look fresh and clean. Be inventive and blend the color schemes.
3
Comfy, Cozy and Billowy
This bedding design idea is all about the layers and fabrics. Cover a thinner, stitched quilt with a thicker, down insert-filled duvet folded back slightly to reveal the layers. Expertly layer pillows. to create a full, lush look. This is a fun way to intermingle busier patterns with one another, as well as with plain color textiles.
4
Single-Toned and Swappable
Choose one hue for your bedding design. Keep it minimal and relaxing with a deep saturated color for a more masculine look or a lighter tone for an airier feel. Mix and match the duvet and pillow shams with complementary one-tone cotton sheet sets. You can easily swap out the colors seasonally. This is the perfect opportunity to mix and match. You can also add in some decorative throw pillows for pops of different colors. Mingle shapes and sizes and be creative with your color additions.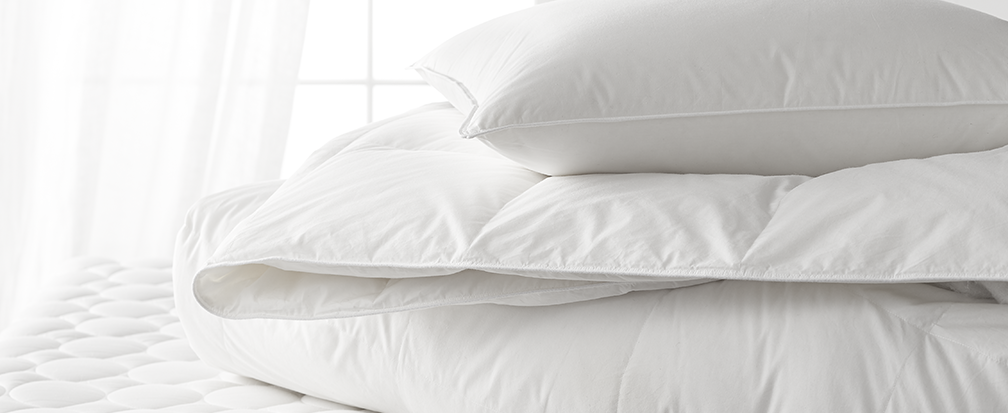 Last but not least, when choosing your master bedroom motif, it's important to try to coordinate your bedding to your furniture for a seamless look. Brightly colored patterns tend to pair nicely with dark woods. Single colors or slightly muted patterns on flatter textiles go great with modern designs incorporating metals and lighter woods. If you follow these simple tips, your bedding design is sure to be noticeable and inviting.
What are your favorite bedding ideas? Share them with us by using the hashtag #CrateStyle.
Back to Top