Holiday
How to Host a Christmas Brunch
It's the night before Christmas and all through the house not a creature is stirring —except for you. After all, you are hosting Christmas Day brunch tomorrow. But instead of letting last minute preparations overwhelm you, embrace the spirit of the season and be kind to yourself by following these tips guaranteed to produce a successful Christmas morning for all.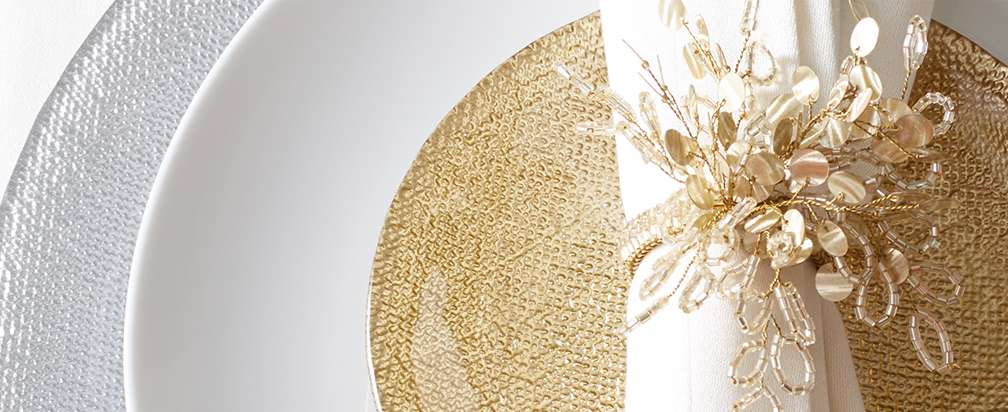 Menu Prep
Plan a doable Christmas brunch menu—one that you can actually execute considering all of the holiday's other distractions. Consider recipes that can be prepped in advance and warmed or cooked the morning of. Think egg casseroles or a vegetable frittata instead of made-to-order omelets; French toast souffle instead of slices dipped individually and cooked on the stove top. Prepare pastry doughs ahead of time. And bake bacon and sausage on cooking sheets, instead of frying, to avoid intense kitchen cleanup. We also like to have kid-friendly brunch options like simple scrambled eggs, basic muffins, and fresh fruit for the smallest celebrants.
Assign Serving Pieces
The week of Christmas go through your sideboards and storage cabinets to make sure you have the appropriate platters, bowls, and baking dishes for all of your recipes. We like to place sticky notes in each of our serving dishes to be certain we have exactly what the menu calls for. Same thing goes for serving utensils. Pair spoons, forks, ladles and cake cutters with the serving pieces.
Christmas Brunch Buffet
The heritage of brunch is casual, so even though it's a holiday, present the meal buffet-style. Not only does this afford you extra time to engage with your guests, it also gives you a chance to showcase all of the aforementioned serving pieces. We suggest coordinating your baking dishes and serving pieces with your dinnerware. Or choose a single color, like white, for all of your serving pieces. By sticking with one color you can mix-and-match collections and styles over the years with ease.
Serve Yourself
Just because brunch is served buffet-style, doesn't mean you can't dress your dining room table for the holiday. Either set the table with place settings as if you were hosting a sit down dinner and ask guests to take their plate from the table; or stack dishes at one end of the buffet with a basket full of napkin-wrapped flatware for guests to take before serving themselves.
Center of Attention
Use the center of your dining table to capture the essence of the holiday. Fill a glass hurricane with a colorful collection of ornaments. Drape greenery and red ribbons down the center of the table and line with white pillar candles. Wrap a few (empty) boxes in leftover holiday wrapping paper and tie off with big red bows; place in the center of the table.
The Kids' Table
Keep the kids busy during brunch by wrapping the kids table in brown Kraft paper. At each seat draw the outline of a placemat in black marker. Then place canning jars full of markers and crayons on the center of the table and invite them to design and draw their own holiday placemats.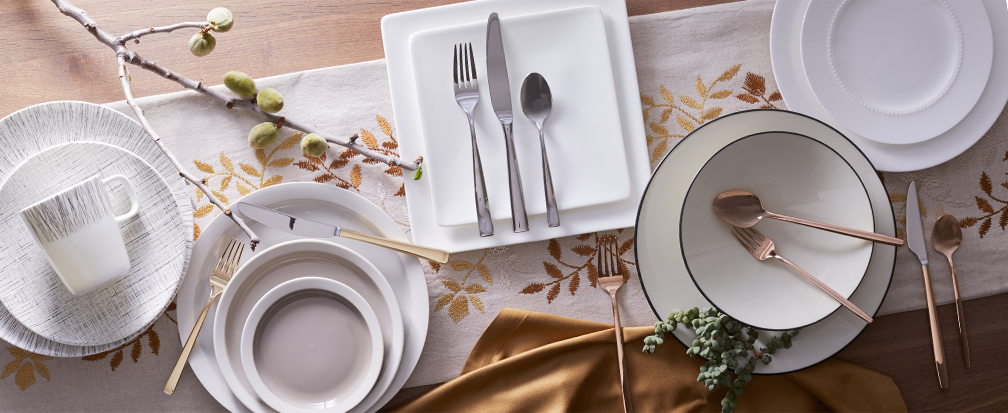 Drink Stations
As friends and family mingle—before and after the meal—offer a few different drink options at stations around your home. Set up a coffee station with mugs, creamer and sugar. Make extra pots of coffee ahead of time and have them on hand in thermal carafes. And remember to make at least one pot of decaffeinated coffee for those who like their java without kick.
Fill drink dispensers and hand blown glass pitchers with water, so guests can serve themselves. We like to add fruit slices or cucumbers to our water dispensers for an unexpected twist. Be sure you have more than enough glasses on hand. In our experience guests place water glasses down and forget where they put them— taking a fresh glass the next time they have a drink.
Toast the holiday with a Mimosa bar. Use your juicer to squeeze fresh orange juice the night before. Place in glass pitchers and keep cold in the refrigerator. The morning of Christmas, chill the bubbly in champagne coolers and ice and set next to the orange juice with a selection of champagne flutes.
And finally, set up a Bloody Mary bar. Prepare the mix the night before and pour into glass pitchers. We like to offer two varieties: spicy and regular. Thread cocktail picks with interesting and tasty garnishes like salami slices, sweet pickles, olives, cheese, and tomatoes.
Just Dessert
Instead of taking on the task of a dessert table all by yourself, invite each of your guests to bring a platter of their favorite homemade Christmas cookies to share. The perfect sweet ending to the day.
Create an inspired tablescape with our Christmas centerpiece ideas. And don't forget to check out our other Christmas party ideas to prep for the holiday season.
View More Holiday Ideas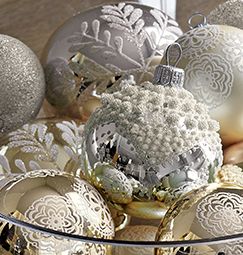 Decorate for the Holidays
Using Ornaments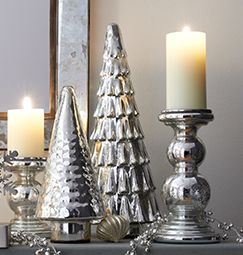 How to Decorate a
Mantel for Christmas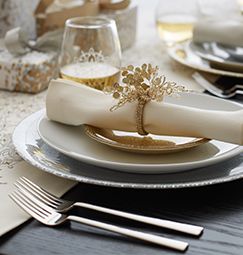 How to Decorate Your
Table for Christmas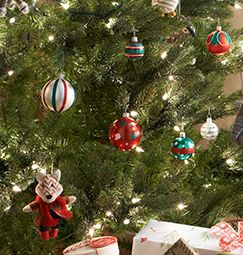 How to Decorate Your
Tree for Christmas
Back to Top