Holiday
Christmas Centerpiece Ideas
Christmas centerpieces are a great way to show off your creative skills when entertaining for friends and family this holiday season. Sophisticated and colorful centerpieces complement any holiday decor and are the perfect finishing touch for almost any room in the home. It's easy to come up with many Christmas centerpiece ideas to highlight your own personality and style.
Whether you're going for natural and rustic, or gravitate more toward color and shimmer in your home, conversation-starting holiday centerpieces can be simple to put together and will help create a cohesive holiday atmosphere. For coffee and kitchen tables, use components that are low enough to allow for conversation without disturbing eye contact. Mantels and console tables are perfect places to incorporate tall branches, vases or candle holders.
The key is to start your holiday décor planning early. Figure out which pieces you need to create your ideal Christmas centerpieces. Think colorful ornaments, celebratory linens, rustic baskets, elegant serving pieces, glass bowls, modern vases and other decor. The list of items at your disposal for original and innovative holiday centerpieces is truly endless.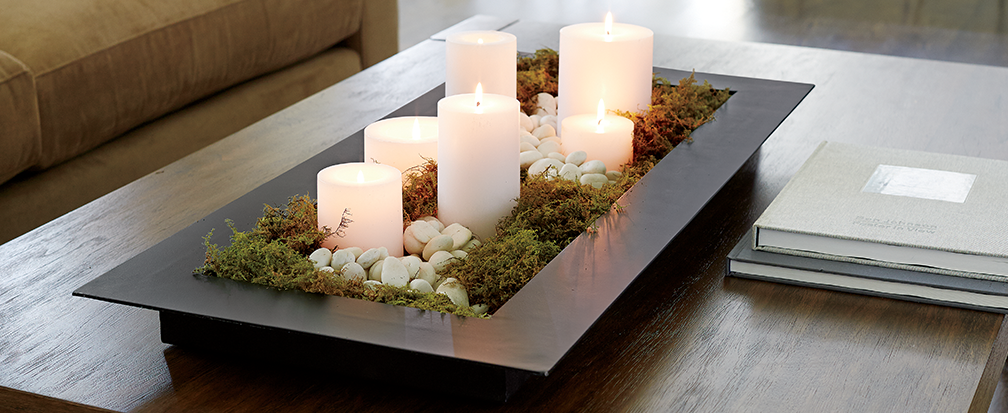 Creating a Beautiful Christmas Centerpiece
Need Christmas centerpiece ideas to bring your holiday vision to life? Read on for steps on how to create some of our favorite holiday centerpieces.
Jars, Bowls and Vases: Fill a large Mason jar or hand-blown glass bowl with cranberries, then set floating candles of any size on the top. For an even simpler option, fill various sized jars with large round ornaments; colorful marbles; or even painted pinecones. For these decorations, gold and silver add a sophisticated touch.
Light It Up: Pretty greenery and twinkling candlelight are key elements of festive and charming centerpieces. Simply drape your table with a long runner, layer pine branches or other greens, and add some tasteful candles.
Decorate the Whole Table: You can easily give your room another pop of color or shimmer by adding a table runner to any setting. Find one that projects the feeling you are going for—think serene snowflakes or festive lights—then build from that idea.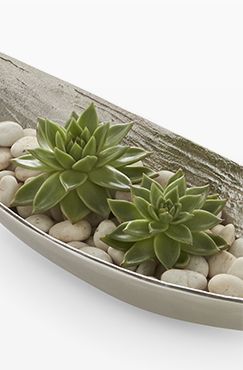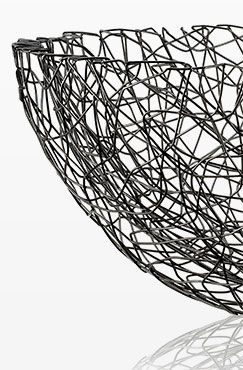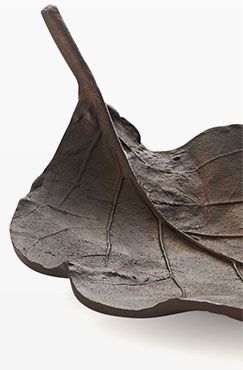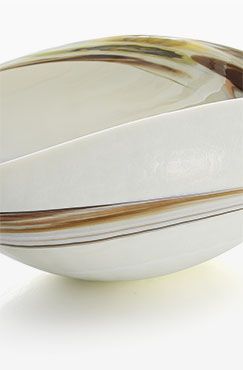 Put It on a Pedestal: Find some covered servers, such as a domed platter for pies, then fill with small trees, ornaments or candles of various heights. Or get even more creative and stack a favorite pedestal server with greenery, pretty candles or attractive holiday candy.
Make Use of Gift Wrap: Wrap different sized boxes in festive holiday wrapping paper, stack them from large to small like a pyramid, and tie the group of boxes together with a bow. A festive stack can be used as a fun centerpiece, stairway décor or even a doorstopper if there is something inside to weigh it down.
An Idea for a Fun Family Activity: Have your children paint pinecones in holiday hues of their choice. Place the painted pine cones in small baskets or bowls around your home for some holiday cheer in unexpected places.
Nature: Nature. Nature. A tall glass vase full of branches adds height to any setting. Since branches last longer than fresh flowers, you can use the display throughout the holiday season.
Ornaments: Fill glass cloches with extra ornaments that don't fit on your Christmas tree. For added dimension, surround the domes with candles in glass votive candle holders and small picture frames.
Collectibles: Feature favorite snow globes, lanterns or holiday-themed music boxes. Surround them with small pine branches and add contrasting pops of color with painted pinecones or tealight candles.
Inspiration can be found anywhere
Lastly, for more Christmas centerpiece ideas, why not watch Christmas movies, flip through your favorite home decor magazines or even ask creative friends? You just never know what centerpiece ideas you will come across.
For more Christmas decorating inspiration, check out the Crate and Barrel "Deck the Halls" Pinterest board.
View More Holiday Ideas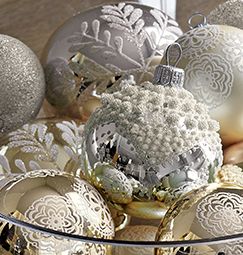 Decorate for the Holidays
Using Ornaments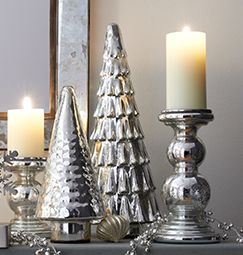 How to Decorate a
Mantel for Christmas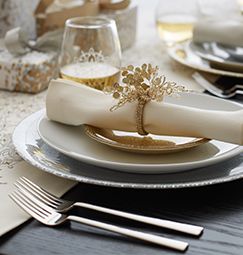 How to Decorate Your
Table for Christmas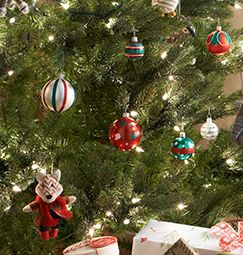 How to Decorate Your
Tree for Christmas