Holiday
How to Decorate Your Table for Christmas
For some, tradition rules holiday décor. Especially when it comes to setting the Christmas table. There are plenty of ways to make this year's Christmas tablescape fresh and stylish.
Create a curated, collected look instead of going matchy-matchy. This allows you to team new pieces with family heirlooms. Celebrate contrasts, like shiny and matte, metallic with rough-hewn. Add fruit, veggies or blooms in large containers for color and life. Cranberries are simply marvelous in tall glass hurricanes. Choose artisanal pieces for warmth. Tone-on-tone relief on handcrafted ceramic tableware may subtly reflect seasonal motifs. Fill miniature frames with pictures of loved ones celebrating past Christmases.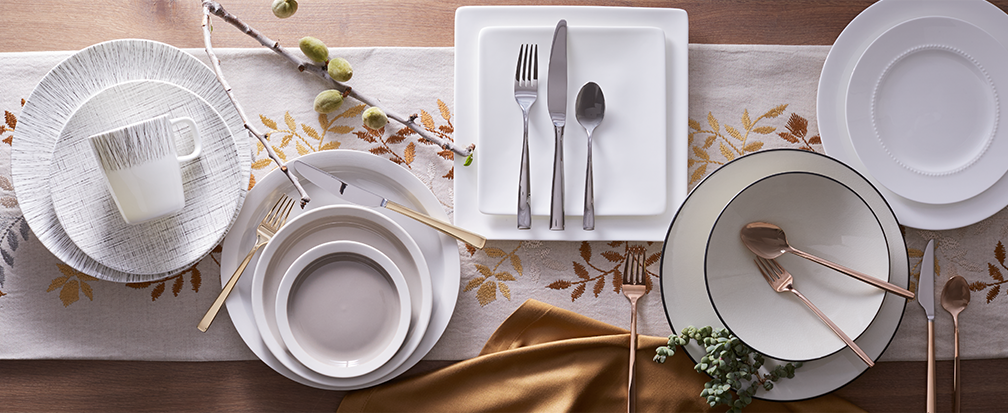 Consider tapping into themes to unify
pieces you put together.
Woodland or Natural Christmas Table Decorating Ideas

Think fresh greens (or splashes of the color). Weathered or natural wood in light or dark finishes can be introduced in bowls, platters or birch candles. Classic white elements are so versatile that the style can be cottagey or urban modern, casual and elegant. On the table, that translates beautifully with all-white dinnerware in round or square shapes. Punch it up with contrasting plates patterned with festive holiday designs or colored glassware.
Try natural linen for a more easy-going tablecloth. Pair it with napkin rings in rattan or grapevine, or tie satin ribbons with sprigs of berries around rolled napkins.
Dress it up with gold or copper accents, chargers to frame plates, or festive drinkware with metallic banded or decorated glasses.
For a Christmas centerpiece, try a vintage trough or modern wooden bowl planted with asparagus ferns.
The greens also are amazing spilling over footed white bowls. Create a wintery terrarium in a glass vessel lined with moss. Add gilt pine cones, stars, ornaments, children's artwork—cutout snowflakes, angels. White flowers, especially tulips, lilies, roses and hydrangeas, all are powerful in masses and lovely in simple glass vessels or creamy cachepots.
Instead of a centerpiece, create a "runner" with fresh evergreens and pine cones or live miniature trees wrapped in burlap and held in place with raffia. Or tuck small cedar branches into a shallow tray, nestling in hurricanes and weaving in some metallic ornaments.
Go high and low with candles, from votives to pillars to taller candlesticks. The flickering of candlelight always adds warmth, and with the added Christmas decorations, the glow is enchanting.
Sparkle Christmas Table Decor

The Christmas table is special, so why not go full-out glam? Glitter is magic with any palette or style; just a few additions can do the trick. A little sparkle goes a long way.
Start with a shimmery cloth like a beaded sari or fancy jeweled scarf used as a runner, draped over the center or gathered as a nest for other décor. You can layer this over a crisp white tablecloth or one in a complementary color. Or you can opt for a metallic placemat, set on bare wood or a snowy white cloth.
Think of your napkin rings as jewelry. Choose bracelet-like napkin rings, especially striking in newer, sleek styles like golden entwined bands.
Add bejeweled or metallic decor elements, like trees, reindeer or nutcrackers, which lend seasonal luxury to the table. Mix metals like gold, copper and silver, or stick to a monochromatic theme. All silver with frosty platters or bowls, embellished plates and glasses are a cool festive teaming, especially offset with white or blues, cobalt or turquoise.
Fill a large footed bowl (or three smaller glass containers) with glittery ornaments. Consider using platinum or gold patterned barware as small vases for flowers, and create custers down the length of the table. Or place them around a shallow mirrored tray filled with hurricanes of different sizes and heights. Lots of candles reflect the gloriousness of it all.
What are your favorite Christmas table decorating ideas? Share them with us by using the hashtag #CrateHoliday.
View More Holiday Ideas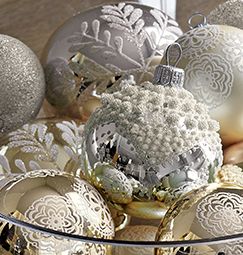 Decorate for the Holidays
Using Ornaments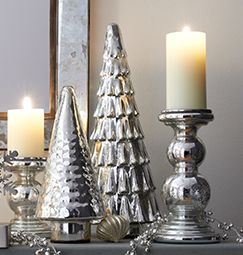 How to Decorate a
Mantel for Christmas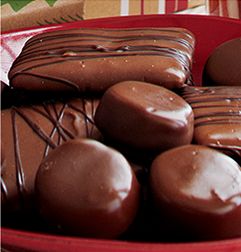 Ideas for Christmas
Candy Gifts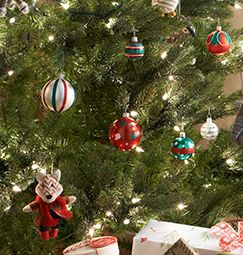 How to Decorate Your
Tree for Christmas
Back to Top