Decor
Floor, Wall, Table: Foyer Decorating Ideas
Your home only gets one chance to make a first impression--and odds are that impression is happening just inside your front door. Help your home's entry feel less hallway and more grand entrance with these foyer decorating ideas that make the most of three basic elements: floor, wall, and table.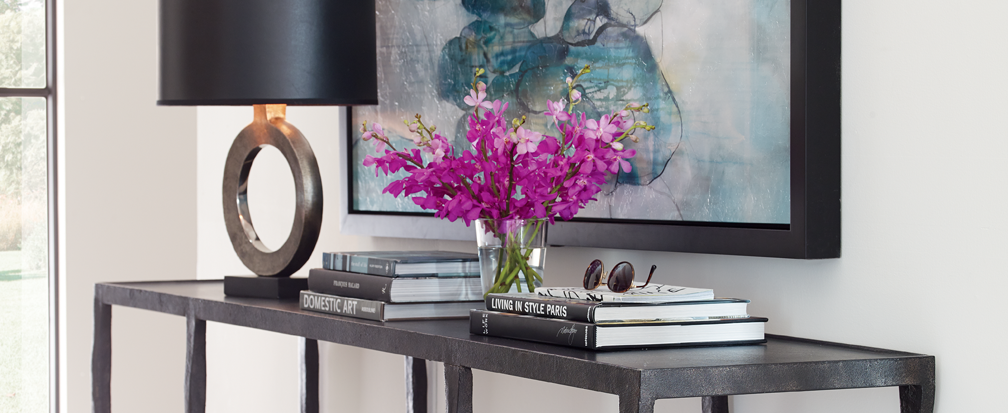 Floor
Our first foyer decorating idea is to set a strong foundation. Whether you're creating an entryway where there really isn't one, or transforming an existing grand foyer, it's important to delineate the space. And nothing does that better than a rug. Choose a rug that is sized appropriately for your space. You want it to be big enough to allow your guests to fully enter your home on the rug, but not too big that encroaches on your living space or other rooms.
When choosing a floor covering, remember that it's where outside elements like snow, rain, and mud make their way into your home. Patterned rugs or rugs made from durable materials (think indoor/outdoor rugs) make better companions for those unavoidable messes than light-colored rugs.
If your front hall is missing a coat closet or you want an extra place for guests to easily hang their jacket, add a coat tree just to the right of your door. Welcome guests in from the rain with an umbrella stand. And if you have room, consider adding a bench or stool to allow guests to easily slip on or off their shoes.
Wall
Make the most of your entryway wall by highlighting both its utility and position in your home. If you have abundant wall space behind your front door, consider hanging an assortment of hooks and shelves. The hooks either supplement your front hall closet or completely replace it if your entryway doesn't have one. On the hooks, stash everything from your guests' jackets to rainy-day umbrellas. Floating shelves are the perfect place to put small containers and bins for wrangling mail and gloves.
If your wall space is in front of the door, consider hanging a mirror to both reflect the light from outside when you open the door and to give yourself and guests a place to check themselves before coming or going. Mirrors come in many different finishes, from rustic reclaimed wood to elegant antique bronze. Choose the finish that reflects your home's aesthetic. When determining the shape of your mirror, consider both the size of the space and the feel of the room. To soften an entryway, choose a round mirror; highlight tall ceilings with a rectangular mirror.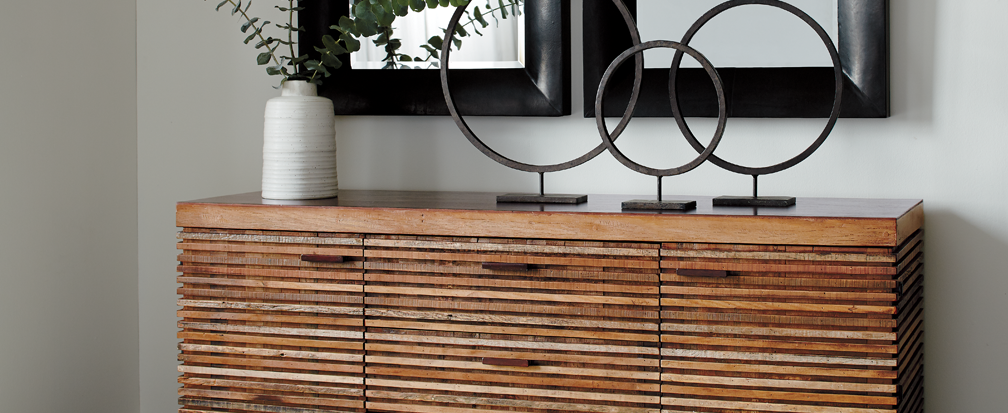 Table
Our foyer decorating ideas include adding entryway furniture to your space. These ideas run the gamut from a simple Parsons table to console units with plenty of storage. What matters most when choosing your table is making sure that its scale is appropriate for your space. Too large a piece of furniture and your home's first impression will be a cramped one; not enough storage space for your essentials and your home will feel disorganized. You may also want to consider designing a custom table to ensure the frame dimensions and surface area fits your needs exactly.
Your entryway table serves as the runway for your home. It's where you leave the things you don't want to forget before "takeoff" and the items you bring back when you "land." In order to keep these items (think keys, mail, sunglasses, books) orderly, designate a small dish or tray as the collecting place and make a habit of placing them here so that you always know where to find them.
If you have an open area underneath the table, it is primed for extra storage. Bins, baskets, even an ottoman with a storage compartment, can easily slide under the table and out of the way of foot traffic while providing you with a place to let the mail pile up out of sight of your guests.
Consider the addition of a small clock to make sure your comings and goings stay on schedule. And don't forget to personalize the space with photos, flowers, and even a table lamp.
All of these foyer decorating ideas add layers of texture and personality to your entryway, helping you set the right tone from the start. One that says "welcome home."
Back to Top