Decor
4 Halloween Table Ideas: Kids & Adults
Will your Halloween dinner party be a trick or a treat? Ideally, a little of both. For kids and adults alike, Halloween is a day for imagination and creativity.While the kids focus on costumes, the grownups can use Halloween as an opportunity to dress up their homes and dinner tables in dark, spooky and playful decor. Here are four Halloween table ideas—two for the kid table and two for the adult table—to help you celebrate the holiday.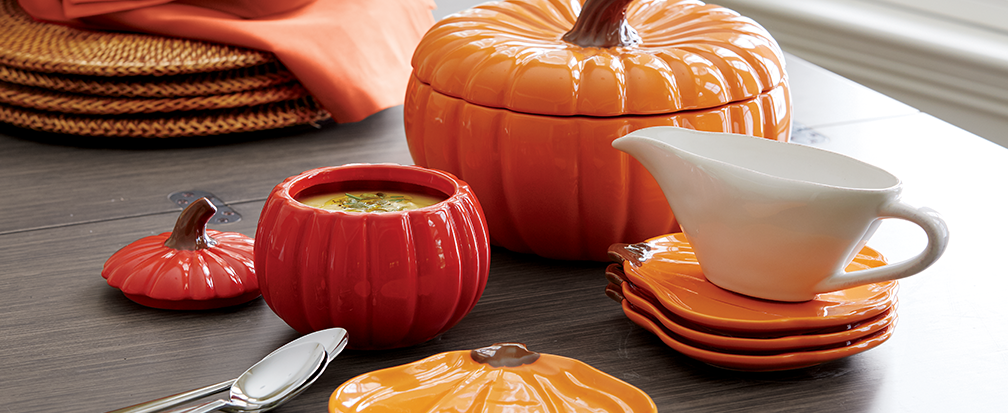 1
Kids' Spooky Table Ideas
To set the mood, use a black tablecloth and keep the lighting dim using flameless candles. Create a cluster of child-safe, battery-powered tealights for a makeshift centerpiece, or use a jack-o-lantern candle holder (or even a real jack-o-lantern). Use faux-flame taper candles at each place setting to make each pint-sized guest feel special and provide extra light. Create depth on the dark tablecloth with plates in in contrasting colors—bright neon or stark white should do the trick. Depending on how big the table is, drift some pulled-apart cotton along the center or the edges between guests to create eerie faux cobwebs. For dessert, fill small pumpkin baskets with sweet treats. Just make sure to inquire about food allergies in advance.
2
Kids' Cute Table Ideas
For a younger crowd, decorate your table with a mix of silly DIY and sleek store-bought decorations. The dinner table could even function as a craft table before the meal is served. Set each place with pre-cut and sized black pipe cleaners to fashion into fuzzy little spiders. Have some premade examples on the table complete with googly eyes, bow ties and other fun additions. As for the table itself, don't be scared to go bright. Lime greens, and pumpkin or tangerine orange will bring it to life. Set places with melamine plates in coordinating colors and festive Halloween designs. If you have time, craft pumpkin masks from orange construction paper and popsicle sticks to add to each place setting. Use a utility knife to cut out triangle eyes and a grinning mouth.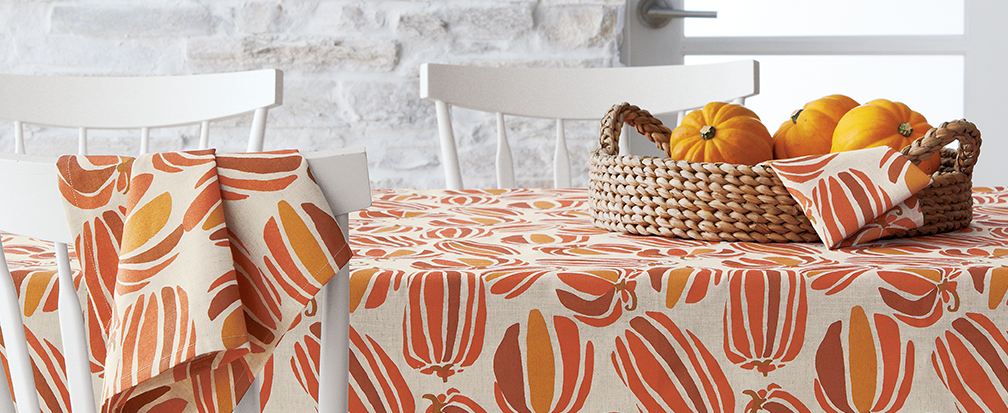 3
Adults' Spooky Table Ideas
Black dinnerware paired with shiny silver flatware—or vice versa—creates a sleek table style with a little edge. Other deep tablecloth colors can work well, too, such as wine or eggplant hues. Alternatively, create contrast with a black table runner on top of a white cloth. Balance your use of dark colors with classic, simple white candles in black candle holders or clear glass hurricanes. To create a unique centerpiece, arrange an organized pile of interesting objects with spooky appeal, such as an antique timepiece or camera, decorative skulls and black decor such as faux crows, branches or twigs. Alternatively, place macabre items, such as vintage medical equipment, painted faux skulls or a small animal skeleton, inside a tall glass cloche to create a turn-of-the-century-style curiosity display. To take your table to the next level, consider filling black vases with wilted flowers, or sprinkling faux spiders among the rest of your decor.
4
Adults' Elegant Table Ideas
For a more refined Halloween table, choose rustic fall colors such as burnt orange or deep navy blue. Seasonal palettes typically mimic the natural colors of the outdoors, and October is early enough in the season for you to include brighter reds, yellows and oranges as well. Consider warm brass elements, such as taper candle holders, to complement burnt oranges or reds. For a navy blue or black palette, choose silver accessories. To play up the natural theme, scatter fall leaves along the center of the table to invoke the outdoors and dress up a plain runner. Don't be afraid to take a chance with colored centerpiece candles that coordinate with the overall theme. Throw in the odd spooky element, such as cobwebs, to differentiate the setup from a Thanksgiving or November dinner party. Ideas include black candles, a dramatic centerpiece bowl filled with black or silver faux fruits and candle holders in moody dark stained metal or wood.
Halloween tables can be pointedly spooky, endearingly kitschy or simple and seasonal. Show us your Halloween look using the hashtag #CrateStyle.
Back to Top