Decor
Classic Kitchen Decorating Ideas
The kitchen is often the center of the home. During a party, guests are often found congregating there, and the kitchen is typically one of the most used spaces day in and day out. Our classic kitchen decorating ideas consider both form and function to transform one of the most hardworking spaces in your house.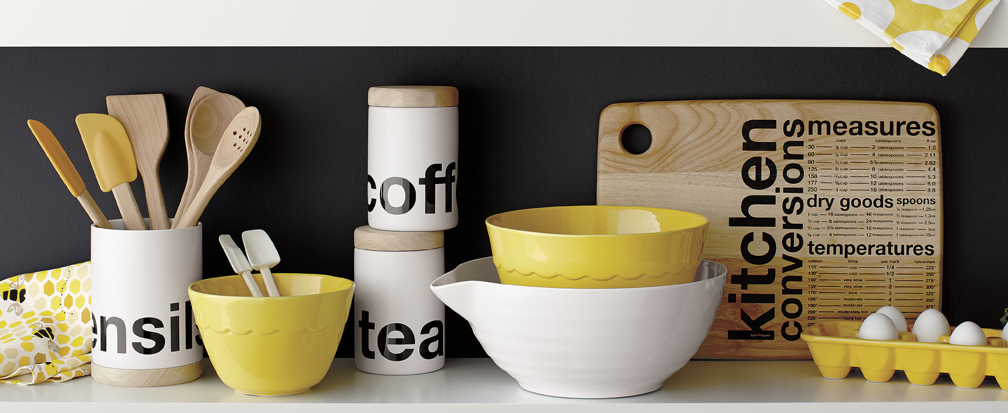 Organize your kitchen tools by type in plain sight to make cooking a more relaxing experience, while also making it look like a chef's paradise.
1
Utensil Holders
Utensil holders keep your tools at the ready as you whip up a meal, while also adding character to your counter. For a visually streamlined approach, try separating utensils by material (wood, metal, plastic, etc.) and keeping them in different coordinating containers.
2
Cutting Boards
Lean a stack of cutting boards and/or wood serving boards up against a wall on your countertop, propped up by something heavy, such as a knife block or a utensil holder. The color of the wood boards add warmth, plus their placement makes it easier for helping hands to find them.
3
Serving Pieces
If you've run out of storage space, don't forget that thoughtfully arranged serving pieces can add dimension when on display above cabinets or on open shelving. Serving bowls, pitchers, ice buckets and more can all provide kitchen panache, especially when they are color-coordinated.
4
Cookware
Hanging pot racks are a practical and stylish way to show off your cookware, while also keeping it close at hand. Pots on display also add a certain old world charm. Furthermore, a teakettle or a cast iron pan add character when left out on the stove.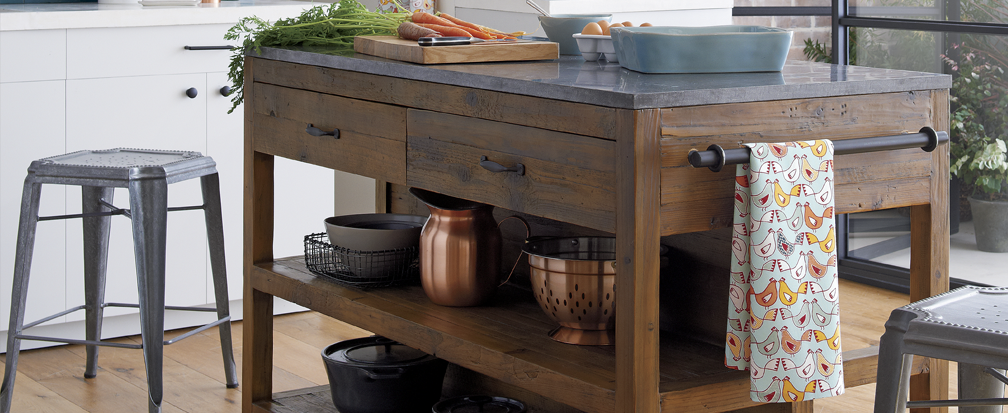 If you have a place for everything, it will be that much easier to keep kitchen items in their place.
1
Produce
Countertop containers for fresh produce organize and show off your bounty, making it look like you always just returned from the farmers market. if you tend to have a large number of produce items that won't be stored in the refrigerator, display containers can range from a basket, to a pedestal bowl, to a large wooden tray.
2
Pantry
Whether or not you keep any of your non-perishables out on the countertop, glass, plastic and/or wood containers help everything look organized and elegant. Food packages designed to grab attention on the grocery shelves can be an eyesore at home, plus the right containers can help keep your items fresh longer.
3
Fridge
You don't want your kitchen decor to delight you only to be stressed anytime you open the fridge. Consider fridge organization tools and containers that will make it easier to fit and to find everything you need. Much like your pantry, even though it is not always on display, it is a part of your daily experience of your kitchen.
4
Recipes
It's often helpful to have recipes at hand in the kitchen, whether they take the form of cookbooks, recipe cards, or internet finds on a tablet. Make sure all of your recipes are consolidated, and select a proper storage system for them based on their quantity and type. Simple items such as a small basket or bookends may be helpful in corralling your recipes.
Kitchen design is like designing the other spaces in your house; consider the decorative kitchen decor elements the same way you would in another space.
1
Textiles
Kitchen textiles, such as kitchen towels, potholders, aprons and rugs, are easy to switch out in order to add a pop of color or pattern with a nod to each season. It's easy to make a kitchen feel fresh with a few of these smaller decor items.
2
Electronics
Be sure to consider the look of any electronics you purchase for your kitchen, especially if they will live on your countertop. Whether classic or punchy in design, toasters, coffee makers and mixers can all add design flavor to your kitchen decor.
3
Lighting
Kitchens often benefit from layered lighting that provides soft and warm options as well as brighter ones. For example, if you have strong overhead lighting in your kitchen, you may want to consider a table lamp and/or sconces. It's often best to use a lamp with a glass or metal shade if it sits anywhere near the potential splatters of the stovetop.
4
Furniture and Art
When selecting kitchen furniture, as with anywhere else in your home, be sure to consider comfort and function as well as aesthetics and design. For example, who will be doing what in your kitchen and where? Is light colored fabric furniture suited to your lifestyle, or would you be happier with something more resilient to messes? As always, when it comes to art, select pieces that speak to you and help to make your space your own.
Kitchen decorating can be a pleasurable creative experience that adds to your enjoyment while you cook, entertain, and eat. Show us how you use Crate and Barrel products to create your dream kitchen on Instagram by using the hashtag #CrateStyle. We're excited to see your kitchen decorating ideas.
Back to Top